Iba pár dní je k dispozícii nový album gitaristu Steve Hacketta At The Edge Of Light.
Steve Hackett bol dušou najslávnejšej zostavy progresívneho kolosa Genesis. Neberiem nikomu, že sa upne na známejšie tváre kapely (Gabriel, Collins), ale pre mňa to bol práve melodický a hĺbavý gitarista, ktorý dodával tejto formácii šťavu. V 70. rokoch si odbil všetky povinné vrcholy (a to aj sólovo), priznávam, že jeho samostatnú hudobnú dráhu som kontaktoval povrchne a nie vždy ma oslovila.
Kupovanie cédečiek praktizujem cca od polovice 90. rokov minulého storočia. Okrem túžby budovať si zbierku, vlastniť originály a kochať sa bookletom aj inde ako cez internet, ma k tomu viedli aj ďaleko osobnejšie dôvody. Jedným z nich bol ten, že som mohol otcovi priniesť množstvo hudby, ktoré poznal útržkovito z toho, čo bolo dostupné v nedostupnom socialistickom väzení. Alebo o nej len čítal. Alebo ju dokonca nepoznal. Mal som z toho radosť, keď som sa dovalil z predajne Roxy s počinmi ako Sir Lord Baltimore alebo Jolliver Arkansaw a dali sme spoločný počúvací večierok spojený s debatami o muzike. Alebo keď sa mi podarilo zohnať napríklad Tempest, čo bola skupina, o ktorej básnil lepšie ako Baudelaire o konských pozostatkoch.
Otec tu už s nami nie je a ja badám, že už nemám túžbu rozširovať zbierku. Teda, mám, ale ani zďaleka nie takú veľkú. Zo súčasnej rockovej hudby mám pocit homeopatického konzumenta bez viery. V dnešnej alternatívno-pravdovej dobe je všetko buričské podozrivo plytké, chabé, neúprimné a zabalené do zisku pre pár vyvolených. Hĺbavý človek má nesmierne množstvo možností, ale zároveň je zavalený nemožnosťami, ktoré ho odrádzajú. Nečudo, že rockovú muziku (až na výnimky, jasné, že nič nie je čiernobiele, ako to tu prehnane líčim) najviac udržujú starí bardi, ktorí vykročili z tieňa kdesi v 60.-70. rokoch. V súvislosti s otcovou stratou mám obavy, ako to s rockovou muzikou dopadne, keď postupne odíde celá táto generácia.
Pretože je stále ešte schopná ponúkať muziku, ktorá má tvár, tvar, mieru kvality, ktorá je synergicky väčšia ako súčet producentskej matematiky. Ako Steve Hackett. Minulý týždeň vydal album At The Edge Of Light a už teraz mi je jasné, že prekonať ho bude problém. Hackett, to je značka vynikajúcich melodických gitarových sól a skladieb. Dielo obsahuje desať skladieb a keby vyšlo niekedy v polovici 70. rokov, nikto by nespoznal, že cestovalo časom. Čo je však navyše, je pocit. Dnes hrá obrovské množstvo technicky vymakaných muzikantov to, čo nazývam art rock. Od plagiátorov 70. rokov cez neo-plagiátorov až po experimentátorov, ktorí využívajú dnešné možnosti snímania zvuku a nástroje na jeho vytváranie. A väčšina z nich ma aj tak neoslovuje. Hackett nie je plagiátor. Je žijúca legenda. Hrá muziku spred vyše štyridsiatych rokov a pritom neznie archaicky. Stále je v jeho prejave niečo, čo je radosť počúvať. Iste, je tam aj technika, produkcia je dokonalá, hra s orchestrom, rôznymi netradičnými "word" nástrojmi, využívanie bicích iba občas, ale aby ich absencia nebila do očí…
Hackett nahral úžasnú artrockovú dosku. Strieda rôzne vplyvy, ale nikdy nie na úkor identity. Sú tu ako monumentálne mnohominútové skladby, tak melancholické miniatúry. Ešte aj štipka bluesovej nálady ozvláštni muziku, ktorá sa od blues programovo odčlenila. Mohol by som písať o jednotlivých skladbách, ale sa mi nechce. Album je od začiatku do konca krásny, emočne prirodzený a nesmierne dobre sa počúva. Hackett si nikdy nemusel dokazovať, že dokáže na notovú osnovu načmárať päťšestinové rytmy s kombinovaním septol a triadvacatinkových nôt, aby dokázal, aký je macher. A to mu pritom sekundujú aj veľké muzikantské mená formátu Simona Phillipsa. Jeho muzika dýcha, je esteticky vyhranená smerom k melodike a melancholickým náladám. A nie je to znelka pre splaškovú reality šou súkromnej televízie. Je to hudba, ktorá sa dotýka absolútnej krásy. Rozhodne stojí za vypočutie!
Ako to už býva, verzií a vydaní je niekoľko, na diskoch CD i DVD, v digipaku i ako 2xLP, ja si vystačím s pôvodným obyčajným CD. Booklet obsahuje texty, každá skladba má aj svoj vlastný výtvarný obraz. Nechýba zostava a ďalšie údaje, a teda je všetko tak, ako má byť. InsideOut vložilo dovnútra aj reklamný leták s ďalšími titulmi, ktoré núka, a pre človeka, ktorý artrockom dneška nežije, je to príjemný bonus.
Som rád, že ešte stále žijú a hrajú hudobníci ako Hackett. Umelci, ktorí dokážu prinášať radosť aj tým, ktorí nepotrebujú viesť na vlne povrchnej populárnej hudby súčasnosti. A že stále dokážu ovplyvniť aj mladú generáciu, aby sa pokúšala odlíšiť, vyjsť z minulosti a objavovať niečo hodnotnejšie ako copy-paste produkciu navrhnutú podľa štatistík počúvania komerčných rádií. At The Edge Of Light je učebnica, ktorá by mala stáť na počiatku cesty súčasného začínajúceho artrockera, aby spoznal korene a vedel sa odraziť ďalej. Verím, že nebude jediný. Tento album je jedinečný. Nie svojou originalitou, ale prirodzenou tendenciou priblížiť sa krásnu. Len tak ďalej, Steve!
Skladby:
Fallen Walls and Pedestals 2:17
Beasts in Our Time 6:20
Under the Eye of the Sun 7:06
Underground Railroad 6:22
Those Golden Wings 11:19
Shadow and Flame 4:22
Hungry Years 4:34
Descent 4:20
Conflict 2:36
Peace 5:03
Zostava:
Gulli Briem: bicie, perkusie (3)
Dick Driver: kontrabas (3, 5)
Benedict Fenner: klávesy a programovanie (7, 8)
John Hackett: flute (2, 3, 5, 9)
Steve Hackett: gitary, dobro, basa, harmonika, spev
Roger King: klávesy, programovanie, orchestrálne aranžmány (1-7, 9, 10)
Amanda Lehmann: vokály (3, 4, 5, 7, 10)
Durga McBroom: vokály (4)
Lorelei McBroom: vokály (4)
Malik Mansurov: tar (1)
Sheena Mukhrjee: sitár (6)
Gary O'Toole: bicie (1)
Simon Phillips: bicie (7)
Jonas Reingold: basa (2, 3, 7)
Paul Stillwell: didgeridoo (3)
Christine Townsend: husle, viola (5)
Rob Townsend: tenor saxofón, flauta, duduk, basklarinet (2, 3)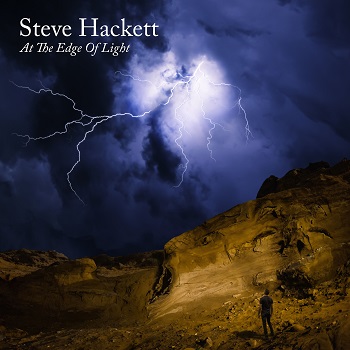 At The Edge Of Light
Steve Hackett
art rock
InsideOut
2019
LP, CD
10