Soft Machine je legendárna formácia z oblasti takzvanej Canterburskej scény. Z pôvodných psychedelických túžob rýchlo vykryštalizovala do podoby džezovej, až avantgardnej "free" formácie, aby sa napokon pevne usadila vo fusion. Ako to s ňou vyzeralo v druhej polovici 70. rokov, nám skvelou formou sprístupnila dvojdisková kompilácia od Esoteric Recordings: Tales Of Taliesin – The EMI Years Anthology 1975-1981.
Pokrýva tri štúdiové albumy, Bundles (1975), Softs (1976), Land Of Cockayne (1981), a jeden koncertný, Alive & Well – Recorded In Paris (1978). Kým štúdiové diela berie tak nejako polovične (čo do počtu skladieb, časovo je to veľký kus každého z nich), živák je tu takmer celý a nechýbajú ani dva bonusové kúsky (K's Riff, Song Of Aeolus). Aj tak má každé cédečko len niečo cez päťdesiat minút, čím sa stáva znesiteľné na počúvanie, hoci by sa tam zmestili hádam aj všetky albumy komplet. Kapela v tej dobe nebola práve stabilná, zostavy sa dynamicky menili, slávne mená typu Daevid Allen, Robert Wyatt alebo Kevin Ayers boli dávno fuč a prišli iné. Booklet je "esotericky" kvalitný, obsahuje podrobné metadáta k skladbám (dáta, muzikanti, kde a kedy boli nahraté), priložená esej od Sida Smitha je zaujímavá. Nechýba ani bohatá fotografická omáčka. Inými slovami, prevedenie je na jednotku.
Osobne s muzikou Soft Machine nie som nijako zvlášť spriaznený. Ba dokonca by som sa odvážil povedať, že ju väčšinu života okázalo ignorujem. Neoslovil ma šesťdesiatkový debut, odradil ma slávny nepočúvateľný dvojalbum Third (1970) a tak to už ostalo. Videl som nejaké koncertné video, sem-tam čosi začul, ale to nestojí za reč. Každopádne, doba pokročila a možnosť vypočutia solídne vyzerajúcej výberovky za výhodný peniaz som z rúk nepustil. Predsa len sa môj vzťah k fusion za tie roky stal pozitívnejší. Rovnako ma lákala predstava vypočuť si niekoľkých muzikantov, ktorých si osobne dosť považujem (konkrétne fenomenálny gitarista Allan Holdsworth, nemenej fenomenálny bubeník z Nucleusu John Marshall a dokonca môj najobľúbenejší basák Jack Bruce).
Historické okienko hlása, že kapela v roku 1975 vymenila vydavateľstvo Columbia (CBS) za Harvest (progresívna odnož EMI) a bola plne v područí klávesáka a saxofonistu Karla Jenkinsa. Ten bol zakladajúci člen výnimočnej džezrockovej formácie Nucleus a postupne do Soft Machine dotiahol viacerých hráčov práve z nej. O Marshallovi som už písal, o basákovi Royovi Babbingtonovi ešte nie, tak to naprávam. Skladby z albumov Bundles a Softs sú neskutočné fusion záležitosti, zaradenie sólových gitaristov Holdswortha a Etheridgea (poznám ho z Darryl Way's Wolf) do zostavy mi vyhovuje. Taká Hazard Profile Part One je miestami až hardrockovo nabudená. Porcia koncertných skladieb sa rovnako dobre trávi, kto má rád inštrumentálne fusion, príde si na svoje. Osobne ma odrádza len skladba Soft Space a to pre disco klávesy. Štyri skladby z albumu Land Of Cockayne znejú trošku inak, ide o ľahko tráviteľný džezík (hipsteri si z neho urobia smoothie), príjemne melodický a basa Jacka Brucea v ňom tradične príjemne "bublinkuje". Nie je to úplne moja šálka studenej bublinkovej vody, ale v malom množstve mi neprekáža. Najviac sa mi páči jemne plynúca skladba (Black) Velvet Mountain.
Celkovo som z prezentovanou muzikou nadmieru spokojný. Až dostanem chuť na fusion, mám zasa o jednu možnosť na výber viac. V booklete sa píše, že odhliadnuc od pamätníkov, ktorí nedajú dopustiť na avantgardné počiatky kapely a "tradičné" fusion im pripadá ako zrada jedinečnej muziky, resp. pokles kvality, tu máme novú generáciu poslucháčov, ktorým sú tieto asociácie ukradnuté a vnímajú jej tvorbu ako súčasť 70. rokov. A tí nebudú sklamaní. Súhlasím.
Skladby:
CD1:
Hazard Profile Part One 9:21
Gone Sailing 0:59
Bundles 3:15
Land Of The Bag Snake 3:38
The Floating World 7:10
The Tale Of Taliesin 7:21
Out Of Season 5:31
Second Bundle 2:38
Nexus 0:50
One Over The Eight 5:26
Number Three 2:26
The Nodder 7:14
CD2:
White Kite 3:00
Eos 1:20
Odds Bullets and Blades Part One 2:19
Odds Bullets and Blades Part Two 2:35
Puffin' 1:17
Huffin' 4:41
K's Riff 4:41
Song Of Aeolus 3:43
Soft Space 8:20
Over n' Above 7:23
(Black) Velvet Mountain 5:09
Sly Monkey 4:58
Panaramania 7:07
Zostava:
Roy Babbington: basa (CD1: 1-10)
Allan Holdsworth: gitary (CD1: 1-5, CD2: 10-13)
Karl Jenkins: hoboj, piano, el. piano, soprano saxofón, syntezátor a iné (CD1: 1-12, CD2: 1-13)
John Marshall: bicie, perkusie (CD1: 1-12, CD2: 1-13)
Mike Ratledge: organ, el. piano, syntezátor (CD1: 1-5)
John Etheridge: gitary (CD1: 6-12, CD2: 1-9)
Alan Wakeman: saxofóny (CD1: 6-10)
Rick Sanders: husle (CD1: 11-12, CD2: 1-9)
Steve Cook: basa (CD1: 11-12, CD2: 1-9)
Jack Bruce: basa (CD2: 10-13)
Ray Warleigh: alto saxofón, basová flauta (CD2: 10-13)
Dick Morrissey: tenor saxofón (CD2: 10-13)
Alan Parker: rytmická gitara (CD2: 10-13)
Tony Rivers: vokály (CD2: 10-13)
Stu Calver: vokály (CD2: 10-13)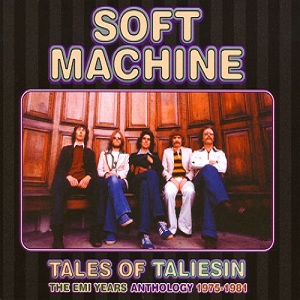 Tales Of Taliesin – The EMI Years Anthology 1975-1981
Soft Machine
jazz rock, fusion
Esoteric Recordings
2011
CD
25