Legendárna fusion kapela Soft Machine, klasika takzvanej Canterburskej scény, sa aj v dôchodkovom veku pripomína lepšie než mnohé dnešné mladistvé veličiny. Aktuálny album Hidden Details je toho dôkazom.
Deduškovia, ktorých by si človek predstavoval skôr kdesi v domove dôchodcov, hrajú namakané inštrumentálne fusion. Hoci napríklad taký Marshall sa pohybuje spôsobom, že by mu človek z fleku privolal nosidlá, len čo sadne za biciu súpravu, hrá o dušu. Gitarista Etheridge je fenomenálny borec, vek mu nič neubral ani na rýchlosti a ani na výraze. Travis fúka do saxofónov i flauty s vervou držiteľa Guinessovho rekordu v množstve a rýchlosti nafúkaných balónikov, no a basák Babbington je pre mňa majster zvuku, tak plnú a dunivú basu dnes málokde počuť. Znalci už isto postrehli, že väčšina zostavy si pamätá inkarnáciu kapely z druhej polovice 70. rokov.
A na reminiscencie dôjde aj na aktuálnej novinke. Odborníci isto postrehnú pár skladieb, ktoré pochádzajú zo 70. rokov (Out Bloody Rageous, The Man Who Waved At Trains). Všetky skladby sú inštrumentálne, variujú od klasického nadupaného džezrocku (Hidden Details) cez psychedelické šialenosti (Ground Lift) až po jemné melodické oddychovky (Heart Off Guard) i zadumané džezoviny (The Man Who Waved At Trains). Nechýba free džez (Life On Bridges). Všetko je to však podané z takou ľahkosťou, že aj mne, čo na prílišné hlukové experimenty nie som, nič neprekáža. Zvuk je vynikajúci, inštrumentálne výkony za hranicou virtuozity. Najúžasnejšou skladbou je balada Broken Hill.
A nejde pritom iba o štúdiovú mágiu, nedávno v Bratislave to kapela rozbalila tak, že ešte dnes mám z toho zimomriavky. Neveril by som, že ma nejaký džezový album tak chytí. Hidden Details je majstrovské dielo. Etalón kvality pre súčasných hráčov a slovníková definícia konštatovania – Na veku nezáleží!
Skladby:
Hidden Details 7:36
The Man Who Waved At Trains 5:00
Ground Lift 5:21
Heart Off Guard 2:29
Broken Hill 3:49
Flight Of The Jett 2:12
One Glove 4:30
Out Bloody Intro 2:41
Out Bloody Rageous (Patr 1) 4:56
Drifting White 1:47
Life On Brdges 8:05
Fourteen Hour Dream 6:24
Breathe 5:12
Zostava:
John Etheridge: gitary
Theo Travis: saxofóny, flauty, el. piano
Roy Babbington: basa
John Marshall: bicie, perkusia
a
Nick Utteridge: veterná zvonkohra (13)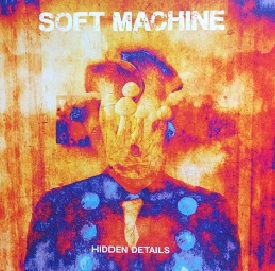 Hidden Details
Soft Machine
džez rock, fusion
Dyad Records
2018
LP, CD
13