Grand Funk Railroad – americká odpoveď na všetky tie britské velikášske rockové skupiny, sa s tým nikdy nepárala. Hrubá tvrdá muzika bez akýchkoľvek jemných nuansí prevalcovala všetko, čo sa dalo, nuž nečudo, že na zelenej lúke mohla následne postupne pučať, rásť, košatieť a zrieť. A úroda sa dostavila. Najlepší ročník produkcie značky Grand Funk je nepochybne 1973. Na etikete lahodného poslucháčskeho moku sa skvie nápis We're An American Band. Nuž, na zdravie!
Štvorica muzikantov sa obnažila (doslova) vo vnútri inak strohého obalu dosky a pod taktovkou Todda Rundgrena vyprodukovala azda najikonickejší hardrockový album z USA.
Úspešný singel We're An American Band album otvára a činí tak s nasadením úplatného rozhodcu, ktorý si zmyslel, že výsledok sa zapíše do dejín, stoj, čo stoj! A vyšlo mu to. Je to skladba, cez ktorú som skupinu spoznal, jej klip okupoval voľajakú "véháesku" v rodinnej zbierke. Už len prostý fakt, že v nej spieva bubeník, ma fascinoval. Tiež som chcel byť spievajúcim bubeníkom, našťastie som z toho vyrástol. Text je oslavou muzikantského života a klasickej dávky patriotizmu, ktorý je v Amerike priam náboženstvom. Azda aj to pomohlo pesničke zľudovieť (pravda, bavíme sa o USA).
Videli ste? Azda sa nebudete čudovať, že som v momente, ako som objavil rovnomennú platňu v zbierke krstného otca, stlačil "rec" a kazeta si našla stabilné miesto v mojom walkmane. Nuž, boli ťažké 90. roky, na mobily zabudnite. Album je vzácne vyrovnaný. Obsahuje osem neskutočne podmanivých hardrockových kúskov, pri ktorých sa chce človeku kričať blahom. Popri ostrých a tvrdých skladbách (Stop Looking Back, Black Licorice, Ain't Got Nobody, Walk Like A Man) dôjde aj na vskutku temné a tajuplné "pomalky", ktoré ma osobne dostávajú najviac. Nesmierne tajuplnú bombu Creepin' ovláda neopísateľný kaskádovitý klávesový motív, The Railroad takmer vyhadzuje z reproduktorov štrk spopod idúceho vlaku naprieč Divokým západom. A aby toho nebolo málo, celé dielo zavŕši clivá pocitovka Loneliest Rider.
Muzikanti sa od konca 60. rokov dokázali vypracovať na excelentných cechmajstrov, najmä bubeník Brewer sa na tomto albume vypol k neopakovateľnému výkonu, tak pestrú hru už nezopakoval nikdy. V zásadných hardrockových míľnikoch toto dielo chýbať nemôže, v roku 1973 lepšie nevyšlo (možno Black Sabbath – Sabbath Bloody Sabbath) a mnou obľúbenejšie dtto (azda len Free – Heartbreaker je porovnateľná srdcovka)!
Viete, čo znamená We're An American Band? Nádherná muzika!
Skladby:
We're An American Band 3:27
Stop Lookin' Back 4:52
Creepin' 7:02
Black Licorice 4:45
The Railroad 6:12
Ain't Got Nobody 4:26
Walk Like A Man 4:05
Loneliest Rider 5:17
Zostava:
Mark Farner: gitara, spev, conga, el. piano (3)
Don Brewer: bicie, perkusie, spev
Mel Schacher: basa
Craig Frost: klávesy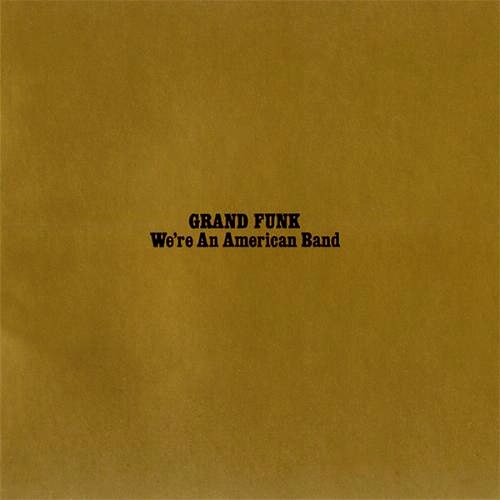 We're An American Band
Grand Funk
hard rock
Capitol
1973
LP, CD
8