Vydávať best of po dvoch albumoch? Pokým sme v 60. rokoch, a teda v dobe singlov, nie je na tom nič zvláštne. Jimi Hendrix Experience preto ponúkli svojim fanúšikom všetky single a čosi z debutu pekne pokope na platni Smash Hits.
Hendrix je legenda. Stretával som ho (resp. jeho hudbu) odmalička. Otec nadšene nahrával na VHS všetky koncerty, ku ktorým sa vedel za socializmu dostať. A bolo ich prekvapivo dosť (Woodstock, Monterey, Isle of Wight…). Ja som síce poslušne počúval, ale úprimne, nijako zvlášť ma nebral. Po revolúcii som sa v rámci pubertálnej snahy naučiť sa hrať na nejaký nástroj skúšal opätovne preniknúť do čara jeho hudby, ale márne. Nie, že by sa mi jednotlivé skladby nepáčili. Ale mal som pocit, že zástup jeho napodobovateľov hrá jeho skladby lepšie ako on. Veľkú rolu v tomto vnímaní zohrával zvuk. Hendrixove nahrávky zneli akoby ich niekto snímal cez stenu z kúpeľne. Najčastejšie som počúval kazetu s albumom Smash Hits, preto mi je tento výber núkajúci skladby, ktoré na albumoch neboli, najbližší. Potom, čo som si začal budovať zbierku cédečiek, som si v lacných knihách kúpil akýsi jednodiskový best of (z roka 1998), aby sa nepovedalo. Nuž, ako som sa vlastne dokázal s jeho muzikou zblížiť? Odpoveďou bol dvojalbum Experience Hendrix (mám vo vydaní z roka 2006, pôvodne vyšiel ako jeden disk v roku 1997), ktorý kompiloval to podstatné a pridal bonusový disk s raritami z veľkého štvordiskového boxsetu The Jimi Hendrix Experience (2000). Tu konečne Hendrix znel (pre mňa) počúvateľne. Mali ho v Bontone pod Michalskou bránou za dobrú cenu a vyplatil sa nevyčísliteľne. Následne som si kúpil japonské "nice price" mini LP verzie (Original Edition Vintage Vinyl Replica) jeho prvých štyroch albumov (vrátane Smash Hits) z roka 2006 a časom aj Band Of Gypsys. Rukami mi prešlo viacero posmrtných platní a albumov, niektoré som si napálil, ale dnes už mám len dva originály – First Rays Of The New Rising Sun (1997), dielo, ktoré kompiluje nahrávky z jeho prvých troch posmrtných albumov, no a :Blues, úžasnú kolekciu bluesových vecí. To mi stačí, hoci som skúšal vstrebať aj niektoré súčasné albumy typu Valleys Of Neptune, stále som s Hendrixom skôr v odstupe než vo vášnivom poslucháčskom vzťahu.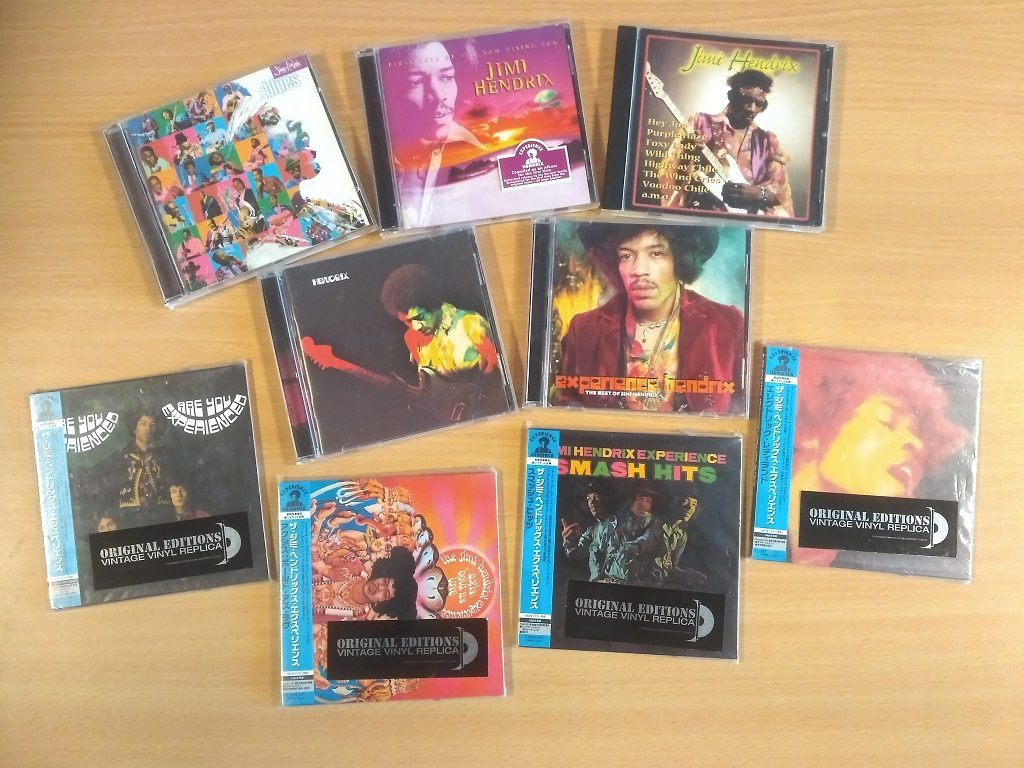 Samozrejme, s rôznymi kapelami som hral viaceré jeho skladby, obligátnu Hey Joe, svetoznámu All Along The Watchtower (viem, oboje skladby neboli jeho, ale odkedy tieto covery nahral, tak už sú a navždy budú), Voodoo Chil (Slight Return), The WInd Cries Mary… Keďže Mitch Mitchell bubnoval neviazane, mal som (a mám) jeho veci rád. Môžem sa odviazať a spoluhráči sa ani nemračia, čo to tam toľko hartusím.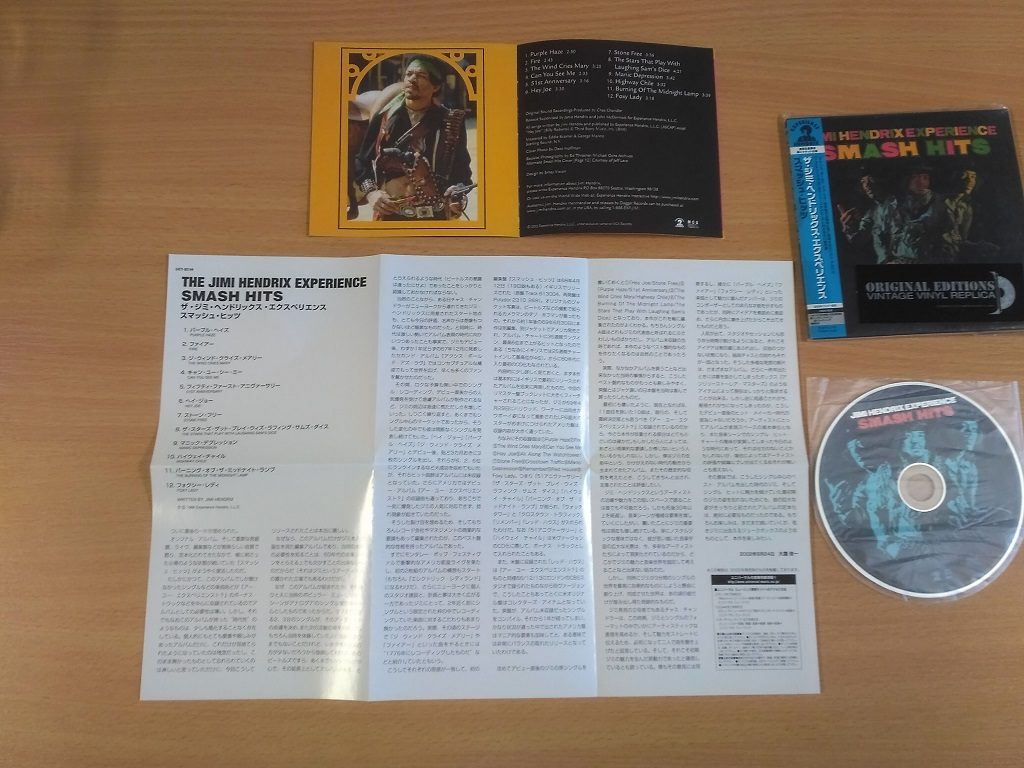 Smash Hits núka dvanásť skladieb. Obsahuje všetky štyri britské single (a teda osem skladieb) plus štyri veci z debutu (Fire, Can You See Me, Manic Depression a Foxy Lady). Najvzácnejšie boli isto b-strany singlov, z nich predovšetkým tieto dve – 51st Anniversary a The Stars That Play With Laughing Sam's Dice. Sú to haluze a nedostáva sa im pozornosti, preto ich menujem. Kým v Británii album vyšiel v apríli 1968, v USA mal premiéru až na konci júla 1969. Nakoľko v Amerike vyšli Hendrixove albumy s inými skladbami ako v Británii, miestny Smash Hits má rozdielny set. Vypadli veci, ktoré už vyšli na amerických albumoch a pribudli tri dovtedy nevydané skladby z britského debutu (vrátane stereo verzie skladby Red House, ktorá nevyšla ani v Británii) a dve skladby z albumu Electric Ladyland.
Dnes už všetky skladby pravidelne okupujú sekciu bonusov na albumových vydaniach, nuž by sa zdalo, že je tento album zbytočný. Lenže ja ho mám napočúvaný a som s ním zžitý od detstva, a tak má pre mňa poslucháčsky význam aj dnes. Čisto muzikantsky je to vynikajúca hudba. A preto ho budem počúvať celý život. Howgh!
Skladby:
Purple Haze 2:50
Fire 2:43
The Wind Cries Mary 3:20
Can You See Me 2:33
51st Anniversary 3:16
Hey Joe 3:30
Stone Free 3:36
The Stars That Play With Laughing Sam's Dice 4:21
Manic Depression 3:42
Highway Chile 3:32
Burning Of The Midnight Lamp 3:39
Foxy Lady 3:18
Zostava:
Jimi Hendrix: gitara, spev, čembalo (11)
Noel Redding: basa, vokály (1, 2)
Mitch Mitchell: bicie
a
The Breakaways: vokály (6)
The Sweet Inspirations: vokály (11)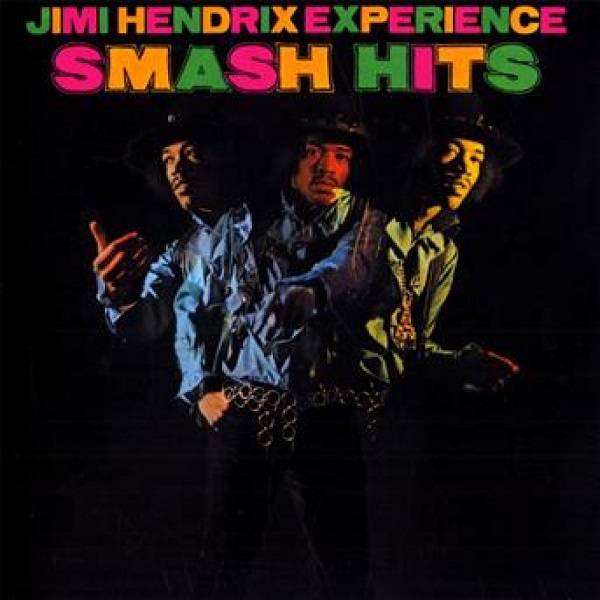 Smash Hits
Jimi Hendrix Experience
psychedelic hard rock
Track Records
1968
CD (Experience Hendrix, 2006)
12