Jeden z najlepších zabudnutých hardrockových albumov sa volá Seven Tears a tento rok oslavuje päťdesiatku. Holandská legenda Golden Earring sa prekonala.
Seven Tears bol pre mňa klasickou kúpou naslepo. Jasné, mal som tušenie, že Golden Earring je super grupa s parádnymi skladbami, ale aj tak. Toto dielo som zakúpil v balíku spolu s dielami z rokov 1969 až 1973, pričom jedinú skladbu, ktorú som poznal, bola úžasná temná náladovka She Flies On Strange Wings. Nakoľko sa v našich končinách o albume nikde nič nepísalo, nebolo kde sa "dovzdelať". Má to svoje výhody, nečakať nič a živiť v sebe čistú zvedavosť. Aspoň ma môže muzika ovaliť po hlave budzogáňom, odvliecť do nory a tam ma držať pod zámkom až do konca mojich dní.
Tajuplný úvod skladby Silver Ships ma okamžite naladí na temnobôľnu vlnu, ktorá touto nádhernou baladou preniká. Osobne by som ju vystavil na svetovej výstave svetového kultúrneho dedičstva, je to dokonalý hudobný artefakt. Že sa o tejto skladbe nikde nehovorí a nik ju nepúšťa do éteru, je zločin! A nabudená rifovka The Road Swallowed Her Name by sa nestratila ani na prvých albumoch Led Zeppelin. Ako je možné, že sa takáto muzika úplne vytratila z povedomia rockovej verejnosti? Však je to barbarstvo, ignorovať takúto tvrdú nálož! Nikto nikdy nevyjadril plač muzikou lepšie ako Golden Earring, a preto je balada Hope úžasná! V mohutných saxofónových gradáciách sa doslova utápam, Sirény určite spievali takto!
Zvláštny rezký úvod skladby Don't Worry klame telom, ide o hutnú rockovú obdobu kladiva na čarodejnice. No a čo napísať o sedem a pol minútovej genialite She Flies On Strange Wings? Úvod, kde sa spieva, že osamelé sú noci bez teba, ma spoľahlivo vracia na koniec strednej školy, kedy ma táto skladba doslova stelesňovala. Inak, Barry Hay sa na tomto albume prvýkrát výrazne chopil saxofónu a veru je to ťažký rockový nástroj! Zložitejšie rytmizovanie v skladbe This Is The Other Side Of Life zanecháva v človeku neustály pocit napätia. No a gitarová smršť na hutnom podklade nazvaná You're Better Off Free je absolútne Peklo!
Úprimne sa priznám, že tento album milujem. Nemá slabé miesto a to, že nestojí na piedestáli medzi rovnocennými kolegami ako In Rock, Paranoid, Demons & Wizards alebo hoci Led Zeppelin I, je trestuhodné!
Skladby:
Silver Ships 5:40
The Road Swallowed Her Name 4:07
Hope 4:46
Don't Worry 3:20
She Flies On Strange Wings 7:22
This Is The Other Side Of Life 3:19
You're Better Off Free 6:44
Zostava:
George Kooymans: gitara, spev
Barry Hay: spev, rytm. gitara, flauta, saxofón
Rinus Gerritsen: basa, organ, piano, syntetizátor
Cesar Zuiderwijk: bicie, perkusie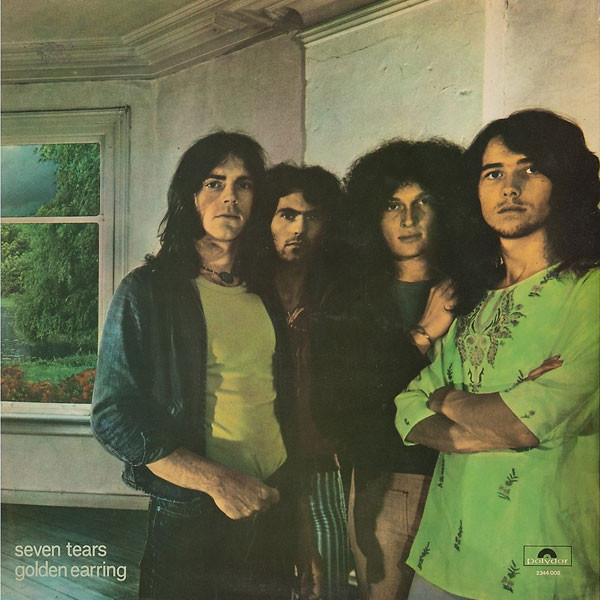 Seven Tears
Golden Earring
hard rock
Polydor
1971
CD (Red Bullet, 2001)
7