Snakefinger, vlastním jménem Philip Charles Lithman, byl britský avantgardní autor, kytarista, zpěvák a multiinstrumentalista, známý svou neobvyklou hrou na kytaru a housle, také dlouhodobou a plodnou spoluprácí se sanfranciským anonymním sdružením The Residents. 
Narodil se 17.6.1949 v Londýně. Na začátku 60. let se začal objevovat na britské bluesové scéně (kapela Junior Blues Band). V roce 1969 odcestoval do amerického San Francisca, kde po nějakém čase navázal kontakt s The Residents. Zde také začal používat pseudonym Snakefinger (hadoprst), který pro něho vymysleli právě The Residents, když poprvé shlédli jeho zvláštní prstovou techniku hry na kytaru a housle. K vydání alba Night Of Desirable Objects pořádal turné po Evropě a 1. července 1987 jej v Rakousku postihl srdeční infarkt, kterému podlehl v pouhých 38 letech. Zbylo po něm několik vlastních desek a spolupráce na albech The Residents.
Greener Postures nahrál za spolupráce The Residents a vydal v roce 1980. The Residents nehrají ve skladbě Jungle Princes. Na desce je osm skladeb a všechny jsou plné kytarové hry, za jakou dostal Philip Lithman svou přezdívku. Melodické rockové skladby s tahavými kytarami, jako by po strunách klouzal had. Zajímavá je The Man In The Dark Sedan, nebo Jungle Princess. Plno neočekávaných přechodů a neobvyklých kytarových sól. Vynikající je Living In Vain, nebo závěrečná The Picture Makers Vs. Children Of The Sea. Pro mě je Snakefinger hodně inveční hudebník a je škoda, že zemřel tak mlád. Na nejmenovaném webu zařazují Snakefingera k rocku v opozici (RIO), já si to nemyslím, jeho desky nejsou typické rockové, ale rozhodně zajímavé.

Mám rád The Residents a s nimi i Snakefingera. Greener Postures si pouštím poměrně často, byla ostatně první, kterou jsem od něho slyšel. Výborné album, za čtyři hvězdičky.
SKLADBY:
1. Golden Goat (4:11)
2. Don't Lie (3:34)
3. The Man In The Dark Sedan (4:38)
4. I Come From An Island (3:24)
5. Jungle Princess (3:49)
6. Trashing All The Loves Of History (3:13)
7. Save Me From Dali (2:34)
8. Living In Vain (3:46)
9. The Picture Makers Vs. Children Of The Sea (9:30)
SESTAVA:
Snakefinger – vocals, guitar, various instruments
+
The Residents – synthesizer, el.drums, percusssion
Blaine Reininger – violin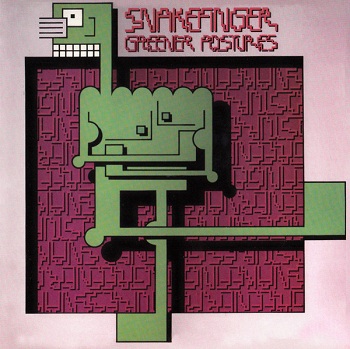 Greener Postures
Snakefinger
Art Rock, Experimental, Avantgarde
Ralph Records
1980
LP
9