Zaspomínať si na časy, kedy sa ako tínedžeri zatvárali po garážach a pražili covery svojich idolov, to je príjemná kratochvíľa. Kanadskí veteráni Rush sa takto vyšantili v rámci ani nie polhodinového EP Feedback.
S Rush som prišiel do kontaktu pomerne neskoro, a teda až v dospelosti som prichádzal na chuť tvorbe zo 70. rokov (dlho to netrvalo) a na prelome 80. rokov (kde som aj skončil). Neskoršie albumy ma už veru nechytili. Až kým som niekde nezachytil informáciu, že Rush si zrazu len tak, pre ten pocit, nahrali Feedback s rockovými hitmi zo 60. rokov. A hneď prvá skladba bola takmer "bluecheerovská" verzia Summertime Blues. Tomu nešlo odolať a dielo som si hneď šiel kúpiť.
Výsledkom je úžasne prirodzená nahrávka. Obsahuje osem skladieb, pričom väčšinu hrali členovia kapely už v 60. rokoch so svojimi kapelami pred obdobím Rush. Dve tretiny repertoáru si rozdelili klasiky od The Yardbirds (Heart Full Of Soul, Shape Of Things), Buffalo Springfield (For What It's Worth, Mr. Soul) a The Who (The Seeker, Summertime Blues), nechýba creamovská Crossroads a zoznam uzatvára skladba Seven And Seven Is od Love.
Je ich radosť počúvať. Znejú akoby boli nahraté na jeden záťah, s nadhľadom i radosťou. Žiadne veľké producentské hókusy-pokusy, skrátka rockové trio mastí, čo má rado. A mne sa to veľmi páči. Rovnako ako výber skladieb, v podstate tam nie je ani jeden megaznámy hit, dokonca ani kapely nie sú  tie "najprefláknutejšie". V podstate jedinou chybou je trvanie albumu. I keď je to len taká vsuvka do diskografie, myslím si, že by obstála aj ako plnohodnotný album. Stačilo by zahrať ešte zo tri skladby a bolo by.
Milujem túto nahrávku a často sa k nej vraciam.
Skladby:
Summertime Blues 3:43
Heart Full Of Soul 2:52
For What It's Worth 3:30
The Seeker 3:27
Mr. Soul 3:51
Seven And Seven Is 2:53
Shapes Of Things 3:16
Crossroads 3:27
Zostava:
Geddy Lee: spev, basa
Alex Lifeson: gitara
Neil Peart: bicie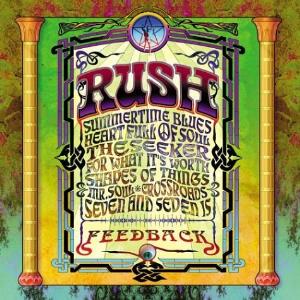 Feedback
Rush
hard rock
2004
CD (Anthem, 2004)
8