Vybrať jediný album zo záplavy geniálnych diel írskeho gitarového génia Roryho Gallaghera je nemožná úloha. Napriek tomu mám uľahčenú úlohu, keďže pre mňa je číslom jedna album Photo-Finish z roka 1978.
Keď som sa ako pätnásťročný začal učiť hrať na bicie, prevetrával som otcove kazety s muzikou a do walkmana vložil aj jednu, kde boli nahraté dva albumy – Calling Card a Photo-Finish. Nemožno sa mi čudovať, že sú to práve tieto dva, ktoré nielenže poznám naspamäť, ale ich vyzdvihujem nadovšetko. Počúval som ich tak často, až z kazety znel hádam len šum. Problém nastal v ére cédečiek. Kým iné albumy šlo zohnať pomerne ľahko, tento jeden jediný sa na CD dostal až v roku 1998. Navyše, Rory zomrel v roku 1995, presne pred dvadsiatimi šiestimi rokmi. CD preto obsahuje iný mix. Ide o remix dua Colin Farley a Tony Arnold. Na ich obranu hodno uviesť, že Rory chcel pred vydaním remixovať album sám, zanechal pomerne presné inštrukcie, ako si to predstavoval. Neviem, aké boli, ale Farley sa ich napokon nedržal a pustil sa do toho s vlastnou "invenciou". Výsledok nie je dobrý. Gitara je potlačená, basa neduní ani spolovice tak ako na platni. V tej dobe fičala zvrátená predstava o tom, ako má znieť rocková hudba (priškrtene a vykastrovane) a tento album si to podľa mňa odniesol. Škoda.
Ono, názov Photo-Finish odkazuje na to, že album Rory dokončil v poslednom momente pred uzávierkou termínov. Začal ho nahrávať v San Franciscu, ale nebol spokojný s výsledkom, nuž sa presunul do Nemecka. Navyše, prekopal zostavu. Preč bol klávesák Lou Martin, odišiel i bubeník Rod De'Ath. Máme tu preto klasickú rockovú trojku, za bicie si sadol "drevorubač" Ted McKenna. Tento škótsky borec hral najprv v The Sensational Alex Harvey Band, no a potom hral v  skupine Grega Lakea (s Gary Mooreom), v MSG (s Michaelom Schenkerom) a sprevádzal i Iana Gillana. V kolínskom štúdiu Dietara Dierksa do toho nová zostava dala všetko. Dierks je legenda. Už od konca 60. rokov umožňoval množstvu krautrockových kapiel nahrávať jeden obskúrnejší album za druhým a napokon sa stal producentom Scorpions. A aj Rorymu pomohol nahrať parádny album. Deväť skladieb, deväť stavebných kameňov divu sveta nazvaného Photo-Finish.
Shin Kicker je nádherná hardrocková vypaľovačka s typickým Roryho melodickým rukopisom. Brute Force & Ignorance prináša kusisko havajských plážových nálad, ťažko sa to opisuje, treba počuť. Koľko energie vyžaruje z Cruise On Out, by nezmeral ani najvýkonnejší dozimeter. Cloak & Dagger vychádza z pomalého bluesového "fílingu" a nemá chybu. Napriek tomu je pre mňa celé doterajšie dianie iba čakaním na extázu. Tú predstavujú dve skladby. Melodický rockový kúsok Overnight Bag a hardrocková priamočiara smršť Shadow Play. Oboje predstavujú Roryho ako hudobného génia, brilantného melodika, majstrovského sólového gitaristu. Posadený bahnitý kúsok The Mississippi Sheiks dobre padne, podobne ako rozbehnutá pecka The Last Of The Independants. A to tu máme ešte perličku na záver. Fuel To The Fire má úžasnú gitarovú melodickú vyhrávku, ide o jeden z najsilnejších Garyho baladických kúskov. Bonusy z nepoužitých nahrávok neurazia, Early Warning je rýchla "plechová" smršť, Juke Box Annie pre zmenu pomalá honky-tonk južanská skladba.
Celoživotná láska, hodnotiť nemá zmysel. Dám plný počet hviezd, ktoré však nie sú ani atómom z celého vesmíru, ktorý vznikol z veľkého tresku Photo-Finish.
Skladby:
Shin Kicker 3:58
Brute Force & Ignorance 4:19
Cruise On Out 4:44
Cloak & Dagger 5:23
Overnight Bag 4:52
Shadow Play 4:48
The Mississippi Sheiks 6:03
The Last Of The Independants 4:01
Fuel To The Fire 6:03
Early Warning (bonus) 2:53
Juke Box Annie (bonus) 3:17
Zostava:
Rory Gallagher: spev, gitara, harmonika, mandolína, dobro
Gerry McAvoy: basa
Ted McKenna: bicie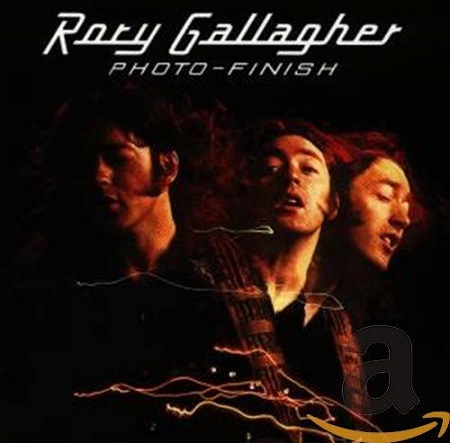 Photo-Finish
Rory Gallagher
blues rock, hard rock
Chrysalis
1978
CD (Strange Music, 1998)
9+2