Priznám sa, ťažko by som vedel vybrať, ktorá doska od Roryho je moja najobľúbenejšia. K favoritom určite patria Rory Gallagher, Deuce, Calling Card, Photo-Finish a Blueprint. Že neviete, kto bol Rory Gallagher? Svet nepozná lepšieho bluesrockového gitaristu, než bol, je a vždy bude tento írsky borec! 
Rory hviezdil už koncom 60. rokov s kapelou Taste, od 70. rokov fičal sólovo, v klasickej trojke (basa-gitara-bicie), čo mu vydržalo asi tak tri albumy. Obligátna zmena v zostave (na basu s ním hral prakticky celý sólový život Gerry McAvoy) sa u Roryho odohrávala prevažne za bicími. Album Blueprint predstavil za bicou súpravou šikovného harcovníka Roda De'Atha (z Killing Floor) a, šokujúco aj klávesáka Lou Martina (tiež z Killing Floor). Môžeme sa prieť, či bola "tá pravá" zostava s Wilgarom Campbellom alebo s Tedom McKennom, ale pre mňa je klasickou zostavou práve "blueprintová" štvorica.
Lou Martin je hodný osobitej pozornosti. Jeho klávesové vstupy sú presne také, aké očakávam. Zbytočne nevytŕča, dokresľuje rify, v sólach uprednostňuje klavír, čo sa do bluesovo zaonačenej muziky hodí. Neviete si predstaviť, aké je ťažké udržať klávesákov na uzde, aby do všetkého nevrazili svoju "skladateľskú" invenciu. Horší už je azda len gitarista s kvákadlom.
Kedysi dávno som hudbe na tomto albume venoval obsiahlu stať v inej recenzii na Progboarde. Bolo to v dobách, kedy ma bavilo vyjadrovať sa o hudbe literárne košatými opismi, nuž sa tam našli vety ako:
"Nasleduje prenádherná krehká Daughter Of The Everglades. Ride činel zvoní, v refréne nastúpi geniálna vyhrávka klávesov, padám do kolien (teda, keby som nesedel). Táto skladba patrí do Top 3 Gallagherovej produkcie (spolu so Shadow Play a Laudromat a Million Miles Away a … ups, dáko mi to nesedí, čo už)."
"Akustika a harmonika, to nemôže byť nič iné ako typická Roryho bluesová vsuvka Banker's Blues. Ten chlap bol génius akustickej gitary a keby rovnako nebol aj géniom elektrickej gitary, tak by som vyhlásil, že ho na elektriku bola škoda."
"Hands Off má chytľavý refrénový popevok a neopakovateľné Roryho sólo, ktoré plynie v neuveriteľnej pohode, aká mi chýba u záplavy tých takzvaných technických gitaristov, ktorý každú notu nahrávajú týždeň, len aby dosiahli akúsi pomyslenú dokonalosť. A tá leží úplne niekde inde, než v hlave. Vykopte Roryho hrob a uvidíte, že namiesto srdca mu v hrudi hrala gitara."
"…a už je tu záverečný kúsok If I Had A Reason. Havajózny motív, jemný melodický spev, nemôžem si pomôcť, táto skladba vo mne evokuje Karibik. Hodiť sa na pláž do piesku, zabudnúť na každodenné strasti občana stredoeurópskeho štátiku a nechať sa ovievať sporo odetými kráskami a… ehm, to som odbočil."
Bolo toho o mnoho viac, predstavu si isto urobíte sami. Každopádne tu niet slabého miesta. Od úvodnej parády Walk On Hot Coals cez Seventh Son Of A Seventh Son až po spomenutý záverečný havajský sen ide o koncentrovanú nádheru, esenciu rockovej muziky v bluesovom šate. Rory Gallagher bol skrátka jedinečný živel a neexistuje nikto, kto by ho dokázal čo i len vierohodne imitovať (i keď Gwyn Ashton sa svojho času snažil), nieto ešte prekonať.
Jeden z najväčších vrcholov v Roryho tvorbe a asi môj najobľúbenejší vôbec.
P.S. Zo zostavy je nažive už len McAvoy. Rory nás opustil 14.6.1995. De'Ath zomrel 1.8.2014 po dlhej chorobe, hoci fámy o jeho skone sa šírili už od roka 1987, kedy mal údajne zahynúť pri nehode. Martin zomrel 17.8.2012.
P.P.S. Na Novom Zélande sa album údajne datuje už do roka 1972. Zdá sa mi to nepravdepodobné, nakoľko sa v decembri toho roka ešte len nahrával v štúdiu a na pulty v Británii sa dostal v druhej polovici februára 1973.
(upravené, pôvodne čiastočne zverejnené na progboarde)
Skladby:
1. Walk On Hot Coals 7:03
2. Daughter Of The Everglades 6:13
3. Banker's Blues 4:46
4. Hands Off 4:31
5. Race The Breeze 6:54
6. Seventh Son Of A Seventh Son 8:25
7. Unmilitary Two-Step 2:49
8. If I Had Aa Reason 4:30
Zostava:
Rory Gallagher: spev, gitara, harmonika
Gerry McAvoy: basa
Lou Martin: piano, organ, gitara
Rod De'Ath: bicie, perkusie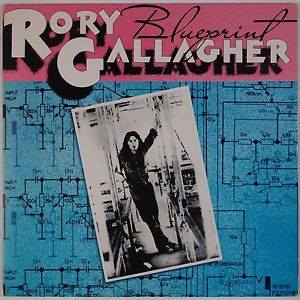 Blueprint
Rory Gallagher
blues rock
Polydor
1973
LP, CD
8