CD Ricordi – 74321981602  /2003/
Jediné album skupiny Rocky's Filj je možná nenápadnou, ale o to zajímavější italskou chuťovkou a zároveň sběrateli vyhledávanou raritou. Původní vinyl z roku 1973 se dá sice koupit již za relativně slušnejch 100 Euro, ale dál už se to objevilo jenom ve třech reedicích. Na LP to znovu vydali Sony Music v roce 2009 a na cédéčku dvakrát Ricordi, v letech 2003 a 2011. Mě se ho podařilo koupit teprve nedávno a bude to jedno z nejdražších CD v mé sbírce, ale co už. Sběratelská vášeň je jak "femme fatale" a podlehnout jí je tak snadné…
Skupina pochází z Parmy a její původní jméno bylo (podle frontmana Roberta "Rocky" Rossiho) Roky's Fily. Debutovala v roce 1971 u malého, lokálního labelu Cobra singlem Ingrid, ovšem do širšího povědomí hudebních fanoušků se dostala až teprve díky úspěšné koncertní šňůře s Banco del Mutuo Soccorso. Smlouvu na desku podepsala se společností Ricordi a produkoval ji Alessandro Colombini, kterej dělal na prvních třech albech BMS. Elpíčko Storie di uomini e non vyšlo v roce 1973, ale úspěch skupině nepřineslo ani v nejmenším. Krátce po vydání alba měl jeden z jejích členů oplétačky se zákonem, skončil v base (údajně Roberto Rossi, kterej řídil auto bez patřičného oprávnění) a tak se už o necelej rok později rozpadla.
Na šestatřicet minut dlouhou desku se vešlo pět skladeb a její obsah bych popsal jako progresivní rock s prvky jazzu a dlouhými, instrumentálními pasážemi. Hlavními markanty jsou řízné dechy (saxofony, klarinet, trombón a flétna), zkreslená kytara a pořádně nabroušenej zpěv. Pochopitelně v italštině. Díky těm ságům a flétnám mi to trochu připomíná album Melos krajanů Cervello, ale to je docela tvrdej a těžko rozlousknutelnej oříšek. Ve srovnání s ním do mě Rocky's Filj kloužou jak po másle a to jsou plusové body navrch.
Jako signifikantní skladbu bych označil hned tu úplně první, třináct minut dlouhou L'ultima spiaggia. Díky velkoryse pojaté stopáži ji tvoří hned několik překrývajících se vrstev a tak je tu slyšet všechno možné. Od řízného, jazzrockového nástupu s energicky vyhrávajícím ságem, přes hardrockové laufy se skřípějící, nebo kvákající kytarou, až po pastorálně klidné pasáže s klarinetem, flétnou a přizvukujícím kontrabasem. Zprvu umírněnej vokál Roberta Rossiho je poprvé slyšet až v závěru třetí minuty, ale postupem času je pořád ostřejší a v některejch sekvencích mi ten jeho přiškrcenej a jak rašple drsnej zpěv připomíná Ricky Belloniho z Nuova Idea (album Clowns).
Následující Il soldato je o polovinu kratší a i když se celá nese v poklidném duchu, je z ní cítit jisté napětí. Perkuse si daj pohov a místo nich je slyšet například trombón, nebo šmrdlající kontrabas. Nástroje jsou to sice poněkud netypické, ale spolu s ostatními se jim daří vytvářet unikátní a navýsost originální zvuk. Čtyři minuty dlouhá E je komplet instrumentální a je to pořádnej hudební hodokvas. V úvodu a pak ještě v samotném závěru skladby se odehrává strhující souboj unisono vyhrávajícího saxofonu s elektrickou kytarou – ságo z levého kanálu, kytara z pravého. Jak Rossi, tak Roby Grablovitz do toho mydlej s neskutečnou vervou a odpočinkem je pro ně pouze krátká jazzová vsuvka, ve které si to užije pro změnu rytmická sekce.
Vrcholem alba je pro mě čtvrtá Io robot. První dvě minuty, s trochou citlivého zpěvu Roberta Rossiho jsou v pastorálním stylu Il soldato, ovšem potom se strhne hotové boží dopuštění. Baskytara spustí brutálně rychlou, repetitivní a pořádně chytlavou rytmickou figuru, k ní se připojej jazzově tikající bicí a hned je tu prostor pro divoce sólující saxofony a flétnu. Hraničí to s avantgardou, možná aj s šílenstvím, ale poslouchá se to fakticky dobře a z nastaveného kurzu nijak nevybočuje ani závěrečná Martino. Znovu si tak můžeme poslechnout další z nesčetnejch soubojů kytary a saxofonu, dočkáme se i podobně repetitivní baskytarové linky, jako v předcházející Io robot a jedinou výjimkou je daleko větší prostor pro přiškrcenej vokál frontmana Rossiho.
Není to album na první poslech a je mi jasné, že ten zdánlivě nekončící ryk důraznejch saxofonů by mohl ledaskomu vadit. Já jsem do něj pronikal postupně a soukal ho do sebe nejdřív z YouTube, pak ze Spotify a nákup originálního nosiče si setsakra rozmýšlel. Nakonec jsem neodolal a jsem rád, že ho mám. Zvuk CD je (subjektivně) vynikající, v širokém stereu, krásně čitelnými nástroji a se spoustou detailů. Jediné, co mě mrzí je to, že na dvou místech nakrátko vypadne zvuk z levého kanálu a celková hlasitost se tak pochopitelně sníží. Ale to je nejspíš chyba už na původním masteru, která se nedá odstranit.
Mini vinyl replika od Ricordi je v tvrdém, lesklém provedení, s velkou fotografií uvnitř rozkládacího obalu, kterej navrhl Cesare Monti. Booklet sice neobsahuje, ale sestava, tracklist a texty písniček jsou vytištěny na vnitřním (rovněž lesklém) přebalu CD.
SKLADBY:
1. L'ultima spiaggia – 13:15
2. Il soldato – 6:17
3. E – 3:57
4. Io robot – 7:41
5. Martino – 5:41
SESTAVA:
Rocky Rossi – Alto Sax, Bar. Sax, Clarino e canto
Roby Grablovitz – Chit. elettrica, flauto
Luigi Ventura – Basso "Fender", Trombone
Rubino Colosante – Batteria, Contrabasso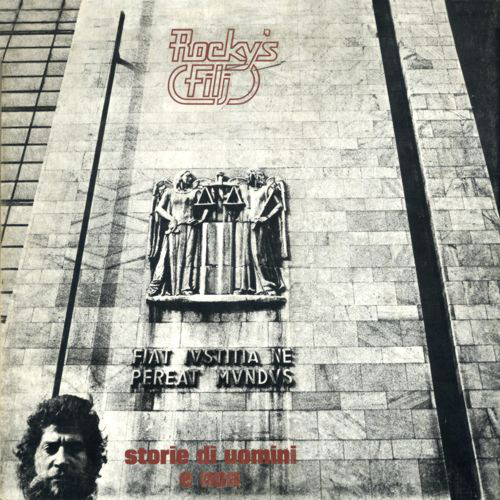 Storie Di Uomini E Non
Rocky's Filj
Prog Rock
Ricordi
1973
LP
5
CD Ricordi – 74321981602 /2003/