Recenziu na rovnomenný album kapely Reale Accademia di Musica som prvýkrát napísal niekedy v roku 2015 a dodnes ju beriem ako jednu z tých lepších, čo som stvoril. Tu je:
Predstavte si temnú miestnosť na policajnej stanici. Okrem stola s bodovou lampou a dvoch stoličiek ju dopĺňa akurát nepriehľadná sklenená tabuľa a radiátor, na ktorom visia putá. Radšej sa nezamýšľajte nad tým, či sú tie tmavé škvrny na jeho povrchu hrdza alebo… Bodové svetlo sa Vám zabodne do očí, len čo sa oproti vám posadí nevábne vyzerajúci detektív, ktorý určite pred chvíľkou vyhral kasting na mafiánskeho vymáhača dlhov. Zjavil sa nevedno odkiaľ a už začína výsluch:
– Poznáte Reale Accademia Di Musica?
– Kapelu alebo album?
– Otázky kladiem ja! Oboje!
– Samozrejme, je to jeden z najoceňovanejších počinov takzvaného talianskeho progresívneho rocku.
– Priznávate, že ste ho zavraždili trojhviezdičkovým hodnotením na spustnutom a upadajúcom internetovom semeništi poklesnutých žánrov zvanom Progboard a následne i na Rockovici?
– Čože? Nie! Aké semenište? Aká vražda?
– Ticho! Tak ako, dali ste mu tri mizerné hviezdy alebo nie?
– No, áno…
– Tak a je to! Čo poviete na svoju obhajobu?
– No, ten album má šesť skladieb a prvé dve sa k rocku ani len nepriblížili…
– Ale je to klasika!
– Čerta starého! Pôsobí to ako uspávanka v čase ranných zôr.
– Obrazné kydy si nechajte pre seba! Vari vám nestačí klavír? A to si vravíte fanúšik Emersona?
– Pravda, v skladbe Il mattino je úžasný klavír, dokonca ho občas sprevádza aj zvyšok skupiny vrátane sólujúcej ševeliacej gitary, ale pochopte, rytmika je ľahká ako deva na fotke, čo vám vykúka z vrecka saka…
– Prásk! Ešte raz a môžete si chystať zubnú protézu!
– OK, pochopil šom, uš budem doblý…
– Tak ďalej, čo vo vás vyvolalo tú potrebu odkrágľovať obeť na verejnosti?
(nasledujúci záznam bol dodatočne editovaný, aby mu bolo rozumieť – pozn. zapisovateľa)
– Aké krágľovanie? Len vravím, že je to skôr zasnená muzika plná oddychových melódií, pri ktorej by sa žiadala troška vzruchu.
– Vzruchu sa ti zachcelo? Aha, tam je radiátor a ak nechceš skončiť prihriaty, tak začni klopiť, čo ťa k tomu viedlo?
– Asi to, že najlepšia skladba albumu, dravá a dramatická Vertigine, je spolu s Padre osamotená v záplave snenia. Druhá menovaná sa žiaľ snaží byť skôr ľahko erotická, než ostrá sťaby momentky z kláštorného života. Ešte aj Lavoro in citta', akokoľvek je to krásna skladba, sa spustí až v závere.
– Freuda si strč dakam, nejaké posledné slová?
– Nič zlé som neurobil! Veď ja mám ten album rád!
– Ako myslíš. Tak nastav ruky, a počkaj tu pri radiátore, kým neprídu kolegovia, čo ti podobné veci vytlčú z hlavy.
Nuž, pekný pokojný album Realle Accademia Di Musica bol pre mňa pri prvom počutí skôr sklamaním, ale časom som si ho vcelku obľúbil, len musím mať chuť na lenivé rozjímanie.
(pôvodne zverejnené na progboarde)
Skladby:
Favola 3:46
Il Mattino 9:19
Ognuno Sa 5:19
Padre 8:41
Lavoro In Citta' 5:56
Vertigine 7:11
 Zostava:
Federico Troiani: klávesy, vokály
Nicola Agrimi: gitara
Pierfranco Pavone: basa
Roberto Senzasono: bicie, perkusie
Henryk Topel Cabanes: spev
a
Pericle Sponzilli: gitara
Maurizio Vandelli: ak. gitara (2), mellotron (5)
Natale Massara: orchestrácia (1, 2)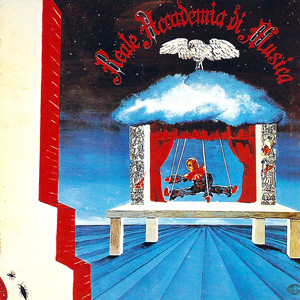 Reale Accademia di Musica
Reale Accademia di Musica
classical rock, art rock
Ricordi
1972
LP, CD
6