Pro vývoj bigbítové potažmo rockové hudby byli stejně důležití jako legendární The Beatles. Charakterizovat je jako konkurenty se mi zdá nepatřičné, přestože ve svých začátcích obě skupiny vycházely z amerického rock and rollu. Na druhé straně rozdělili britskou scénu na poloviny. Měli blíž k rhythm and blues a soulu a zdůrazňovali svoji image zjednodušovanou variantou hudby. Oni představovali tu drsnější, pouliční směs chuligánských rebelů, což se stalo hlavním poznávacím znamením pro další desetiletí jejich kariéry. Dosáhli však gigantického úspěchu a právem jsou označováni jako "nejlepší rockandrollová skupina na světě". Ano, Rolling Stones!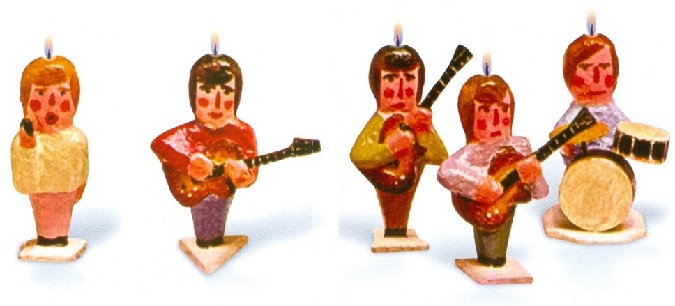 Jejich v pořadí osmé studiové album lze bez odporu označit jako jedno z nejlepších v jejich nepřeberné diskografii. Upozorňovalo na sebe nejen obalem, ale i nápisem THIS RECORD SHOULD BE PLAYED LOUD (Tuto desku přehrávat nahlas). Nahrávání začalo v listopadu 1968 a pokračovalo od ledna do listopadu následujícího roku. Dostalo název Let It Bleed a objevilo se na labelu London/Decca 28. listopadu 1969. Místo Briana Jonese byl přijat nový člen – talentovaný kytarista Mick Taylor, (ex-Bluesbreakers Johna Mayalla). Na albu se ovšem objevuje jenom ve dvou skladbách. Produkce se ujal Jimmy Miller a hudební režie Glyn Johns. Originální obal, narozeninový dort ležící na pneumatice, hodinovém ciferníku a krabici studiového masteru společně s vinylovou deskou a zvukovkou, vytvořil Robert Brownjohn.
GIMMIE SHELTER – Úvodní skladba má v sobě patřičné napětí, které postupně graduje s valícím se soundem. Přidušený Jaggerův frázující hlas je zastíněn skvělým vokálem Merry Claytonové. Jednoduchá, přesto zemitá a účinná rytmika vytváří skvělý podkres celé atmosféře. V přímočarosti je síla a tahle píseň to potvrzuje v každém ohledu, ať už skladbu koloruje foukací harmonika, rumba koule nebo upozaděný klavír.
LOVE IN VAIN, jediná převzatá skladba z pera Roberta Johnsona, je jedinečnou příležitostí pro sólovou slide-kytaru Keitha Richardse. Skvěle je sejmutá i akustická kytara. Nádherně líná atmosféra, do které se Jagger dokáže položit s pověstnou erudicí záletného milence. Zapadá do ní i mandolína Američana Ry Coodera, v blues méně obvyklý instrument. V živé verzi možná ještě přesvědčivější.
COUNTRY HONK je nefalšované country-blues na akustickou kytaru s připojenými houslemi a onou osobitou atmosférou periferie a věrohodnou ukázkou zemitosti. Že se jedná o derivát slavného stoneovského hitu Honky Tonk Women, nepochybuje v nejmenším ani průměrně informovaný posluchač. Lepší jamovací verzi si člověk snad ani nedokáže představit.
LIVE WITH ME je údernějším rockem přesně podle scénáře Stones se zdůrazněnými klavíry Američana Leona Russella a studiového hráče Nicky Hopkinse, s připojeným tenorsaxofonem Bobbyho Keyse, který nahodí odvázané sólo. Kytary jsou potlačeny, aby dostal více prostoru skvěle frázující Jagger.
LET IT BLEED – První sloku zpívá Keith Richards, aby byl vzápětí doplněn Jaggerem. Přehledná melodická a úderná skladba s vysunutým klavírním doprovodem Iana Stewarta, doplněná kolorováním kytarových ornamentů s protahovanými tóny. Richards si střihne nenáročné, ale přesto stylotvorné kytarové sólo podle daných rockandrollových pravidel. Nic víc, nic míň.
MIDNIGHT RAMBLER, jedna z nejsilnějších skladeb na albu, je emocionální blues podle stoneovských pravidel. Střídání rytmů a působivé dynamické odstíny mají mimořádný rozměr. Upozadněné percussion hraje muzikantsky nepoužitelný Brian Jones, zatímco skvělou foukací harmoniku nahrál Jagger přesně v duchu černého bluesmana Jamese Cottona. Šamansky hypnotický rytmus se posléze ztrácí v prostoru a přenechává místo kouzlení s tóny, s akcentovými motivy. Skladba se stala oblíbeným koncertním číslem, kde více vyznělo její vnitřní naléhavé napětí.
YOU GOT THE SILVER – Svou pěveckou příležitost dostává Keith Richards. Stylotvorný příspěvek akustického blues z mississippské delty s pověstnou línou "bažinovou" atmosférou. Kytarové party nahrál Richards sám, za doprovodu klavíru a varhan Nicky Hopkinse. Pro milovníky historických souvislostí uveďme, že to byla poslední skladba nahraná za asistence nešťastného Briana Jonese.
MONKEY MAN je údernější skladbou s plnějším aranžmá. Richards stylově sekunduje emocionálnímu Jaggerovi. Oba se v písni podělili i o pěvecké party za doprovodu klavíru Nickyho Hopkinse. Plnotučný rock podle stoneovské filozofie nechat dozrát skladbu pro pódiovou prezentaci.
YOU CAN'T ALWAYS GET WHAT YOU WANT – Závěr, netypický pro Stones, je tento nádherný gospel, ve kterém se vyznamenávají sboristky. Skladbu aranžoval známý skladatel filmové hudby Jack Nitzche pro London Bach Choir. Významným podílem přispěl respektovaný americký hudebník Al Kooper, na bicí zde místo Wattse hraje producent Jimmy Miller. Píseň potvrdila Jaggerův intimní zájem o soulovou hudbu, jejíž prezentaci se sbory a doprovodem nástrojům zvládl jedinečným způsobem. Žádné rafinované harmonie, ale skvělý pěvecký počin, příjemně vybočující z rockandrollových klišé.
Znalci stoneovského materiálu, ale i odborná kritika, která byla v rámci Rolling Stones většinou skeptická, se shoduje na tom, že navzdory problémům členů skupiny s LSD, kokainem a heroinem, se jim podařilo natočit v období 1968 až 1972 pravděpodobně nejsilnější alba v jejich dlouholeté kariéře.

Nutno podotknout, že nový člen Rolling Stones – Mick Taylor, jak nám ukazují fakta, byl zcela určitě nejschopnější kytarový hráč za celou kariéru skupiny, který stál v jejich řadách. Přes jeho výtečné schopnosti se nepodařilo jeho hráčský potenciál více zviditelnit, než jak tomu bylo u Johna Mayalla. Jagger ani Richards při své pověstné ješitnosti neměli zájem poskytnout "nováčkovi" zasloužený prostor k seberealizaci, jaký by si zasloužil. Tím se ovšem Rolling Stones připravili o zdatného instrumentalistu, který jim v dalších letech citelně chyběl. Jedinečný stoneovský majstrštyk! Dávám pět hvězdiček.
SKLADBY:
1. Gimme Shelter (4:30)
2. Love In Vain (4:19)
3. Country Honk (3:07)
4. Live With Me (3:33)
5. Let It Bleed (5:27)
6. Midnight Rambler (6:52)
7. You Got The Silver (2:50)
8. Monkey Man (4:11)
9. You Can't Always Get What You Want (7:30)
All songs by Mick Jagger and Keith Richards
except Love In Vain (Robert Johnson)
SESTAVA:
Mick Jagger – lead vocals, backing vocals and harmonica
Keith Richards – acoustic, electric, and slide guitar, bass guitar, and vocals
Mick Taylor – electric and slide guitar
Bill Wyman – bass guitar, autoharp and vibes
Charlie Watts – drums
+
Brian Jones – autoharp and percussion (congas)
Byron Berline – fiddle on Country Honk
Merry Clayton – vocals, backing vocals on Gimme Shelter
Ry Cooder – mandolin on Love In Vain
Rocky Dijon – percussion on You Can't Always Get What You Want
Nicky Hopkins – piano and organ
Bobby Keys – tenor saxophone on Live With Me
Al Kooper – piano, French horn, organ on You Can't Always Get What You Want
The London Bach Choir – vocals on You Can't Always Get What You Want
Jimmy Miller – percussion, drums, tambourine
Jack Nitzche – choral arrangements on You Can't Always Get What You Want
Leon Russell – piano and horn arrangement on Live With Me
Ian Stewart – piano
Nanette Workman – backing vocals on Country Honk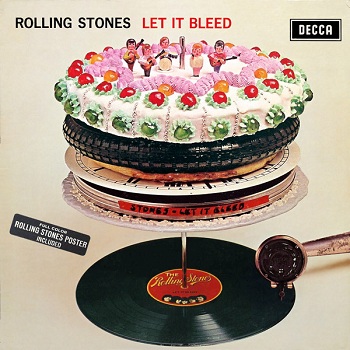 Let It Bleed
The Rolling Stones
Blues Rock, Rock & Roll
Decca
1969
LP
9