Procol Harum – jedna z těch novějších akvizic v mé hýčkané soukromé hudební sbírce. Společně se Spooky Tooth a Ten Year After je tohle další, třetí silný kůň, kterého jsem objevil před pár rokmi a  který okamžitě atakoval mé přední příčky oblíbenosti. A jestliže šlo v případě Spooky Tooth o jasnou volbu s albem číslo dva, tady nebyl výběr "poprvé" vůbec jednoduchý. Vycházel jsem z dostupných recenzí a samozřejmě také potřebného vlastno-ušního vjemu. Nakonec a po několika obměnách, padla volba na desku Home, aniž bych předem tušil jak dobře jsem nakonec vybral.
Whisky Train zahajuje desku perfektním kytarovým riffem, masivní a pěkně úderná věc hned na začátek. Balady jsou silnou zbraní kapely a na tomto díle je jich neurekom, klavírní a Brookerovo naléhání během ponuré The Dead Man's Dream, melancholická kráska Nothing That I Didn't Know (s krásným akordeonovým závěrem), nebo šestá Barnyard Story. Vlastně sudé tracky jsou pomalé, baladické písně, které když mají zajímavou melodii, potřebné charisma i dostatek citu, dokáží silně bodovat. Zrovna taková je i Whaling Stories, v ní si Procol Harum na ploše sedmi minut pohrávají s divákovou psychikou, prostřednictvím vypjaté atmosféry se spoustou nemelodických postupů, navršených na jednu hromadu, směřujících k postupnému finále na konci druhé třetiny. Ze Still There'll Be More vyzařuje hravost Beatles i jazzová ležérnost, brouky mě připomíná i roztomilá hříčka Piggy Pig Pig. A třeba taková About To Die dokáže pěkně hypnotizovat, kytarová melodie uprostřed klavírní linky působí opravdu zajímavě.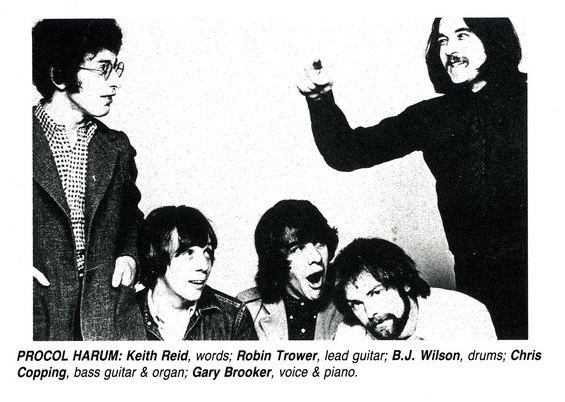 Procol Harum jistě patří do zlatého rockového fondu přelomu šedesátých a sedmdesátých let a mě dokázali, že na novou/starou hudbu, je v muzikou zasaženém srdci, stále dost místa. Deska Home je specifická ve své vnitřní hudební dramaturgii, ve svém střídání nálad a v kontrastech a soubojích dvou rozličných poloh. Je podmanivá, vitální i pestrobarevná. Stejně, jako celá tvorba tohoto bravurního tělesa.
SKLADBY:
1. Whisky Train /Trower/Reid/ 4:31
2. The Dead Man's Dream /Brooker/Reid/ 4:46
3. Still There'll Be More /Brooker/Reid/ 4:53
4. Nothing That I Didn't Know /Brooker/Reid/ 3:38
5. About To Die /Trower/Reid/ 3:35
6. Barnyard Story /Brooker/Reid/ 2:46
7. Piggy Pig Pig /Brooker/Reid/ 4:47
8. Whaling Stories /Brooker/Reid/ 7:06
9. Your Own Choice /Brooker/Reid/ 3:13
SESTAVA:
Gary Brooker – lead vocals, piano,
Robin Trower – guitar
Chris Copping – bass, organ
Barrie James Wilson – drums
Keith Reid – words
+
Harry Pitch – chromatic harmonica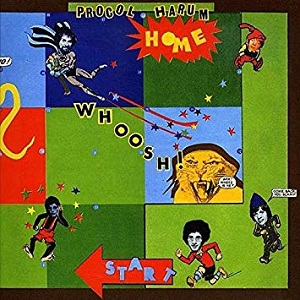 Home
Procol Harum
Psychedelic Rock, Prog Rock, Blues Rock
Regal Zonophone
1970
LP
9