Hard rock z Kanady najlepšie reprezentuje zabudnutá kapela Jackal, ktorá dala svetu jediný album Awake (1973).
Pochádzala z Toronta a vznikla niekedy koncom 60. rokov. Zostavu tvorili bratia Chris a James Kellesisovci (prvý hral na klávesy, druhý bol basák), ku ktorým sa pridal spevák Charlie Shannon a po niekoľkých personálnych rošádach sa gitár chopili Dave Bernard a Steve Hayward, pričom za biciu súpravu si sadol Lois Mutton. V tomto zložení padli do oka producentovi Artovi Sniderovi. Ten kapele zaistil kontrakt so svojou vlastnou spoločnosťou Periwinkle Records, ktorá v roku 1973 vydala kapele debutový album Awake (PER 7309). Niektoré zdroje poukazujú na to, že materiál bol nahratý v roku 1971 (sestra speváka Colleen zmätočne tvrdí, že v tom roku aj vyšiel). Nahratý bol v štúdiu Sound Canada pod dohľadom Boba Straighta, pričom si ho skupina produkovala sama. Kreslený obal vytvoril Julius Ciss. Nedostatok peňazí na promo a turné spôsobil, že album rýchlo zapadol a kapela sa do roka rozpadla. Shannonn hrával v skupinách Frankenstan, The Tongs a Tequila Sunrise, zomrel pri autohavárii v roku 1986. Všetci hudobníci napokon opustili hudobný priemysel a už o nich nikto nepočul. Existujú tri vydania albumu na CD, prvé z roka 1994 od Labyrinth/Laser Edge (TL2002), druhé od Radioactive Records (RRCD022) z roka 2004 (vydalo aj LP (RRLP022)) a posledné od Elcipse Records (ECL1025) z roka 2018. Zaujímavosťou je, že nikto netuší, kto vlastne na albume bubnoval. Moje CD označuje za bubeníka Jamesa Kellesisa, kým pôvodné vydania označovali za bubeníka Loisa Muttona a niektoré reedície zasa Camerona Laudera.
Skupinu Jackal som mal ako na podnose kedysi dávno, keď mi ju od Labyrinthu núkal Peťo v Roxy. Zbežne som ju na mieste popočúval, ale nejako ma to nechytilo, nuž som si CD nekúpil. Po nejakej dobe som začal dumať, že by sa mi vlastne do zbierky hodilo, ale smola, cédečko bolo fuč a dostupnosť sa neblížila k nule iba preto, že za mínusovým znamienkom ležala nejaká viacciferná číslica. Dlhé roky som na kapelu nenaďabil, až sa mi ju podarilo niekedy v lete 2011 zrazu nájsť na pulte rovnomenného obchodu od pirátov formátu Čiernej Brady, a síce Radioactive Records. Neváhal som ani okamih! Neviem, či je to vekom, ale dnes mi pripadá, že iba blbec mohol v dávnych dobách takouto perlou ohŕdať (podobne som dopadol s kapelou Cargo z Holandska, krásna dvojgitarovka, ale ako mládenec som ju nedocenil a trvalo veľmi dlho, kým som ju zohnal).
Brutálny, hammondkami šmrncnutý, sound otvára melodickú hardrockovú skladbu At The Station. Gitara i spev napokon prejdú až do frenetického revu, čo vôbec nie je na škodu, naopak. Podobne naliehavá dokonalosť sa prezentuje aj pod krycím menom For You.  Sunny Side Of The Day by z melodickej polevy mohla vyrábať cukrovinky pre Guinessovu knihu rekordov. Prívalová vlna vyplaví ďalší krásny kúsok nabrúsenej gitary, ktorá po vzore mušlí rozryje každú bosú nohu, čo sa chce poprechádzať po plytčine. A New Day Has Arisen má takú úžasnú gitarovú prezentáciu, až som z toho namäkko, že by to ocenil jedák perníkov z umelým chrupom. Kým čajky v pozadí vítajú rybárske lode, vyvrcholenie na pobreží sa nielenže tvári ako cunami, ono to aj tak pôsobí!
Najdrsnejší kúsok albumu sa volá How Time Has Flown, paradoxne však má navzdory názvu opačné účinky. Človek cíti, ako čas putuje nazad, do dôb, kedy sa jednak robila skvelá muzika, a tiež sa vracia dávno potratená energia schopná rozhýbať aj počítačových mäkkýšov nášho formátu na nejaké tie machy. A temnota pokračuje, krátka smršť Lost In The World sa nikde nestratí, je svetová.  Nespomenul som ešte, že kapela je božská? Nuž napravujem, In The Heavens má chytľavú náladu, tu klávesy úsečne ťukajú do rytmu, tam gitara trilkuje, inde sa všetko tiahlo vyplakáva a celé to uháňa k niekoľkým pomalším pasážam, čo dodať. Treba počuť a nevyhovárať sa na hluchotu. Dámy a páni, aby bolo jasné, to najlepšie sa na vás chytá v titulnej skladbe albumu. Awake zobudí medveďa zo zimného spánku, spravodlivosť zo spánku spravodlivých a Kukučín mal šťastie, že za jeho čias kapela nehrala, pretože jeho poviedka Neprebudený by nemala šancu uzrieť svetlo sveta.
Kto má rád hard rock založený na kypiacej melodike, mohutných klávesoch znejúcich á la počiatok 70. rokov a rovnako nabudenej gitary, ten si Awake zamiluje. Ja som už prebratý, zobudený, hore a nadšený! Beda, ak sa nájde niekto, kto spochybní Kanadu čoby hardrockovú veľmoc a vyženie ju na perifériu!
(upravené, pôvodne zverejnené na progboarde)
Skladby:
At The Station 5:37
For You 3:00
Sunny SIde Of The Day 2:39
A New Day Has Arisen 8:34
How Time Has Flown 5:47
Lost In The World 2:20
In The Heavens 4:05
Awake 7:46
Zostava:
Chris Kellesis: klávesy
James Kellesis: bicie
Charlie Shannon: spev
Dave Bernard: gitara, basa
Lois Mutton alebo Cameron Lauder: bicie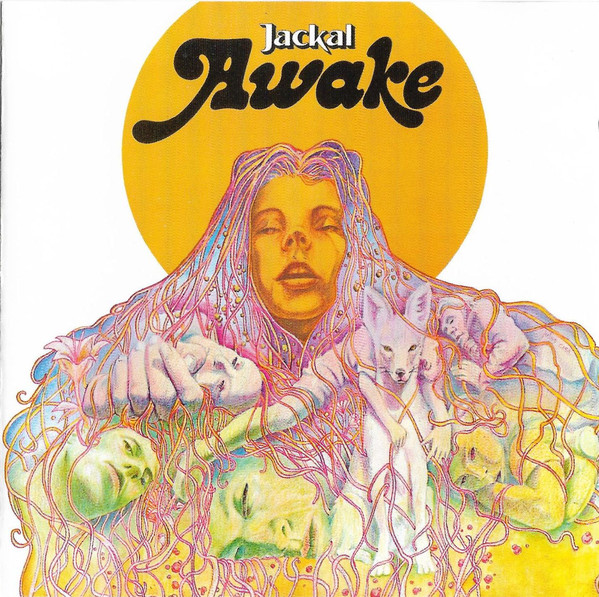 Awake
Jackal
hard rock
Periwinkle Records
1973
CD (Radioactive, 2004)
8