Po maďarsky toho veľa neviem. Len pár slov, tým nemyslím univerzálne platnú nadávku konský oný. Bez ohľadu na súčasné politické videnie sveta cez maďarskú kartu sa v Československej socialistickej republike darilo rockovým kapelám spoza južnej hranice. Povedzme si na rovinu, tu u nás sme profesionálne fungujúce zoskupenia tvrdšieho rocku prakticky nemali. Aj preto tu dodnes narazíte na prekvapivo veľkú masu pamätníkov, ktorí nedajú dopustiť na Omegu alebo hoci Locomotiv GT. A práve o nej bude dnes reč. 
Debutový album z roku 1971, kedy kapela vznikla, som zháňal na cédečku dlho. Pred niekoľkými rokmi sa mi ho konečne podarilo ukoristiť a mohol som sa započúvať do hudby, ktorá formovala generáciu mojich rodičov. Nečudo, že ma v detstve obišla. Kým Omega vystupuje dodnes a môžete ju počuť každú chvíľu v dedinách v rámci okresov južného Slovenska, Locomotiv GT také šťastie nemala a dávno neexistuje. A asi sa už ani nenaštartuje, veď v lete minulého roku zomreli ako gitarista Barta, tak bubeník Laux. Každopádne mala v blízkej i vzdialenej rodine a u priľahlých kamarátov status legendy a to som nemohol ignorovať.
Album po internete predchádza povesť progresívneho rocku, ale nebojte sa, je to v podstate hardrocková klasika, tu i tam doplnená o nejaké tie art alebo džezové náznaky. Už úvodná balada Egy dal azokért, akik nincsenek itt má v sebe niečo z Uriah Heep, podmanivú bôľnu melódiu, nevtieravé a neoblomné klávesy. Gitara zasa evokuje čosi z Hendrixových slaďákov, flauta bola v tých dobách vďaka Jethro Tull rockovým nástrojom par excellence, skrátka, je to nádherná vec!
Že Deep Purple hrali muzikantom namiesto uspávanky, je jasné z ráznej úsečnej hardrockovej smršti A napba öltözött lány. Čiastočne akustický úvod skladby A kötéltáncos álma prinesie ďalšiu podmanivú baladu, čoby dôkaz, že to nemusí iba rinčať, ak chcete vyvolať u drsného poslucháča pocit melanchólie. A potom ho tresnúť po hlave ťažkotonážnym slajdovým kúskom á la A tengelykezű félember! Kto to prežije, ten je vystavený infarktovému behu Hej, én szólok hozzád. Nedávno som absolvoval záťažové testy na srdce a v tomto okamihu sa mi zdá, že album funguje  rovnako účinne ako šliapanie do pedálov. Rozhodne je to zábavnejšie! Veľký hit Ezüst nyár mi trošku pripomína párplovský Hush. Najmä to nanákanie v refréne. Zato ku koncu sa zjaví niečo na spôsob swingového  shuffle.
Na kolísavej vlne sa zvezieme v spevnej skladbe Ordító arcok. Džezrockové tendencie nezaprie, rovnako ako heretik v inkvizičnej mučiarni prizná aj to, čo mu diabol zabudol povedať. Naplno si zaswingujeme v Sose mondd a mamának. Mame to síce nikdy nepovieme, ale občas aj my bubeníci vezmeme metličky a pozametáme si svoj životný priestor. Posadený hardrockový valec Nem nekem való má silu, že by sa i Valibuk cítil ako Steve Buscemi v ringu na Wrestlingu.
Už vidím Mickeyho Rourkea, ako ho tou kvákadlovou gitarou zatĺka do zeme!
Na záver tu máme povinnú jazdu všetkých sedemdesiatkových rockerov – blues. Akustická parádička Royal blues (Gipszeld be a kezed) si na nič nehrá a teda jej to hrá doslova ukážkovo! A to aj v momente, kedy sa elektrifikuje!
Debut Locomotive GT považujem za najlepšie dielo, aké som z maďarskej rockovej scény počul. Je neučesané a dravé, hutné i melodické. Kto ešte nemal tú česť, mal by to napraviť a spraviť si názor sám.
Skladby:
Egy dal azokért, akik nincsenek itt 5:00
A napba öltözött lány 4:47
A kötéltáncos álma 3:28
A tengelykezű félember 4:21
Hej, én szólok hozzád 5:44
Ezüst nyár 2:58
Ordító arcok 4:13
Sose mondd a mamának 3:45
Nem nekem való 4:37
Royal blues (Gipszeld be a kezed) 3:07
Zostava:
Barta Tamás: gitara
Frenreisz Károly: soprán a tenor saxofón, flauta, gitara, basa, spev
Laux József: bicie, kongá
Presser Gábor: organ, piano, vibrafón, spev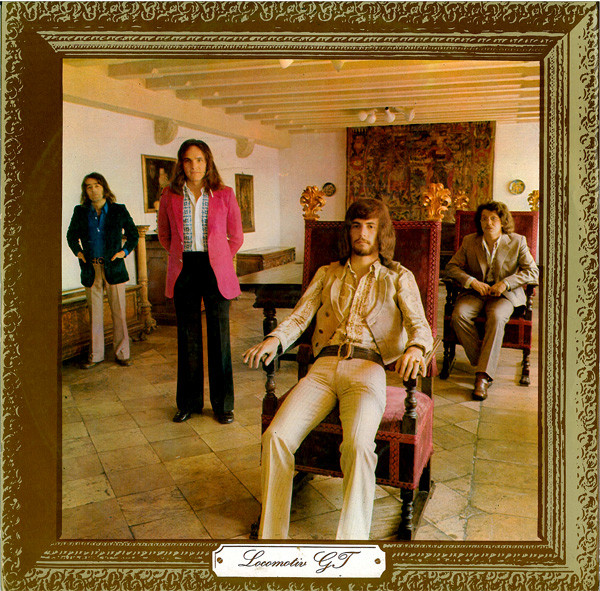 Locomotiv GT
Locomotiv GT
hard rock
Pepita
1971
LP, CD
10