Ve třetím ročníku na střední k nám z hlavního města přestoupil spolužák, který prohlašoval, že dělá diskotéky. Dokázal to, tu diskotéku nám udělal na internátě, v jídelně.
Taky začal z Prahy vozit desky, které sehnal na burze pro movitější spolužáky. Kamarád si od něj koupil LP Relics od Pink Floyd. Bylo to americké vydání s odlišným obalem, to jsem tehdy nevěděl. Album jsem si nahrál a doma si ho konečně přehrál. Začátek, Arnold Layne, skladba ve stylu Beatles, se mi hodně líbila. Následná Interstellar Overdrive byla dost unavující, ale po ní See Emily Play, něco úžasného. Remember A Day jsem znal z LP A Saucerful Of Secrets. Z alba Relics se pro mě stala nejoblíbenější nahrávka.
Relics je vlastně výběr z prvních tří LP a singlů skupiny. Úvodní skladba Arnold Layne je první singl s příběhem voyera, který sbírá dámské prádlo z prádelních šňůr kolem domů. Jak už jsem psal výše, píseň ve stylu psychedelických Beatles. Druhá skladba, Interstellar Overdrive, je vesmírná honička mezi planetami, úžasná záležitost plná kosmických zvuků a zkreslených kytar. Po běsnění nastává uklidnění písní See Emily Play, takto druhé strany prvního singlu. Tuhle písničku mám hodně rád, čiší z ní pohoda a snovost. Remember A Day pochází z druhého alba a možná na něm hraje David Gilmour, na desce to není uvedeno. Beatlovský Paintbox a nádherná Julia Dream ukončí první stranu LP.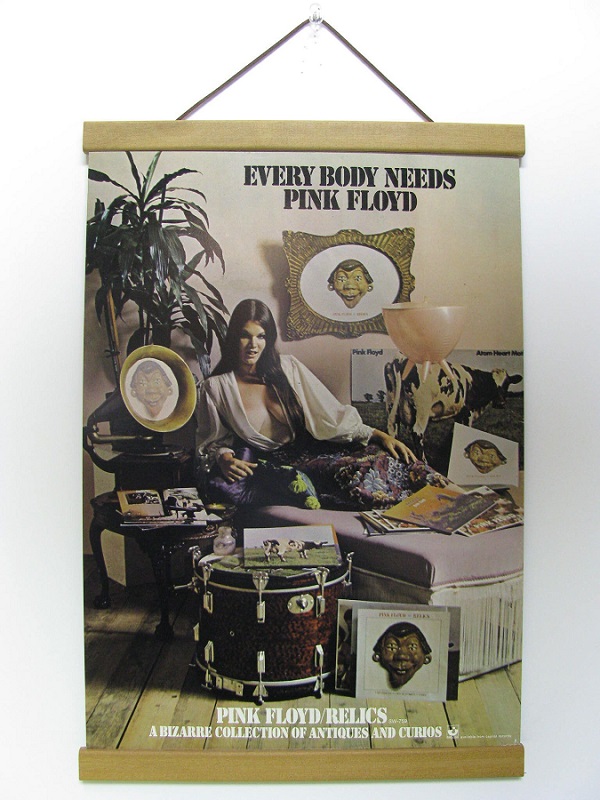 Druhá strana začíná skladbou Careful With That Axe, Eugene, která doprovází závěrečnou scénu – hořící dům ve filmu Zabriskie Point. Na soundtracku z tohoto filmu je píseň nazvaná Come In Number 51, Your Time Is Gone. Skladby Cirrus Minor a The Nile Song pochází z desky More. První je nádherně snová a psychedelická, druhá snad nejtvrdší skladba kapely, kterou znám. Ani jsem netušil, že Pink Floyd hrají blues, Biding My Time je toho důkazem. Desku uzavírá jedna z jejich pro mě nejlepších písní, skladba Bike.
Nevím, kdo tuhle LP skládal, nicméně je poskládaná z toho nejlepšího, co skupina na konci šedesátých let vytvořila. Od doby, co jsem jí poznal si jí vždy rád pustím. Jsou na ní nikde jinde publikované skladby a když jí mám hodnotit, tak je to pět hvězdiček. Moje nejoblíbenější deska Pink Floyd.
SKLADBY:
01. Arnold Layne (2:56)
02. Interstellar Overdrive (9:43)
03. See Emily Play (2:53)
04. Remember A Day (4:29)
05. Paintbox (3:33)
06. Julia Dream (2:37)
07. Careful With That Axe, Eugene (5:45)
08. Cirrus Minor (5:18)
09. The Nile Song (3:25)
10. Biding My Time (5:18)
11. Bike (3:21)
Total Time: 49:18
SESTAVA:
Roger Waters – basová kytara, zpěv
Nick Mason – bicí
Richard Wright – klávesy, zpěv
David Gilmour – kytara, zpěv
Syd Barrett – zpěv, kytara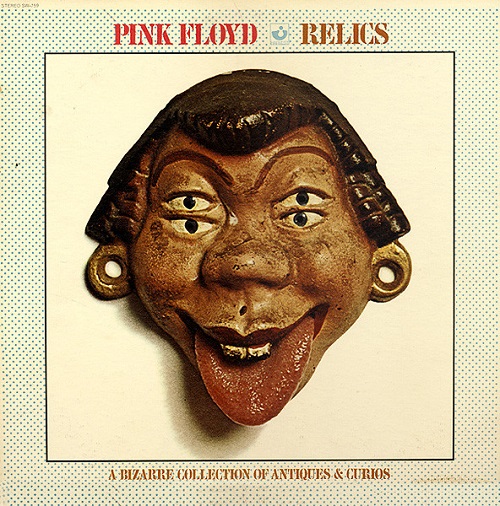 Relics (A Bizarre Collection Of Antiques & Curios)
Pink Floyd
Psychedelic Rock
Harvest
1971
LP
11