Cream bolo zoskupenie troch výnimočných muzikantov, ale podľa mňa bol dušou práve Jack Bruce. Jednak bol dominantným skladateľom, a tiež hral nezanedbateľnú úlohu ako tvár kapely (spevák i basák, ktorého bolo plné pódium). Po rozpade legendárnej skupiny to mávajú jednotlivci, akokoľvek výnimoční, ťažké. Clapton veľmi rýchlo upadol do sfér, ktoré sú mi ľahostajné (aj keď davy presvedčil), Baker sa dokázal pohnúť ďalej, ale predsa len už nemal taký ohlas, aký by si zaslúžil. A Bruce? S muzikantským vzdelaním, rozhľadom, interpretačnými i kompozičnými schopnosťami jeho kalibru sa pestrosť priam núkala. A jeho dielo to potvrdilo. Tiež síce neboril rebríčky masovej popularity, ale zasa hľadal stále nové smery, kam by sa obrátil (od džezu k popu). A to je cenné, aj keď veľa z jeho tvorby je pre mňa tým pádom pomerne nepreniknuteľného. Na počiatku však stál album Songs For A Tailor.
Obsahuje desať skladieb, na ktorých hrajú mnohí jeho (i všeobecne) známi, či už sú to bubeník Jon Hiseman a saxikár Dick Heckstall-Smith z Colossea alebo uznávaný spolupracujúci gitarista Chris Spedding (hral s kadekým), prípadne "hluchý" basák a producent Felix Pappalardi z Mountain. Georgea Harrisona hádam ani nemusím predstavovať a nájdu sa aj ďalší, azda sa neurazia, keď ich osobitne nespomeniem. Sám Jack Bruce obsluhuje veľké množstvo strunových a klávesových nástrojov a, samozrejme, úchvatne spieva. Doby Cream sú zabudnuté, výsledok znie… takto:
A od prvých tónov Never Tell Your Mother She's Out Of Tune je jasné, že ide skôr o džezrockové dychy i rytmy. Neprekvapuje to, ak sa človek pozrie na zostavu. Skvelý úvod vystrieda klavírny pomalý monument Theme For An Imaginary Western. Keďže sa na albume podieľala vyššie zmienená úderka Hiseman – Heckstall-Smith a ešte aj Felix Pappalardi, nečudo, že sa stala podnetom na coverovanie zmienených telies, kde menovaní pôsobili. Rytmicky pestrá skladba Tickets To Water Falls jasne ukazuje, že Bruce sa nezastavil na mieste, ale ide s dobou (džezrock sa mohutne nadychoval) a zároveň ostáva rozpoznateľný. Pekná bluesovejšia skladba Weird Of Hermiston navnadí na ďalšiu pecku, charizmatickú náladovku Rope Ladder To The Moon. Budem sa opakovať, ale aj túto vec si Hiseman s nadšením previedol do svojej skupiny. Ďalší svieži dýchavičný rock, The Ministry Of Bag, prekypuje energiou. Akustickejšie plochy v He The Richmond pekne dopĺňajú elektrifikované vrstvy nástrojov. Milujem spôsob, akým Bruce hrá na basu, a preto si kladiem za povinnosť to zdôrazniť. Bluesové mohutné prívalové vlny Boston Ball Game 1967 sa počúvajú jedna báseň, ak pravda, máte radi dychy. Názov To Isengard evokuje popularitu knihy Pán prsteňov, ktorá koncom 60. rokov v Británii kulminovala. Samotná skladba je pokojná, zasnená, akustická a pekná. Teda, do okamihu, kedy to full forte vybalí celá skupina a stane sa z toho hardrocková záležitosť s "nehardrockovými" postupmi. A basové vyhrávanie je božské. Na záver je tu pochodový úvod v skladbe The Clearout, ktorá je inak typická "bruceovka" a mohla by byť aj na albumoch Cream.
K bonusom sa tentoraz vyjadrovať nebudem, sú štyri a ide o rovnaký (v podobnom prevedení) materiál, ako na albume.
Tento album je plný silných nápadov, skvelých hudobníkov a vôbec, mám ho rád.
(upravené, pôvodne zverejnené na progboarde)
Skladby:

Never Tell Your Mother She's Out Of Tune 3:41
Theme For An Imaginary Western 3:30
Tickets To Water Falls 3:00
Weird Of Hermiston 2:24
Rope Ladder To The Moon 2:54
The Ministry Of Bag 2:49
He The Richmond 3:36
Boston Ball Game 1967 1:45
To Isengard 5:28
The Clearout 2:35
Zostava:
Jack Bruce: spev, klávesy, basa, gitara, sláčikové nástroje
George Harrison: gitara (1)
Harry Becket: trubka (1, 6, 8)
Henry Lowther: trubka (1, 6, 8)
Dick Heckstall-Smith: saxofóny (1, 6, 8)
Art Themen: saxofóny (1, 6, 8)
Jon Hiseman: bicie (1-4, 6, 8-10)
Chris Spedding: gitara (2-4, 6, 9, 10)
John Marshall: bicie (5, 7)
Felix Pappalardi: spev (5, 9), perkusie (7), gitara (9)
John Mumford: trombón (8)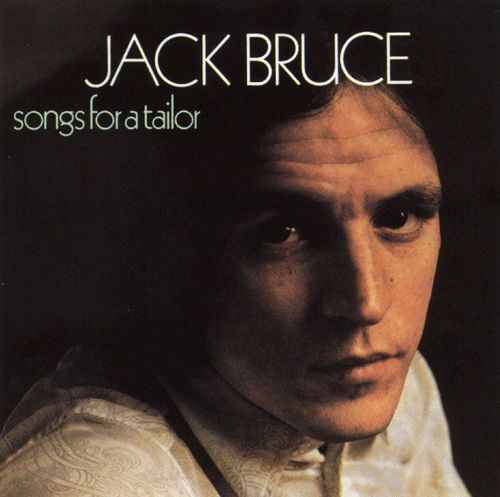 Songs For A Tailor
Jack Bruce
progressive rock
Polydor
1969
LP. CD
10