Kto sa niekedy zaujímal o punk, mohol by poznať informáciu, že John Lydon alias Johnny Rotten, spevák zo Sex Pistols, sa vyjadril, že je veľkým fanúšikom tohto albumu, dokonca v roku 1977 v nejakom rádiovom vysielaní zahrali dve skladby z Nadir's Big Chance. 
O tomto diele Petra Hammilla je všeobecne známe, že sa na ňom nachádzajú skladby, ktoré majú nesporný punkový nádych. Považovať ho však za prvý punkový album podľa mňa rozhodne nemožno (navyše, hneď sa zjavia argumenty typu The Stooges, všakže). Každopádne je tvrdo rockový a značne priamočiary.
Na punkovej muzike som v ranej puberte fičal viac než dosť. Napriek tomu ma Nadir's Big Chance až tak neberie. Možno je to tým, že Hammill tu síce zapojil kamarátov z Van Der Graaf Generator, ale hudobne sa vrhol na menej košatý rock. Vcelku dosť tu kričí, než aby spieval. Na albume sa nachádza jedenásť skladieb a na mňa pôsobí tak, že ma do seba vtiahne až po nejakom čase.
Punkové náznaky možno vybadať v titulnej skladbe, psychedélii sa zalieča dvojitý záprah The Institute Of Mental Health, Burning, a Open Your Eyes (tá druhá ma baví viac). Nobody's Business pripomína to najlepšie z VdGG, a teda máte pocit, že v ústavoch pre mentálne choroby vyhlásili amnestiu. Vždy sa teším, až Hammill vytasí niektorý zo svojich krehkých melancholických slaďákov, Been Alone So Long ma preto hreje na srdci. A ten saxofón je jednoducho omamný. Kým Pompeii mi príde zvláštne mdlo, ďalší krehký pohľad do melancholických úžin, Shingle Song, sa vydaril. Osobne sa mi táto skladba páči z celého albumu najviac. Z podobného ranku ja aj Airport, vlastne sa mi druhá polovica albumu páči viac. Pamätníci alebo vlastníci debutového albumu Van Der Graaf Generator s bonusmi si určite spomenú na prvý singel kapely, People You Were Going To. Pôvodne šlo o "syxtísový" splašený kúsok, miestna verzia je temnejšia. Punková predchodkyňa so všetkým, čo k tomu treba, Birthday Special, by sa nestratila na žiadnom albume britských punkových veličín, navyše by im dodala muzikantskú kvalitu. Aby bolo jasné, že toto nahráva ansámbel Van Der Graaf Generator, záverečná vypätá šesť a pol minútová psycho dráma Two Or Three Spectres nepozná kompromisy, opäť má v sebe niečo chuligánsky rázne.
Nadir's Big Chance je veľmi dobrý album. Hammill ma však na iných svojich veľdielach oslovuje viac, a preto som k nemu pomerne strohý. Napriek tomu ide o veľkú porciu zaujímavej muziky, ktorá by miestami mohla osloviť aj konvenčných rockerov.
Skladby:
01. Nadir's Big Chance 3:34
02. The Institute Of Mental Health, Burning 3:32
03. Open Your Eyes 5:09
04. Nobody's Business 4:08
05. Been Alone So Long 4:11
06. Pompeii 4:20
07. Shingle Song 4:14
08. Airport 3:03
09. People You Were Going To 5:06
10. Birthday Special 3:34
11. Two Or Three Spectres 6:21
Zostava:
Peter Hammill: spev, gitara, klávesy, basa
a
David Jackson: saxofón
Hugh Banton: basa, piano, organ
Guy Evans: bicie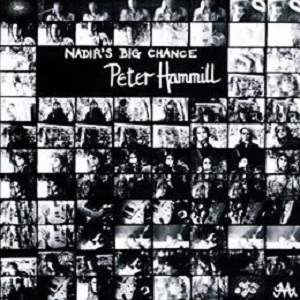 Nadir's Big Chance
Peter Hammill
art rock, rock, punk rock
Charisma
1975
LP, CD
11