Počiatkom 90. rokov si britský hudobník Peter Hammill založil vlastné vydavateľstvo Fie! Records a začal si svoje albumy vydávať sám. Zatiaľ posledný je z novembra 2017 a volá sa From The Trees. 
Priznávam bez mučenia, jeho tvorbu po príklonoch k novej vlne, elektronike, divadelno-operným kreáciám atď. nesledujem, sedemdesiate roky boli len raz. Novinku som si však prednedávnom kúpil, vedený, načo to tajiť, recenziou na Progboarde, kde sa dielu nadšene venoval Ryback. Tak ďakujem.
Interpret, ktorý tento rok dovŕši sedemdesiatku, nahral toľko albumov, že ich pomaly nespočítam, si už sotva musí niečo dokazovať. Obzvlášť, keď patrí k najoriginálnejším umelcom, pesničkárom svojej generácie. Na desiatich skladbách preto nečakajte žiadne násilné progresívne umenie pre umenie. Dôraz je kladený na pesničkárstvo. Hammill si všetky nástroje nahral sám, zväčša ide o minimalistické skladby s akustickou gitarou alebo klavírom. Spevy si rôzne zdvojuje, využíva svoje obľúbené polohy – recitujem, vrieskam (len tak trošku, mladosť je fuč), zvláštne frázujem… V podstate ide o pokojnú a veľmi osobne pôsobiacu výpoveď. Podobné melancholicko-bezútešné skladby zdobia Hammillovu kariéru od počiatku, tu však iné ani nie sú. Majú v sebe niečo, čo zamladi nebolo, zvláštny nadhľad človeka, čo má prežité a revolučné vyhrocovanie už blahosklonne prenecháva nastupujúcej generácii. To, že tá na búrenie nemá čas, lebo "čumí" do "ajfónov" aj "nefónov" a naštve ju akurát vybitá batéria a výpadok wifi, je druhá vec.
Pokoj, pokora, zmierenie (ale nie rezignácia), to je to, čo z prezentovanej muziky vyžaruje presvedčivejšie ako jadrový reaktor v havarijnom stave. Napriek mnohonásobnému počúvaniu neviem spakruky vybrať nejakú reprezentatívnu vrcholnú skladbu, všetkých desať kúskov znie rovnako dobre, zakaždým ma pri počúvaní osloví nejaká iná, podľa nálady (v čase písania tohto textu to bola klavírna melanchólia What Lies Ahead). Iste, ide skôr o pesničkársky album, na nejaký rock zabudnite, klasická rytmika basa-bicie sa na ňom nevyskytuje. No a čo.
Dôstojné starnutie, želané medzigeneračné predávanie životnej múdrosti k potomkom a ich deťom, to všetko vo mne evokuje album From The Trees a jeho pokojnú, a predsa "hammillovskú" tvár si vždy rád vypočujem. Skúste, ktovie, možno vám pár pokojných a vážnych tónov pomôže zbaviť sa hektického životného štýlu. Aspoň na chvíľu.
Skladby:
01. My Unintended 3:34
02. Reputation 3:27
03. Charm Alone 3:36
04. What Lies Ahead 4:08
05. Anagnorisis 2:54
06. Torpor 3:44
07. Milked 5:51
08. Girl To The North Country 5:27
09. On Deaf Ears 4:32
10. The Descent 5:15
Zostava:
Peter Hammill: spev, gitara, klávesy, basa, aranžmány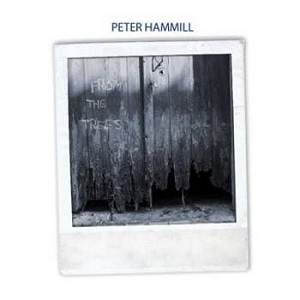 From The Trees
Peter Hammill
art rock
Fie! Records
2017
LP, CD
10