V roku 1971 mala kapela Van Der Graaf Generator na konte niekoľko temných, čierno-čiernych rockových albumov, pričom bolo jasné, že skladateľské opraty držal Peter Hammill. Predstavte si, že v dobe nahrávania albumu Pawn Hearts mu zrazu vyšiel debutový sólový album Fool's Mate. Predpokladám, že poslucháči boli pripravený na všetko a aj tak ostali hľadieť s otvorenými ústami. 
Pochybujem, že v jeho košatej diskografii nájdete druhý tak optimistický album. Nie, že by v ňom nebol priestor na melanchóliu (Solitude, Vison, Child) alebo náznaky made in Van Der Graaf Generator (Re-Awakening, I Once Write Some Poems), gro však tvoria optimistické, až hitové skladbičky typu Imperial Zeppelin, Candle alebo Sunshine. Do toho si pripočítajte nejaké tie náznaky vážnej hudby (Happy) a dostanete celkový obraz. V podstate ide o veci, čo Hammill skladal koncom 60. rokov a tá "šesťdesiatková" atmosféra tam je. Zároveň však cítiť, že ide o jedinečnú záležitosť. Zabudnite na Beatles klon, toto je originál vymykajúci sa prirovnávaniu!
Album má neskutočný zvuk, všetky nástroje (a že ich je požehnane, záplava hostí, prakticky celý Van Der Graaf Generator a ešte aj Robert Fripp z King Crimson) znejú čisto a zároveň nerušia celok. Navzdory prehnanému optimizmu sa na ňom nachádza Hammillova najkrajšia najlepšia a najúžasnejšia balada The Birds. Text zo života zaobalený do krásnej metafory skorej jari s temným koncom, lovesong o pochybách… Hammill v nej neskutočne frázuje, keď som sa ju učil spievať, tak som miestami prepadal depresii. Napokon som to zvládol. Koniec-koncov, aj sám maestro ju dvakrát rovnako nezaspieval, pokojne si porovnajte iné verzie, žiadna nedosahuje kvalít debutového prevedenia. Skrátka, dokonalosť sama.
V Hammillovej tvorbe zastáva Fool's Mate osobitné miesto, kebyže mám niekomu odporučiť jeho najprístupnejší album, je to tento. Dlho-predlho bol môj najobľúbenejší a aj dnes sa drží na spoločnom prvom mieste s Over. Úžasná muzika.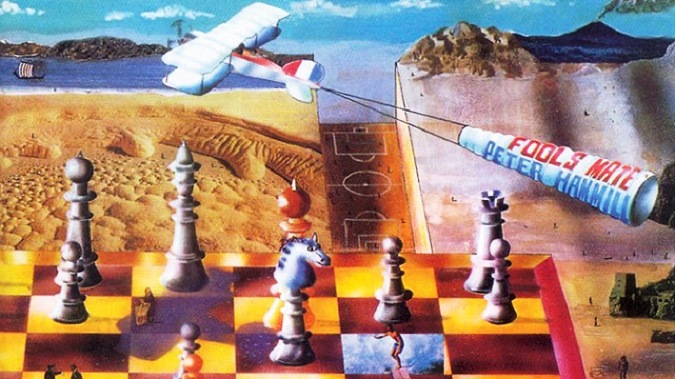 Skladby:
01. Imperial Zeppelin 3:28
02. Candle 4:13
03. Happy 2:32
04. Solitude 4:54
05. Vision 3:11
06. Re-Awakening 3:55
07. Sunshine 3:54
08. Child 4:20
09. Summer Song In The Autumn 2:14
10. Viking 4:41
11. The Birds 3:35
12. I Once Wrote Some Poems 2:43
Zostava:
Peter Hammill: spev, ak. gitara, piano
a
Guy Evans: bicie, perkusie, vokály
Martin Pottinger: bicie
Hugh Banton: piano, organ, vokály
Rod Clemens: basa, husle
Nic Potter: basa
Ray Jackson: harfa, mandolína, vokály
Dave Jackson: alt a tenor saxofón, flauta, vokály
Bob Fripp: el. gitara
Paul Whithead: tam tamy
a vokalisti John, John, Norman, Alastair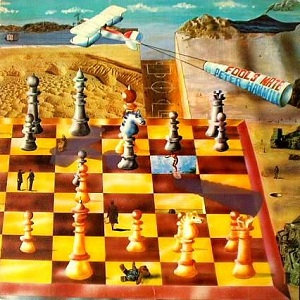 Fool's Mate
Peter Hammill
art rock
Charisma
1971
LP, CD
12