Paul Gilbert je jedným z tých gitaristov, o ktorého technickej zručnosti nepochybuje azda nik. Býval v zoskupeniach Racer X a Mr. Big. Napokon sa dal na sólovú dráhu. Vďaka českému časopisu Classic Rock (niekoľko čísel vyšlo na počiatku nového milénia), som zaregistroval, že sa vraj pustil do blues rocku a na cédečkovej prílohe si hovela rázna vypaľovačka Girls Watching. Zaujala ma, nuž som si album kúpil…

Ťažko povedať, či si sám netrúfal, každopádne sa na albume výraznou mierou podieľal aj jeho strýko Jimi Kidd (gitara, spev). Samotné nahrávanie veľa času nezabralo. V Las Vegas je život rýchly, nuž sa v štúdiu Batgirl zdržali štyri dni (od 8. do 11. júla 2001). Výsledok nesie názov Raw Blues Power (2002) a na obale sa Gilbert oslavne vyjadruje k svojmu učiteľovi, vzoru, inšpirácii  – to všetko je jeho strýko. Posledná veta textu ma, čoby fanúšika debutu MC5, výrazne potešila – "Kick ot the jams brothers and sisters! (and nephews and uncles)"
Raz-dva-tri a už to fičí! Desať skladieb, prevažne rýchlych, zväčša jednotvárne nabudených, plných moderne exhibicionistických gitarových sól, ktoré možno nadchnú necitlivých súčasných konzumentov, ale nie všetky ocenia citliví bluesoví puristi, to je v skratke album Raw Blues Power.
Úprimne, ide o celkom zaujímavú kombináciu nefalšovanej dravosti a moderny v storočných mantineloch bluesrockovej hudby. V niektorých momentoch mám pocit, aký som zažil pri inom technikovi, Scotovi Hendersonovi a jeho albume Tore Down House. Nie, že by sa hudobne podobali, ale kombinácia súčasného inžinierstva a staromilského blues sa málokedy takto vydarí.
Pravda, je tu aj niekoľko vymykajúcich sa skladieb, tradične neodpustiteľná (z môjho pohľadu) akože funk-blues kombinácia s názvom Good Foot. Poteší príjemná pocta Steppenwolf v podobe Sookie Sookie. Záver patrí jedinému pomalému blues s názvom Blues Power a je to veru výlet do gitarovej súčasnosti. Nemôžem nespomenúť príjemné spevné refrény, ktoré napomáhajú poslucháčskej prívetivosti, vrcholom v tomto smere je "nechutne" veselý kúsok Play Guitar.
Mám pocit, že album Paula Gilberta a jeho strýka Jimiho Kidda má v sebe nefalšovanú bezprostrednosť, ba čo viac, energie má na rozdávanie, nuž ho môžem odporučiť bluesrockovým fanúšikom, ktorým nevadí, že gitarové sóla hlavnej hviezdy majú viac hlavy ako srdca. Som presvedčený, že výsledku napomohla účasť Jimiho Kidda, vo výraze je na tom podstatne lepšie, čo však u starého bluesmana neprekvapuje. Navyše mám pocit, že sa Gilbert dosť krotil a viac vytešoval, čo je rozhodne plus. Výborný moderný blues rock na občasné počúvanie, však okoštujte!
(upravené, pôvodne zverejnené na progboarde)
Skladby:
Girls Watching 3:46
A 180 3:42
Pacific Coast Highway 3:00
Good Foot 6:30
12 Days of the Blues 3:50
Freedom 3:55
Stranded 3:30
Play Guitar 2:51
Sookie Sookie 3:09
Blues Power 9:28
Zostava:
Paul Gilbert: spev, gitara
Jimi Kidd: spev, gitara
Mike Szuter: basa, vokály (6)
Johnny Fedevich: bicie, vokály (6)
a
Jeff Martin: bongá (4), vokály (6)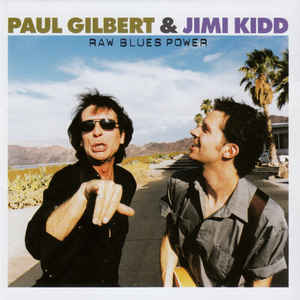 Raw Blues Power
Paul Gilbert & Jimi Kidd
blues rock
Provogue
2002
CD
10