V októbri 1972, iba tri mesiace po Straight Shooter, vyšiel kapele James Gang ďalší album nazvaný Passin' Thru.
 Bol to prvý album, ktorý som si od kapely kúpil. Na prvé vypočutie som bol (nemilo) prekvapený, lebo som čakal čosi iné. Ale veľmi rýchlo som si ho obľúbil a to až tak, že ho považujem za neprávom zabudnutý vrchol populárnej hudby 20. storočia.
Pôvodná platňa akoby rozdelila album na dve úplne rozdielne časti. Prvá strana obsahovala príjemné melodické rockové kúsky. Z muziky sála pohoda, čo bolo na minulom albume akoby "tvrdé", tu organicky pulzuje. Jim Fox a Dale Peters sú veľmi nedocenená rytmika, najmä bicmen hrá s neskutočným groove efektom. Zabudnite na nejaké inštrumentálne predvádzanie, všetko je podmienené prirodzenou a vľúdnou hudbou. Spevák Roy Kenner je úžasný. No a gitarista Domenic Troiano priam učebnicovo ukazuje, ako byť minimalistický a pritom nenahraditeľný. Plus má rád kvákadlo. Kým Ain't Seen Nothin' Yet je hitovka, One Way Street príjemne tvrdí i funkuje. Pritom je úplne originálna, neviem, k čomu by som ju prirovnal. Úplne rovnako, akoby šlo o niekoľko častí jedného opusu, pôsobia aj kúsky ako Had Enough a Up To Yourself. Na záver "rockového" bloku je tu zvláštna a podmanivá skladba Everybody Needs A Hero. Mám ju rád.
Druhá strana platne núka slaďáky. Na úvod je tu nesmierne krehké country Run, Run, Run, ktoré milujem. Kenner tu spieva tak podmanivo, že z toho nemôžem. Viem, country je v našich rockových kruhoch vnímané ako niečo, do čoho neradno vstúpiť, lebo sa to ťažko odstraňuje z podrážok, ale táto americká prirodzená súčasť DNA vie byť presvedčivá.
Čo ešte musím vyzdvihnúť, je zvuk. Ide o jeden z najkrajších zážitkov, aký som zažil. Je príjemne teplý, akurátne prebasovaný, žiadna umelina. Dosiahnutie takejto prirodzenej akustiky je dnes už priam nemožné. Ak niečo James Gang naozaj vedeli, tak to je ozvučiť sa. Trojica clivých klávesových slaďákov Things I Want To Say To You, Out Of Control a Drifting Girl ma opantáva. Nie, nie je to hard rock, možno ani rock, ale je to nádherná hudba.
Album komerčne prepadol, v rebríčku obsadil sedemdesiatu druhú priečku (singel Had Enough/Kick Back Man bol stojedenásty). Fox nebol spokojný s Troianom (čo pri jeho stiahnutí sa z klasickej roly dominantného sólového hráča neprekvapuje), ktorý sa v roku 1973 vrátil do Kanady a pridal sa ku The Guess Who. Napriek tomu ide z môjho pohľadu o jeden z najprirodzenejších a najmelodickejších rockových albumov, aké som kedy počul. Srdcovka.
Skladby:
Ain't Seen Nothin' Yet 2:58
One Way Street 4:31
Had Enough 2:58
Up To Yourself 2:42
Everybody Needs A Hero 6:05
Run, Run, Run 3:40
Things I Want To Say To You 3:40
Out Of Control 3:38
Drifting Girl 5:06
Zostava:
Roy Kenner: spev, harmonika (2), perkusie (2)
Domenic Troiano: gitara, vokály
Dale Peters: basa, vokály
Jim Fox: bicie, vokály (5), organ (3)
a
Charlie McCoy: harmonika (6)
Weldon Myric: pedal steel gitara
Dave Briggs: piano (1, 9)
William Smith: organ (5), clavinet (5), piano (5), čembalo (7)
Craig Sapphin: sláčikový aranžmán (7)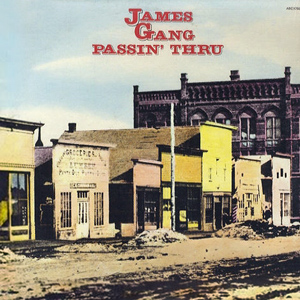 Passin' Thru
James Gang
hard rock, country
ABC Records
1972
CD (One Way Records, 1992)
9