Jeden z prvních italských souborů, který začal používat progrockové postupy ve své tvorbě jsou PANNA FREDDA. Zde jde o poměrně masivní nasazení Hammondů, jejichž efektní a nosný zvuk výrazně ovlivňuje charakter všech skladeb. Dřevní progrock se zřetelnými stopami psychedelie doplněný zpěvem v italštině má svoje kouzlo i v dnešní době. Ve většině písní nejde o žádné převratné kompozice, pravidelný kývavý rytmus drží tvorbu v poctivých bluesrockových kořenech, jen místy objevují instrumentální pasáže, které naznačují něco víc. Znovu zdůrazním zvukomalebnou funkci kláves, občasné rytmické změny, místy překvapivé zrychlení, či zpomalení, jsou zde také slyšitelné hrátky se stereo zvukem. Vždy je přítomna výrazná melodická linka, odkaz kantilénového pojetí zpěvu a chytlavá dupavá basa s bicími. To vše činí album Uno posluchačsky lehce přístupným, což není v rozporu s jeho kvalitou. Ačkoli je znát určitá archaičnost hudebních postupů a aranží, celkový dojem z tohoto alba mám hodně příjemný a svěží, vůbec nechybí některé rafinovanosti, naopak v občasné naivitě PANNA FREDDA je síla, která nutí k častým návratům k poslechu tohoto jejich jediného alba.
Pro fajnšmekry doporučuji skladbu Il vento, la luna e pulcini blu (Sole rosso), v níž se skupina s úspěchem vypořádá s desetiminutovou plochou a je to asi nejvíce progresivní skladba na albu. Zato dvě poslední písně – singlové bonusy – představují refrénový rock, který PANNA FREDDA hráli v začátcích své kariéry.
Hodnocení: Je zde mnoho míst, díky kterým se Uno stalo mojí srdeční záležitostí.
Tehdy:  4*
 – archivní recenze – napsáno 04.12.2004, dosud nepublikováno –
Současný pohled:
S odstupem necelých 14 let bych některé dojmy snad formuloval mírně odlišně, ovšem celkový názor na album se nejenže posunul ještě pozitivnějšímu hodnocení, ale klidně bych mohl napsat, že se pro mne zařadilo mezi základní díla. K albu Uno se v rámci italské hudební tvorby vracím opakovaně a často, a vždy s požitkem. Určitá atavistická přímost, pra-rocková těžkotonážní živočišnost v kombinaci s nostalgicky artovými postupy, jsou z hlediska umělecké působivosti nesmlouvavě razantní. Fanfáry kláves, ostré kytarové jízdy, dusající bicí, drsně broukavá basa, emocemi nabitý zpěv, fakt nátěr v duchu VANILLA FUDGE & GRACIOUS & QUATERMASS, to se jinak říct nedá. Prostě si je pokaždé řádně užiju. A tím se může pochlubit málokterá nahrávka.
Dnes: 5*
Rád bych ještě napsal několik faktografických a technických postřehů k jednotlivým vydáním alba. Originální původní vydání LP na etiketě Vedette, VPA 8134, je jednou z největších rarit na vinylovém trhu kvůli nízkému tehdejšímu nákladu. Neobvyklé je, že názvy a texty skladeb měly na obalu desky anglické překlady, jako by bylo uvažováno o exportu na další trhy.  Vydání dlouhohrající desky předcházely roku 1970 dva singly a jedno split SP na téže značce. Dalšího oficiálního vydání se LP nedočkalo, pozdější vydání LP (2004, 2012) nejsou autentická, neboť obsahují bonusy a liší se tak od originálu.
CD edice jsou zajímavé až záhadně. První vydání je z roku 1989, jako první titul nově vzniklé společnosti Vinyl Magic (spadají pod BTF), zaměřující se na reedice starého italského progrocku. Proč na úvod své vydavatelské činnosti zvolili právě PANNA FREDDA lze nyní jen spekulovat, ale něco to jistě znamená. Titul s katalogovým číslem VM 001 CD obsahoval kompletní album, tedy 6 skladeb, bez bonusů. Na jeho zvukové stránce je pozoruhodný fakt, že na pozadí skladeb a v mezerách se nachází slyšitelný šum, a CD končí poměrně silným lupnutím. Dynamika spíše průměrná, DR10. Můj názor je, že buď tyto vady obsahoval původní studiový záznam (staré italské kapely se technickými nedokonalostmi přímo vyznačovaly), nebo jde o přepis z LP, protože studiový pás byl nedostupný.

Roku 1990 vydávají Vinyl Magic publikaci "Il Ritorno del Pop Italiano", jejíž přílohou je samostatně neprodejné CD raritních singlových nahrávek několika italských progrockových souborů. Disk měl název '70 '74 '90 (VMBOOK 01) a obsahuje mimo jiné 4 singlové skladby PANNA FREDDA. Technickou kvalitou záznam patří mezi podprůměrné, stopy jsou sejmuty z vinylových nosičů se slyšitelným šumem a praskoty, kolísáním rychlosti a hlasitosti, mají ztišené začátky a konce, navíc nahrávky znějí monofonně.

Druhé vydání CD Uno (Vinyl Magic / VM2000, VM CD 001, rok 2000) je doplněno o dvě singlové skladby Strisce Rosse a Delirio. Na obalu CD jsou tyto dva bonusy uvedeny v opačném pořadí, tedy nesprávně. To je první chyba. Druhá chyba je vročení původního LP na potisku CD, kde je uvedeno 1972, přičemž deska vyšla roku 1971. Za další chybu považuji, že se nedostalo na ostatní singlové skladby (například È la mia vita čeká na CD edici dodnes), prostoru pro ně na nosiči bylo dostatek. Za velké pozitivum této edice považuji, že dynamika celé nahrávky zůstala remasteringem nezměněná. Zvuk je hlasitější, než na první edici, ale komprimace se naštěstí nekonala. Mezi skladbami zmizel šum, ovšem při pozorném poslechu si lze povšimnout, že ve skladbách se nachází. Zdroj je tedy totožný, jako u prvního vydání, ale někdo si dal práci s jeho vyčištěním v nejslyšitelnějších místech, tedy mezerách. Další plus je, že obě singlové skladby jsou ve stereo provedení s přijatelným zvukem, což vynikne obzvláště ve srovnání s jejich podobou na výběrovém CD z roku 1990.
Třetí vydání CD Uno vydává opět Vinyl Magic / BTF v roce 2007 (VM CD 118). Edice má provedení papírové mini LP repliky s OBI pruhem a je doplněno o další čtyři bonusové dříve nevydané skladby, které se nesou v duchu jejich raného bigbítového stylu. Opět chybí zbylé singlové skladby, jako na CD z roku 2000. Přes označení CD "Remaster Series" se (naštěstí) nekoná žádný zásah do zvuku, je totožný s předchozím vydáním. Přehozené pořadí dvou bonusových singlových skladeb je zde již opraveno.
Dosud poslední edice pochází od japonské firmy Belle Antique (BELLE 132189), provedení SHM-CD mini LP replika, 20. prosinec 2013. Jedná se o nejkompletnější provedení, neboť na disku je všechno co bylo na VM CD 118, ovšem konečně se navíc objevují dvě dosud chybějící singlové skladby Una luce accesa troverai a Vedo lei. Zvukově je záznam zcela srovnatelný s předchozími, je tedy možno jej bez výhrad doporučit všem, kdo mají zájem o zevrubné seznámení s tvorbou skupiny PANNA FREDDA.
Poslední zvukový dodatek mám k nástrojovému prostorovému obsazení v jednotlivých šesti skladbách vlastního alba. Je jasně slyšitelné, že nahrávání bylo uskutečněno v různých frekvencích, nejspíše od sebe časově vzdálených, a pravděpodobně s různými techniky, neboť mezi jednotlivými skladbami jsou výrazné rozdíly ve stereo obrazu. Vnímám to jako jakousi pečeť doby, kdy rockoví hudebníci byli rádi, že mohou za nějakých podmínek nahrávat, a na jednotnou produkci se příliš nehledělo.
01. La Paura · Fear – 06:03
02. Un Re Senza Reame · A King Without A Throne – 05:07
03. Un Uomo · A Man – 04:57
04. Scacco Al Re Lot · Checkmate For King Lot – 04:33
05. Il Vento La Luna E Pulcini Blu (Sole Rosso) The Wind And The Moon And Little Blue Chicks – 09:55
06. Waiting – 03:12
07. Strisce Rosse (bonus – SP A-side 1970) – 03:04
08. Delirio (bonus – SP B-side 1970) – 02:55
09. Risveglio (bonus – previously unreleased) – 03:14
10. Un attimo fa (bonus – previously unreleased) – 03:15
11. Chiama una rondine (bonus – previously unreleased) – 02:21
12. Estate 70 (bonus – previously unreleased) – 03:01
13. Una luce accesa troverai (bonus – SP A-side 1970)– 02:40
14. Vedo lei (bonus – SP B-side 1970) – 02:42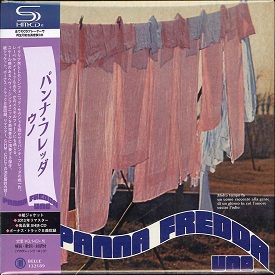 Uno
Panna Fredda
RPI
Belle Antique
(1971) 2013
CD
14