Dovoľte mi opäť jednu milú spomienku. Keď sa na dohľad zjavia velikáni z hudobnej minulosti, ktorých mám rád, netreba ma veľmi prehovárať, aby som si ich koncert nenechal ujsť. Obzvlášť, keď na akciu vyrazí southern rocková úderka v zložení brat, otec a ja. Blackfoot je legenda južanského rocku, od začiatku 70. rokov sa postupne prepracovala na špicu hardrockovej variácie na southern rock.A to až tak, že v 80. rokoch v jej zostave pôsobil Ken Hensley, klávesák, gitarista, spevák a autor väčšiny nesmrteľných skladieb Uriah Heep! Názov je odvodený od indiánskeho kmeňa Čiernonožcov, pretože indiánske korene mali hneď traja členovia skupiny, líder, gitarista a spevák Rickey Medlocke (a pôvodne bubeník Lynyrd Skynyrd), basák Greg T. Walker a bubeník Jackson Spires. Kto nepočul skladbu Good Morning z albumu Marauder (1981), nevie, čo je to poriadny tvrdý rock. Je dobré, že som mal česť jej tvorbu spoznať. A čo je ešte lepšie, dňa 23.4.2011 hrali v Prahe…
Fakty:
Blackfoot
Dátum: 23.4.2011
Miesto: Exit Chmelnice, Praha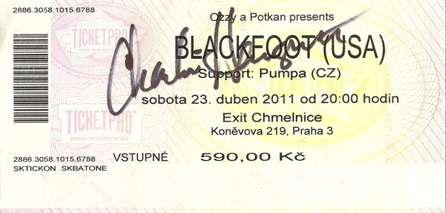 Priestory Exit Chmelnice sú pomerne malé, napriek tomu sa nepriedušne nezaplnili. Počet hudbychtivých poslucháčov odhadujem na niečo okolo 200. Ťažko povedať, či to bolo pekným počasím, sviatkami alebo stavom poznania Blackfoot v našich luhoch a hájoch.
PUMPA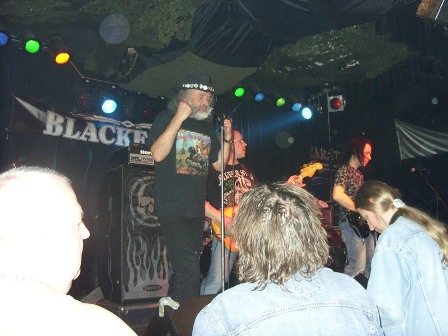 O ôsmej hodine vybehla na pódium legendárna Pumpa a spustila svoje takmer hodinové vystúpenie. V momente, keď zatiahla páku a spevák Zdeněk Jakubec vyhlásil, že dneska platím já, bolo jasné – predkapela bola zvolená viac ako dobre. Výdrž mala vlčiu, navzdory deklarovanému "dnes budu zlej" bola viac ako dobrá a pohodu najlepšie vystihuje slogan: "Tak tradá." Párkrát sa za pódiom zjavil aj Greg T. Walker a evidentne sa bavil.
BLACKFOOT
Jackson Spires, pôvodný bubeník Blackfoot, už nie je medzi nami a Rickey Medlocke tvorí základný kameň Lynyrd Skynyrd, takže z personálneho hľadiska vyzerala legendárna skupina takto:
V skupine pôsobia dvaja niekdajší členovia, gitarista Charlie Hargrett a basák Greg T. Walker. Druhej gitary a spevu sa chopil Mike Estes, ktorý sa okrem iného podieľal na nádhernom akustickom albume Lynyrd Skynyrd – Endangered species z roku 1994. S ním prišiel aj spoluhráč a bubeník Kurt Pietro (hrali napríklad v Skinny Molly).
Blackfoot stojí za to aj v novom miléniu, o tom ma presvedčilo výborné DVD Train, Train: Southern Rock's Best – Live z roku 2007 (kde hrá trošku iná zostava). Že to ide aj bez ikonického Medlockea, som neveril, ale občas realita nemá nič spoločné s vierou.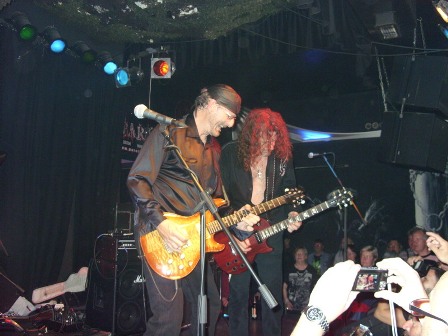 O pol desiatej nabehla na pódium súčasná inkarnácia Blackfoot a začala zostra. Nesmrteľná pecka Good Morning dala jasne najavo, že energia kapele nechýba. Horšie to bolo so zvukom, Hargretta nebolo pri sóle vôbec počuť.
Počas Wishing well (od Free) sa to zlepšilo, prekvapilo ma zaradenie ďalšieho coveru, Morning Dew, ktorý hral Mike Estes už v skupine Southern Rock Allstars. A nasledovala ďalšia cover verzia, I got A Line On You od Spirit. Technické problémy pokračovali, bubeník tak mlátil do činelov (mám pocit, že na požičanej súprave), že to jeden stojan nevydržal a povolil. Tento moment sa ešte párkrát zopakoval. Po Baby Blue prišiel rad na klasickú Left Turn On A Red Light, vystriedanú príjemným bubeníckym a ešte príjemnejším basovým sólom. Greg T. Walker ním začal skladbu In The Night, ktorú si aj sólovo odspieval. A šou pokračovala. Zo záznamu sa ozval Shorty Medlocke a uviedol moju najobľúbenejšiu skladbu od Blackfoot – Fox Chase.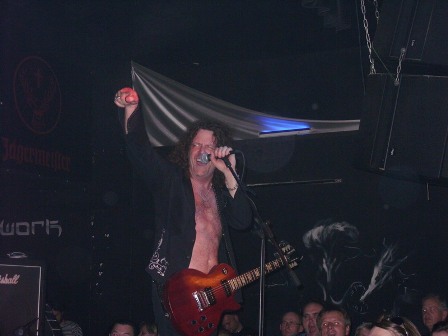 Hneď v úvode hardrockovej parády Dry County Estes roztrhal strunu, čo si Hargrett nevšimol a vystretou rukou mu ponúkol prvé sólo, čím mu nedal inú možnosť, než za improvizovaného ťahania tónov prísť za ním a vysvetliť mu, že sólovanie sa konať nebude. Požadovanú strunu dodal pohotovo gitarista Pumpy Pavel Marcel. Kým sa naladil, divákov varila vydupávaná verzia Rollin' And Tumblin'.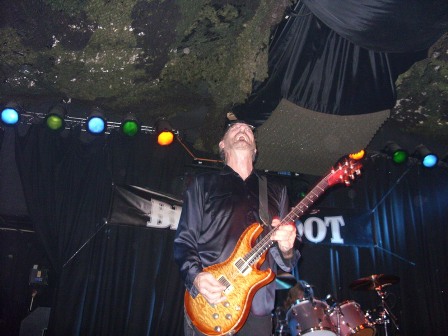 Tým sa koncert prehupol do záverečnej gradácie, hity ako Fly Away, Train Train (opäť s úvodom od Shortyho Medlockea) predznamenali nástup južanskej "freebirdovskej" hymny Highway Song. Prvý refrén nechali odspievať halu, čo bolo pomerne odvážne rozhodnutie, ktoré sa druhýkrát nezopakovalo. V záverečných sólach sa nejeden poslucháč dostal do extázy, pobavila aj pasáž, kedy sa jeden z gitaristov pri spoločnom sólovaní netrafil do noty, na čo Hargrett vystrúhal prekvapenú tvár a hralo sa ďalej.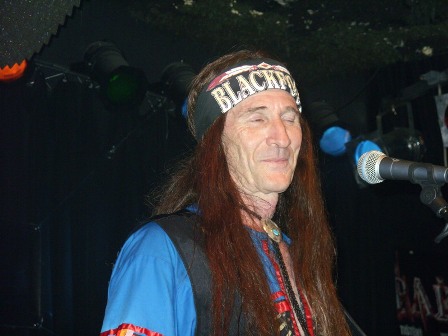 Obligátny prídavok priniesol frenetickú verziu skladby Crossroads  (netreba dodávať, že technické trable neobišli ani túto časť  vystúpenia, basový kábel odmietol na chvíľu poslušnosť a odpojil sa), po ktorej to Walker a spol. asi plánovali zabaliť. Publikum sa však nedalo odbiť a zotrvaním v skandovaní vytlieskalo aj druhý prídavok. Znovu nečakaný, nesmrteľný hit od Free – All Right Now. A bol koniec.
Energický koncert, kedy sa na pódiu baví štvorica hráčov a hrá svoje najväčšie hity (a veľa hitov niekoho iného), bol krásny, zážitok pretrváva aj pri písaní týchto slov. Kto nebol, môže ľutovať.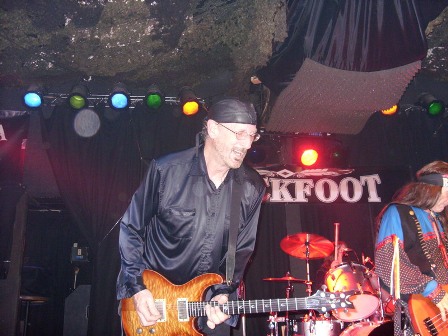 Skladby:
Good morning
Wishing well
Morning dew
I got a line on you
Baby blue
Left turn on a red light
Sólo na bicie a na basu
In the night
Fox chase
Dry county
Rollin' and tumblin'
Fly away
Train train
Highway song
Crossroads
All right now
P. S.: Neoddeliteľnou súčasťou skvelého zážitku bolo aj stretnutie so Zdeňkom alias Borkom a jeho bratom, s ktorým sme spoločne niečo popili (nealko i alko), vymenili si vecné dary a spoločne sa zúčastnili koncertného obradu, ktorý hádam Alzheimer obíde.
P. P. S.: Už zakrátko Medlocke Blackfoot zlikvidoval a pod svojou producentskou supervíziou nasadil do kapely štyroch podivínov. Som rád, že som mohol vidieť v akcii aspoň polovicu pôvodnej zostavy.