Na počátku sedmdesátých let jsem v časopise Melodie poměrně často narážel na skupinu Pink Floyd. Krátké zprávy o tom, že předvedli dokonalou psychedelickou show, že se slibně vyvíjejí a podobně. Samozřejmě, chtěl jsem od nich něco slyšet. To se mi podařilo s příjezdem kamaráda z hlavního města, který jezdil pravidelně každý rok na prázdniny ke strýci.
Půjčil mi dvě jejich desky – A Saucerful Of Secrets a Meddle, které jsem si nahrál. Měl jsem už magnetofon B400, ale přístroj, z kterého jsem to nahrával, byl nekvalitní, a proto jsem to časem smazal a nahrál si na pásek jiné Pink Floyd – Relics a Ummagumma. Od té doby jsem toužil nahrát i LP, které jsem vymazal, povedlo se to za dva roky. Tehdy se začalo v Melodii psát o desce Pink Floyd, která naprosto překvapila, Odvrácená strana měsíce. Podle lidí z mého okolí to bylo něco úžasného. Během krátké doby jsem si ji nechal nahrát, nahradila na pásku Look At Yourself od Uriah Heep. Pouštěli jsme si jí na internátním pokoji pořád dokola, do zblbnutí. Na to nikdy nezapomenu.
Bylo to tehdy jiné…
Přinesl jsem si pásek s nahranou deskou Pink Floyd. Byl to Scotch v papírové krabičce. Kotouč s páskem jsem položil na levý unašeč a protáhl modrý zaváděcí pásek kolem magnetických hlav a zafixoval jeho konec na prázdném kotouči na pravém unašeči, zmáčkl tlačítko žluté stopy a stlačil tlačítko pro přehrávání. Byl to takový malý rituál. Na pokoji nás bylo pět, seděli jsme kolem stolu a čekali co bude vycházet z širokopásmového reproduktorku magnetofonu B400.
První poslech nebyl nic moc, čekali jsme nářez à la Earthbound od King Crimson a on se nekonal. Co nás zaujalo, byla Money, jediná skladba v duchu hard rocku, který byl tehdy na vrcholu. S dalším poslechem nás zaujal Time a postupně celá deska. The Dark Side Of The Moon jsem si, samozřejmě, pouštěl i doma a sehnal jsem si i texty k písním. Dopracoval jsem se k tomu, že se vlastně jedná o příběh jedince vrženého do společenské mašinérie. Deska začíná tlukotem srdce, toto symbolizuje zrození človíčka, zvonění budíku jej upozorňuje, že by měl se sebou něco dělat, začíná honba za majetkem symbolizovaná právě skladbou Money a když už si myslí, že má všechno, nastává porucha mozku (Brain Damage) následovaná Zatměním (Eclipse) a tlukot srdce jde do ztracena, což symbolizuje smrt.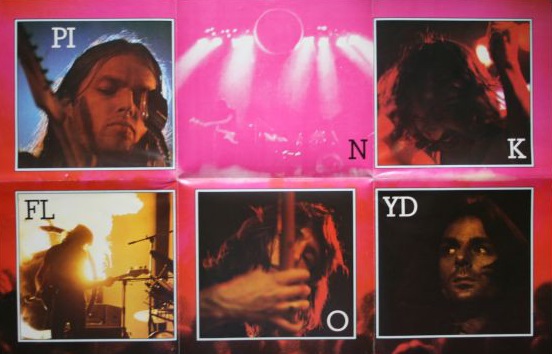 V té době jsem to tak nechápal, neměl jsem k dispozici všechno, co skupina vydala, ani jsem nevěděl, o jaká alba se jednalo. Postupně jsem si všechny LP nahrál a bylo z toho poznat, že skupina po odchodu Syda Barretta hledá svojí pozici v hudebním průmyslu a s The Dark Side Of The Moon jí našla. Úspěch, jaký deska zaznamenala, je spíš překvapil, nečekali jej. Když vyšla alba Atom Heart Mother a Meddle, tak většinou uspokojila snoby a možná odbornou kritiku, ale široká veřejnost moc nereagovala. Tady to bylo jiné, všechno do sebe zapadalo, texty doplňovaly hudbu. Mám rád jejich hledačské období, a zvláště období se Sydem Barrettem. Tohle album je spíše to, čemu jsme tehdy říkali komerční záležitost. Nemůžu jim to vyčítat, když něco děláš, tak chceš, aby se to prodávalo a zaplatilo tu počáteční několikaletou snahu. Desky, které skupina vydala po tomto albu, neposlouchám tak často. Jsou pěkné, ale já od skupiny čekal pokračování experimentů, které se nekonaly.
The Dark Side Of The Moon neodsuzuji, mám jí rád, a protože ji má ráda manželka, poměrně často si jí doma pouštíme. Od úvodního tlukotu srdce, přes syntezátorový běh, řinčení budíku, na koncertech doprovázeno na plátně záběry atomových výbuchů, úžasnou The Great Gig In The Sky s hostující zpěvačkou Clare Torry. V Money si vychutnám parádní sólo na saxofon Dicka Perryho a dostávám se k mně nejvíce líbící Eclipse se závěrečným tlukotem srdce. Jediný "nedostatek" téhle desky je fakt, že byla komerčně mimořádně úspěšná, dokonce je zapsána v Guinessově knize rekordů za délku pobytu v americké hitparádě Hot 100.
Hodnocení je pro mě maximum, to nejde jinak.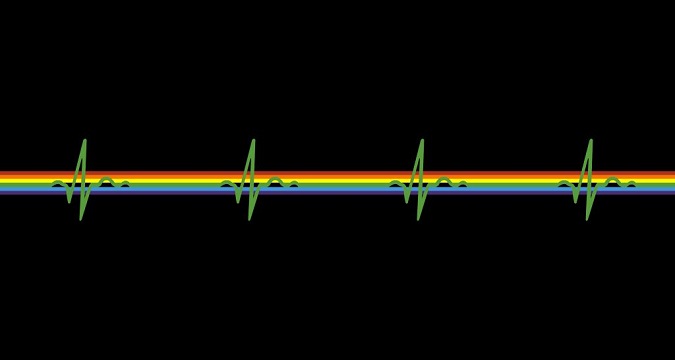 SKLADBY:
01. Speak to Me (1:16)
02. Breathe (2:44)
03. On the Run (3:32)
04. Time / Breathe (reprise) (7:06)
05. The Great Gig in the Sky (4:44)
06. Money (6:32)
07. Us and Them (7:40)
08. Any Colour You Like (3:25)
09. Brain Damage (3:50)
10. Eclipse (2:04)
SESTAVA:
David Gilmour – guitars, lead vocals (2,4,6,7), VCS3
Richard Wright – keyboards, lead vocals (4,7), VCS3 (8,9) & Synthi A (3,4)
Roger Waters – bass, lead vocals (9,10), VCS3, tape effects
Nick Mason – drums, percussion, tape effects
+
Dick Parry – saxophone (6,7)
Clare Torry – lead vocals (5)
Lesley Duncan – backing vocals
Liza Strike – backing vocals
Barry St. John – backing vocals
Doris Troy – backing vocals
NOTES:
Recorded at Abbey Road Studios, London between June 1972 and January 1973.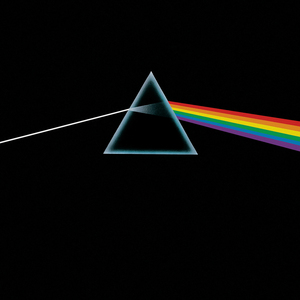 The Dark Side Of The Moon
Pink Floyd
Prog Rock
Harvest
1973
LP
10