Těžko uvěřit, že jeden a týž člověk složil hudbu nacházející se na tomto albu a třeba Sides (1979). Anthony Phillips, který na přelomu šedesátých a sedmdesátých let opustil Genesis, přičemž jedním z velkých důvodů byla neschopnost překonat trému z koncertování. Anthony Phillips, který se poté vrhl na studium klasické hudby a mohl jen přihlížet rostoucí popularitě skupiny, kterou opustil a ve které v její počáteční fázi zanechal svůj rozvíjející se, nesmazatelný rukopis. Anthony Phillips, vydávající slavné artrockové album The Geese And The Ghost až v roce 1977, kdy "in" byla punková revolta…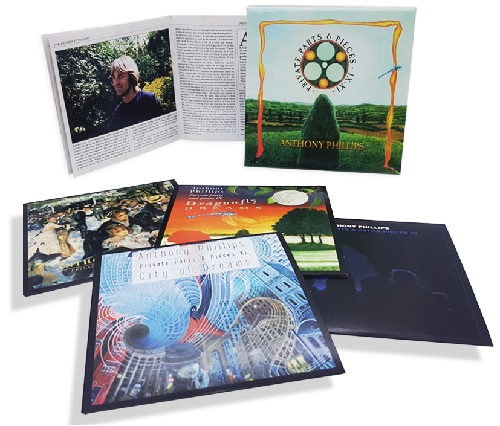 11 alb Private Parts & Pieces, které Anthony (zatím) vydal od roku 1979 do roku 2012, lidé buď milují, nebo vůbec nemusí. Každý není naladěný na hodně osobní hudbu na hony vzdálenou rocku a popu a blížící se vážné hudbě, jindy třeba podávající si ruce s ambientem – doporučuju vynikající Private Parts & Pieces VII: Slow Waves, Soft Stars (1987). A je fakt, že i já jsem neskousl třeba Private Parts & Pieces V: Twelve (1985), jediné album z "Private Parts" série, které je i na mě trochu moc. Anthony na něm jen brnká a brnká na dvanáctistrunnou kytaru.
Toto album tvoří romantické instrumentálky hrané Anthonym na klavír, blížící se pro přirovnání spíš třeba Schumannovi než čemukoli, co kdy jeho kolegové z Genesis vyprodukovali. Jasně ukazují, jaký velký talent v Anthonym byl a je. Album nám představuje Anthonyho cit a schopnost napsat skladbu nesoucí cit pro melodii a přitom se koupat v teritoriích vážné hudby, aniž by musel být moderně disharmonický. Kdyby žil Anthony Phillips v době Liszta (nebo pár let před ním), troufám si drze tvrdit, že by byl velkým konkurentem společností oblíbených romantických skladatelů tehdejší vážné hudby. Jedna zajímavost – skladbu Creation už hráli koncem šedesátých let Genesis, tehdy ještě samozřejmě s A. Phillipsem! Dokonce byla zpívaná, kým jiným než Peterem Gabrielem.
Private Parts & Pieces X: Soirée je pro mě emocionální nádherou (mám rád klavírní nepřeslazenou romantiku… ach jo – slovo romantika je bohužel strašně zprofanovaný díky dementním telenovelám, ale snad je mi rozuměno), je to takový symbol, příklad metaforizující slovo estetika. Navíc Anthony Phillips v sobě nezapře Brita a ten takový britský melancholický feeling. Hned o úvodní skladbě Sad Ballerina se nedá říct nic jiného, než že: je to sice smutný, ale tak krásný!!! A musím také říct, že album trvá hodinu, nejsou na něm, až na jednu krátkou výjimku, žádné jiné nástroje vyjma klavíru a ani na chvíli (alespoň mě) nenudí! Nicméně, každopádně je Private Parts & Pieces X: Soirée z kategorie alb "ne na jedno poslechnutí, ale na postupné objevování".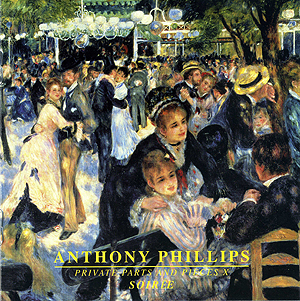 Obecně mám takový dojem, že spousta i profesionálních recenzentů alba odsuzuje proto, protože si je poslechli pro časovou tíseň jen jednou; kdyby si našli čas a poslechli si je vícekrát, třeba by změnili názor. (Jeden příklad za všechny: kdysi v Rock & Popu recenze na Broken China od Ricka Wrighta – kritik očekával Pink Floyd a ono to znělo trochu jinak, a proto bylo prostě špatné.)
SKLADBY:
1. Sad Ballerina  (3:30);  2. Final Lights  (1:49);  3. Sultry Leaves  (2:49);  4.  Fivers  (1:35);  5.  Creation  (4:20);  6.  Keepsake  (1:49);  7. Venetian Mystery  (1:57);  8. Scythia  (4:30);  9. Cantilena  (2:19);   10.  The Oregon Trail  (2:46);   11.  Passacaglia  (2:49);  12.  Gazebo  (1:10);  13. Passepied  (2:57);  14. Fallen Flower  (2:04);  15.  Noblesse Oblige  (2:11);  16.  Hope Of Ages  (3:37);  17.  Obezag  (1:02);  18. Rain Suite  (6:01);  19. After You Left  (3:11);  20. Summer's Journey  (6:34).
SESTAVA:
Anthony Phillips – piano, composer & producer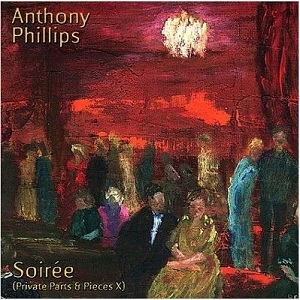 Private Parts & Pieces X: Soirée. Album sub-titled "A collection of pieces for solo piano"
Anthony Phillips
Classical, Romantic
Blueprint
1999
CD
20