Americkí Overkill sú späť so svojím 19. štúdiovým albumom a vôbec nevykazujú žiadne spomalenie alebo únavu.
Od The Grinding Wheel (2017) majú v osobe Jasona Bittnera nového bubeníka. Vzhľadom na to, že hral so Shadows Fall, Anthrax, Toxik a Flotsam & Jetsam, jeho kovové poverovacie listiny sú pevne stanovené a kapelu riadi zozadu (hoci skutočný zvuk bicích je viac ako trocha podozrivý). Basgitarista D. D. Verni a spevák Bobby "Blitz" Ellsworth sa onedlho stretnú na dôchodku, keďže Overkill založili už v roku 1980. Gitaristi Dave Linsk a Derek "The Skull" Tailer sú v zostave cca. 20 rokov, takže je tu skupina s neuveriteľnou dlhovekosťou a konzistentnosťou. Už dávno prestali skúšať a vymýšľať čokoľvek iné.  Hneď ako je vidieť logo Overkill, je jasné, že ide o thrash metal a návod, ako by sa mala hrať tvrdá,  rýchla a móde nepodliehajúca muzika.
Som veľkým fanúšikom ich posledného albumu The Grinding Wheel, ktorý považujem za najlepší v ich doterajšej kariére, ale The Wings Of War som tak dajako nepochopil. V skutočnosti je celkom dobrý, to je v poriadku, ale nemá taký nádych brilantnosti a triedy ako ten predchádzajúci. Nedokážem na to jednoznačne odpovedať, pretože si nie som istý, či ide o piesne, aranžmány alebo produkciu. Bobby určite nezmenil svoj prístup a jeho drsný hlasový štýl je stále v centre všetkého, čo robia. Nemyslím si, že niekedy vydali zlý album, ale tento pre mňa určite nie je taký dôležitý a podstatný, ako niektoré ďalšie.
Moje hodnotenie: 7/10.

SKLADBY:
01. Last Man Standing – 5:49
02. Believe In The Fight – 5:03
03. Head Of A Pin – 5:56
04. Bat Shit Crazy – 4:33
05. Distortion – 6:09
06. A Mother's Prayer – 3:58
07. Welcome To The Garden State – 4:42
08. Where Few Dare To Walk – 5:25
09. Out On The Road-Kill – 4:41
10. Hole In My Soul – 4:47
11. In Ashes (Bonus) – 5:35
ZOSTAVA:
Bobby "Blitz" Ellsworth –  vocals
D. D. Verni – bass, vocals
Dave Linsk – lead guitars
Derek "The Skull" Tailer – rhythm guitars
Jason Bittner – drums
+
Ron Lipnicki –  drums (11.)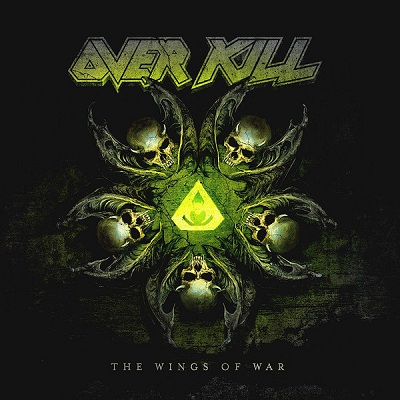 The Wings Of War
Overkill
Thrash Metal
Nuclear Blast
2019
CD, 2xLP
10+1