CD Warner Music Italy – 5053105-1372-5-1  /2012/
(Series 2LP In 1CD)
Album Preludio Tema Variazioni Canzona – známé spíš pod názvem Milano Calibro 9 – je druhým v diskografii neapolských Osanna a jeho náplň tvoří soundtrack ke stejnojmennému bijáku režiséra Fernanda Di Lea, natočeného podle předlohy Giorgia Scerbanenca. Je to taková relativně brutální mafiánská gangsterka, která se dá hned v několika jazykových mutacích shlédnout na ytb. S hodnocením 77% ji najdeme i na stránkách s Česko-Slovenskou filmovou databází a všem, které by to zajímalo bych doporučil aspoň její začátek (ještě než naskočí úvodní titulky). Mám dojem, že je to jedna z nejlepších sekvencí celého filmu …
K samotnému albu – jde o fúzi rockové kapely a symfonického orchestru, který diriguje slavný skladatel Luis Enriquez Bacalov. (Přesně ten Bacalov, který během svého života složil hudbu k desítkám filmů a který se podílel na deskách art rockových New Trolls, nebo Il Rovescio Della Medaglia). Víceméně instrumentální album je sotva jedenatřicet minut dlouhé a rozporcované na Preludio, Tema, Variazione I-VII a Canzona. Sám Bacalov napsal tři skladby, zbytek pak Lino Vairetti s kapelou a jak už to u soundtracků bývá, je tu nějakej ústřední motiv, který se pak opakuje v různých obměnách. To nejlepší se odehrává hned na začátku – Preludio – ale jako celek to nějak nedrží pohromadě a ani nemůže, protože většina "skladeb" je sotva dvě minuty dlouhých. Naštěstí nejsou prokládány dialogy, ani jinými zvuky a ruchy ze samotného filmu a tak to "odsejpá". Nejvíc se mi zamlouvají výše uvedená Preludio a Variazione VI, ovšem velmi pěkná je i poslední Canzona. Příjemná balada s doprovodem smyčců a vokálem v angličtině.
Je to dobrá deska, ale trochu sešněrovaná vytyčenými mantinely. Osanna měla svázané ruce, musela se držet předlohy a nepochybně pěkný hlavní motiv je v těch mnoha "variantách" zbytečně rozředěný. Daleko lépe na mě působí o něco kratší verze, předvedená na DVD Tempo z roku 2013.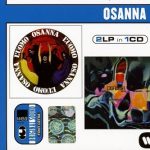 Za příznivou cenu dostupnej digipak od Warneru je bez bookletu, se sestavou a tracklistem vytištěnými přímo na obalu CD. Je to vydání "dva v jednom" které obsahuje aj debutové album L'uomo. Je docela zajímavé, že L'uomo končí podobnými zvuky, kterými Milano Calibro 9 začíná. Přechod mezi oběma deskami je tak téměř neznatelnej, působí jako jeden celek a většinou je zvládnu obě na jeden zátah.
SKLADBY:
01. Preludio – 4:10
02. Tema – 4:50
03. Variazione I (To Plinius) – 2:10
04. Variazione II (My Mind Flies) – 5:05
05. Variazione III (Shuum…) – 1:38
06. Variazione IV (Tredicesimo cortile) – 1:30
07. Variazione V (Dianalogo) – 2:08
08. Variazione VI (Spunti dallo spartito n° 14723/AY del Prof. Imolo Meninge) – 2:50
09. Variazione VII (Posizione raggiunta) – 1:25
10. Canzona (There Will Be Time) – 4:55
SESTAVA:
Elio D'Anna – sassofono soprano, sassofono tenore elettrico, flauto, voce
Danilo Rustici – chitarra elettrica, chitarra acustica, voce
Lino Vairetti – voce, sintetizzatore (ARP)
Lello Brandi – basso
Massimo Guarino – batteria, percussioni, vibrafono, voce
Luis Bacalov – arrangiamenti, direzione orchestra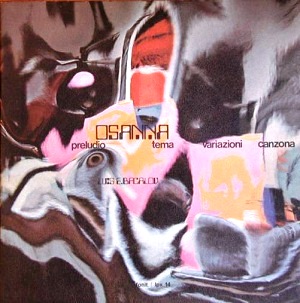 Preludio Tema Variazioni Canzona
Osanna
progressive rock, soundtrack
Fonit
1972
LP
10
CD - Warner Music Italy, 2012