Jediný tohoročný koncert Alice Coopera v našich končinách som si nenechal ujsť.
Alice Cooper už v Bratislave a okolí vystupoval, nikdy som však nemal potrebu sa zúčastniť. Aj teraz som si najprv povedal, že načo. Ale! Musím sa priznať, že posledný rok ma jeho muzika zo 70. rokov chytá čoraz viac. Celý život som ho mal zaškatuľkovaného ako "od Zappu" vyškoleného manieristu, ktorý hrá prekvapivo pestrú muziku. Neviem prečo, vždy som si vystačil s dvomi výberovkami zameranými primárne na 70. roky a albumom Love It To Death (1971). Posledný rok ma však jeho muzika opantala natoľko, že som začal dopĺňať do zbierky aj ďalšie diela ako Killer (1971), Billion Dollar Babies (1973) a Welcome To My Nightmare (1975). Pozrel som preto na to, čo na aktuálnom turné hrá a ahaho! Až na pár skladieb z novoveku (Poison) ide o prehliadku jeho tvorby zo 70. rokov! Nuž, čo vám poviem. Spojil som príjemné s užitočným a lístky na šou putovali do mailu s vervou osudovej morovej rany!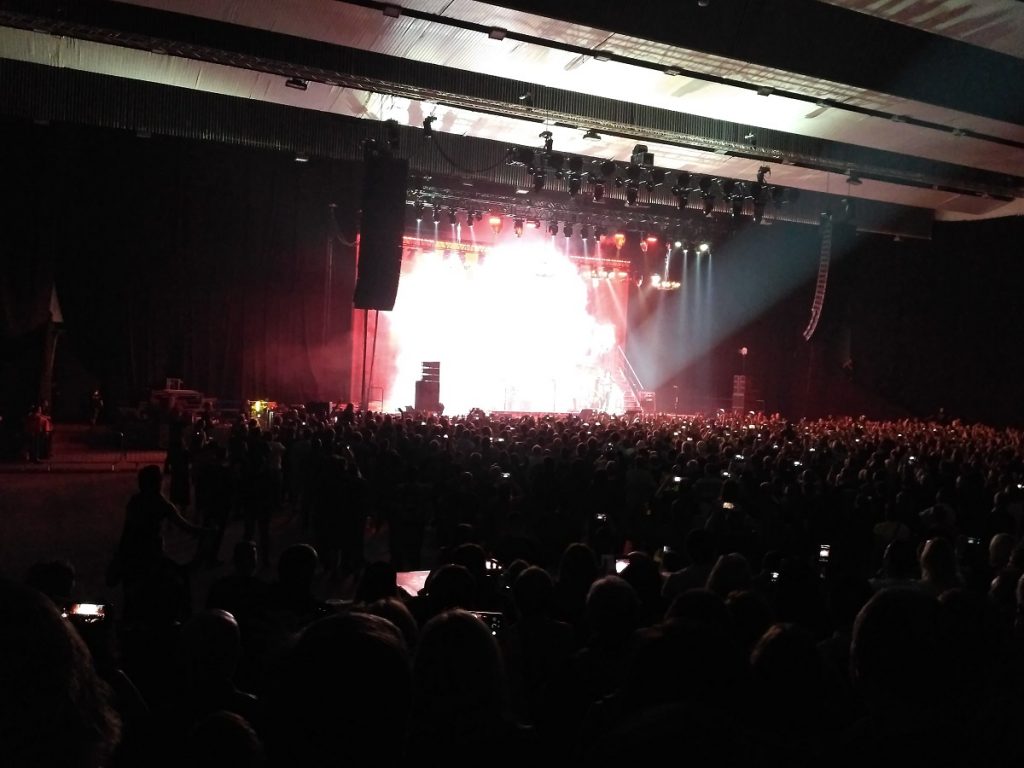 Na miesto určenia sme v dvojici dorazili okolo siedmej. Rozmaznaní skúsenosťami z Rakúska a Nemecka sme pozabudli, že Slovensko je krajina, kde včera znamenalo pred desiatimi rokmi. Na parkovisku sa radila šóra ako za sociku na mandarinky. Po chvíli sme prišli na to, že miesta na sedenie majú iný vchod (zazrieť jedinú informačnú tabuľu poza dav ľudí bol kumšt), a tak sme sa presunuli do inej rady, ktorá, našťastie, bola len pár metrov od vstupu. Mnohí asi ešte nevideli tabuľu. Teda, našťastie pre nás, pretože vstupná prehliadka pripomínala odbavenie na colnici pred rokom 1989. Nie, že by niekto kontroloval, či nemáme drogy v miestach, kam slnko nesvieti. Bohato stačilo, že vstupy do sektorov na sedenie boli presne dva a na dav čakali dve dvojice kontrolórov.
Po cca 40 minútach sme sa dostali na rad a pochopili sme, prečo to tak trvalo. V temnom neosvetlenom priechode stála dievčina s mobilom a načítavala QR kódy z lístkov. Kým v tej tme chudák mobil zaostril, chvíľku to trvalo. Za ňou stál chlapík, čo okolo zápästí prilepoval papierové náramky. Ich význam mi unikol, nakoľko celý objekt bol nepriedušne uzatvorený a nikto nemohol ísť pomaly ani len na WC, nieto pašovať lístky. Pri kapacite cca 5200 ľudí, pričom okolo 4000 ich aj reálne prišlo, to znamenalo, že rady tam boli niekoľko hodín. Mali ste vidieť tých zúfalcov za nami, ako neveriacky krútili hlavami. Jedno, či šlo o Poliakov, Maďarov, Rakúšanov, anglicky hovoriacich alebo Slovákov. Našli sa aj takí, čo sa šli pozrieť dopredu, kde to viazne a s drzosťou prameniacou zo zúfalstva sa radšej predbehli.
Merchandise sme obhliadli len letmo, ak tielko začína na štyridsiatich eurách, niet o čom. Ledva sme sa usadili a dumali, či koncert nezačne až v pondelok, kým pustia všetkých ľudí, udrela ôsma hodina a do poloprázdnej sály vtrhla predkapela. Black Stone Cherry mi je známa z dôvodu, že ju radia k južanskému rocku. Počul som nejaké skladby, ale nezaujali ma natoľko, aby som sa o ňu bližšie zaujímal. Má na konte 3 EP, jeden živák a šesť štúdiových albumov. Začala zostra. Zvuk bol skôr jednoliaty hluk. Napriek tomu odohrala nesmierne energický set pozostávajúci z deviatich skladieb. Mala aj klávesáka, ale toho bolo počuť len v časti skladby, kde mali kombinovaný sólový set s gitaristom a perkusionistom. Najviac ma zaujal bubeník, ktorý do toho mlátil, akoby bol na elektrošokovej terapii. Neustále krútil paličkami, vyhadzoval si ich a metal sa tak, že som sa chvíľami pristihol, ako hľadám nity, ktorými mu hlava isto držala na krku. Nehovoriac o tom, že som ešte nevidel bubeníka, ktorého by tak neznášali jeho vlastné paličky. Doslova mu utekali z rúk a pri vyhadzovaní neúprosne zdrhali z opätovného dosahu ich vládcu. S povzdychom som si spomenul na to, čo sa vydáva za rockové bubnovanie na Slovensku. Tu nebola šanca na kúštik sterility, mravného bum-čvach sprievodu, o sile úderu nevraviac! Ale k veci. Napriek parádnemu výkonu boli pokusy o zapojenie publika vlažné, vekovití rockeri sa aspoň potešili pri malej pripomienke Purple Haze od Hendrixa. Aj tak mi bolo ľúto najmä predkapely. Keby boli ľudia v sále od začiatku, mohli mať ďaleko lepšiu atmosféru. Niektorí jedinci prichádzali doslova na poslednú skladbu.
Necelú polhodinu trvala príprava na hlavnú hviezdu večera. Počas pauzy hral posledný Cooperov album Paranormal. Ešte som ho nepočul, ale poviem vám, vôbec neznel zle. S úderom trinástej minúty po deviatej nastúpila playbacková úvodná sekvencia zo Stevena a po obligátnom privítaní v Hrade nočných mor Alice Coopera to prišlo!
Pódium s funkčným hradom privítalo nielen rytmiku, ale hneď trojicu sólových gitaristov (s jednou blonďavou gitaristkou). Úvodná hitovka Feed My Frankenstein naznačila, že Cooper má so sebou aj teatrálny komparz, a preto na pódium vybiehali nielen obrie monštrá a mŕtve deti, ale aj príslušníci sanatória a jedna tanečníčka. Nechýbalo delo s konfetami, gilotína, mamutie balóny s konfetami atď. Alice Cooper je skrátka predstaviteľ rockového kabaretu.
Publikum bolo dosť vlažné. Okolo mňa sedeli sochy, ktoré ožili azda iba pri Poison a School's Out. Ja som si prišiel na svoje! Zo 70. rokov odznelo 14 z 21 skladieb (gitarové sólo nepočítam). Ešte aj tie hitovky z 80. rokov potratili vtedajší zvuk (ktorý bol mimochodom v Inchebe brutálne hlasný) a zneli parádne. Potešila ma aj bluesom načuchnutá skladba Fallen In Love z posledného albumu Paranormal, kde si Cooper zahral na harmonike. A v Muscle Of Love vytiahol, ehm, gule (teda, rumba gule). Jediné prekvapenie v setliste mi pripravilo zaradenie soundtrackovej skladby He's Back (The Man Behind The Mask) z filmu Piatok trinásteho 6 (1986). Inak hral Cooper všetko tak, ako na celom tomto turné. Moja srdcovka I'm Eighteen znela pódiovo lepšie ako v 70. rokoch, kedy s ňou Cooper dokázal robiť neuveriteľné "prasárny". A bubeník v nej vyhodil paličku a nechytil ju, akoby sa nakazil od predkapely.
V Billion Dollar Babies došlo aj na pauzu, kedy si Cooper myslel, že dav mu zaspieva, ale, čuduj sa svete, nastalo ticho. Našťastie mu to rýchlo došlo a následne už dav priamo vyzýval, aby spieval, tlieskal a pod. Po skvelej hitovke Poison si šiel Cooper oddýchnuť (aj tak stále menil dreskód a behal skoro ako zamladi). Brilantná kapela dostala priestor na muzikantskú exhibíciu. Gitaristka Nita Straus zahrala metalické sólo, zbehla trojica skladieb Roses On White Lace, My Stars a Devil's Food, aby nastúpila moja obľúbená Cooperova vec – Black Widow. Gitaristi si schuti zasólovali, bubeník vystrúhal efektné sólo, do toho basák bustroval motív z Black Juju a prišiel jeden z vrcholov koncertu. Steven! Alice Cooper vo zvieracej kazajke a hudobne úžasný poslucháčsky zážitok. Dianie zakončila poprava hlavného protagonistu gilotínou. To sa už schyľovalo k záveru, Dead Babies, I Love The Dead, Escape a ako perlička na záver aj Teenage Frankenstein konečne dostali publikum do hrob… do varu.
Nastalo lúčenie, pódium stmavlo a ja som sa preľakol, že ľudia odídu. Aj tak už mnohí odišli, aby stihli posledné spoje… Obavy sa nenaplnili, ľudia vytlieskali prídavok. Under My Wheels bola fajn, ale School's Out bola neskutočná! Vrchol koncertu. Ono sa to síce núka samé, ale počuť uprostred nej – We don't need no education, a teda Pink Floyd, stálo za životný zážitok. Došlo aj na predstavenie členov kapely a na záver Cooper predstavil aj tanečníčku.
O trištvrte na jedenásť bol koniec. Kapela si nahrávala reakciu publika a to sa začalo zberať von. Kto nešiel hlavným vchodom, mal smolu. Prišiel k zamknutým dverám. Chlapík s tričkom "security" vraví: "Tadiaľto ísť nemôžete," a ukazoval naspäť do sály. Potom sa nad tým nechápajúcim množstvom ľudí zľutoval a po uistení, že koncert už naozaj skončil, sa iniciatívne podujal zavolať nadriadeným, či môže odomknúť východ. Mohol. Zmätení, ale vďační návštevníci sa začali trúsiť na parkovisko…
Čo dodať na záver? Bol to výborný zážitok, hoci sa usporiadatelia nesmierne snažili o opak. Ozaj, v ušiach mi pískalo ešte ráno. Tomu vravím rock!
Ol' Black Eyes is Back Tour 2019
Dátum: 15.9.2019
Čas: 19:30
Miesto: Incheba Expo aréna, Bratislava
Skladby:
Years Ago (playback)
Nightmare Castle (playback)
Feed My Frakenstein /Hey Stoopid, 1991/
No More Mr. Nice Guy /Billion Dollar Babies, 1973/
Bed Of Nails /Trash, 1989/
Raped And Freezin' /Billion Dollar Babies, 1973/
Fallen In Love /Paranormal, 2017/
Muscle Of Love /Muscle Of Love, 1973/
He's Back (The Man Behind The Mask) /Constrictor, 1986/
I'm Eighteen /Love It To Death, 1971/
Billion Dollar Babies /Billion Dollar Babies, 1973/
Poison /Trash, 1989/
guitar solo
Roses On White Lace /Rise Our Fist And Yell, 1987/
My Stars /School's Out, 1972/
Devil's Food /Welcome To My Nightmare, 1975/
Black Widow Jam/Black Juju /Welcome To My Nightmare, 1975 – Love It To Death, 1971/
Steven /Welcome To My Nightmare, 1975/
Dead Babies /Killer, 1972/
I Love The Dead /Billion Dollar Babies, 1973/
Escape /Welcome To My Nightmare, 1975/
Teenage Frankenstein /Constrictor, 1986/
Under My Wheels /Killer, 1972/ (prídavok)
School's Out/Another Brick In The Wall /School's Out, 1972 – Pink Floyd: The Wall, 1979/ (prídavok)
Zostava:
Alice Cooper: spev, harmonika, rumba gule
Nita Straus: gitara, vokály
Ryan Roxie: gitara, vokály
Tommy Henriksen: gitara, vokály
Chuck Garrick: basa, vokály
Glen Sobel: bicie