Nástup retro hardrockovej vlny zo 70. rokov je posledných pár rokov populárnejší než rozhorčenie nad špinavosťou politiky. Iste, začalo to už niekedy v 90. rokoch, ale povedzme si na rovinu, niekoľko posledných rokov je to masovka. Osobne ma tento trend skôr obchádza, predsa len som zaťažený na originály, niekedy v druhej polovici nultých rokov po Y2K som si však na odporúčanie kúpil album Rise od severoírskej kapely Answer. Dodnes ho považujem za to naj, čo v novom storočí v danom žánri vzniklo.
Ale poporiadku. Kapelu Answer vyznávajúcu odkaz Led Zeppelin, Aerosmith a všetkého medzi tým, založili v roku 2000 štyria hráči, Paul Mahon (gitara), Micky Waters (basa), James Heatley (bicie) a Cormac Neeson (spev). V Downpatricku (okres Down) dokončili školy a popri tom začali hrávať v podnikoch, ako sa na začiatočníkov patrí. Behom pár rokov zaujali natoľko, že mohli v roku 2005 vydať prvý oficiálny singel Keep Believin', ktorému predchádzalo niekoľko nahrávok produkovaných kapelou na vlastné náklady. Kapela bola označená za najlepšiu novú formáciu magazínom Classic Rock a koncom roku vypustila aj druhý singel Never Too Late. Zároveň predskakovala legende zvanej Deep Purple. Ďalšie single bolo možné v rôznych podobách sťahovať u internetovej stránky, čím sa kapela snažila ísť s dobou. V júni roku 2006 vyšiel debutový album Rise, ktorý sa dostal ako do britského rebríčka, tak do priazne kritikov významných rockových časopisov. Kapela ho pre veľký úspech vydala v mnohých verziách, sám vlastním dvojdiskovú špeciálnu edíciu z roku 2007. Dokonca vyšiel v reedícii aj v roku 2016 pri príležitosti desiateho výročia od vydania.
Kapela neúnavne koncertovala, predskakovala velikánom typu Whitesnake, Paula Rodgersa, Aerosmith, Rolling Stones alebo The Who. Jedenásteho decembra 2007 zahrala vianočný koncert so špeciálnym hosťom Paulom Rodgersom, ktorý je zachytený na koncertnom albume Live At Planet Rock Xmas Party (2008). Zahrali aj v Dubline na spomienkovom koncerte pre Phila Lynotta z Thin Lizzy. Ich basgitarista dokonca hral na Lynottovom nástroji, ako vôbec prvá osoba na svete po jeho smrti.
S albumom Everyday Demons (2009) dokázala kapela prekonať osud jednoalbumových momentiek a koncertne sa stala súčasťou turné k albumu Black Ice od AC/DC. Answer prežíva dodnes. Vydáva štúdiové albumy (Revival – 2011, New Horizon – 2011, Raise A Little Hell – 2015 a Solas – 2016) a z turné z AC/DC vyšlo aj DVD 412 Days Of Rock'n'Roll (2011). Niektoré jeho vydania obsahujú aj bonusové cédečko.
Poďme k Rise. Ako som už spomínal, vlastním dvojdiskovú Special Edition, okrem albumu je tu bonusový disk plný singlov, nepoužitých session nahrávok, nejakých koncertných záznamov a cover verzia skladby Sweet Emotion od Aerosmith, ktorú kapela vyprodukovala pre časopis Kerrang!. To som, pravda, v čase nadobudnutia albumu nevedel.
Priznávam, môj výber albumu Rise sa zakladal na predsudkoch. Šiel som po vizuálnej stránke. Akokoľvek to nemá racionálny základ a dnes to už vôbec neplatí, rockovú muziku si spájam s dlhými vlasmi, čomu hráči v popredí (gitarista, spevák) zodpovedali na jednotku s hviezdičkou. Hold, kalkulačné ostrihanie Metallici zabilo jeden zo základných imidžových prvkov rockovej muziky. Jasné, hlavná je hudba, ale i tak, človek ťažko uverí, že to nie je len biznis, ak obal knihy nezodpovedá obsahu. Spiatočnícke? Možno. Nejako však svoje preferencie orientovať treba, inak budeme všetci stratení v bezpohlavnej šedi tovaru pre tovar.
Pokiaľ si tento album pustíte, pripravte sa na hutnú dávku hardrockového typu, rytmika hučí, gitarista kváka, sóluje, sprevádza s razanciou hromu, no a spevák do toho jačí, škrieka, prípadne, ak sa inak nedá, aspoň spieva… Škripľavé polohy navyše zvláda s prehľadom, však posúďte sami:
Muzika jasne vyviera zo sŕdc zamilovaných do 70. rokov, nechýba štipka blues, slide a pod., ale zvuk je moderný, pritom neotupujúci ako produkcia pre MTV. Je to priam učebnicový príklad starého v novom šate, všetko je funkčné a presvedčivé. Keby som chcel, akože nechcem, nazval by som ich hutnejšími nasledovníkmi Black Crowes. Album sa vyhýba sladkostiam, jediná balada s komerčným potenciálom je prakticky až posledná skladba Always.
Oba disky sú v podstate ako pohľad do zrkadla, a preto medzi nimi nebudem hľadať päť rozdielov. Ktovie, či by som ich vôbec našiel… Ak máte radi priamočiary gitarový hard rock bez príkras a hľadáte dôkaz, že to stále ide, Answer je jasnou voľbou! Čím to je, že v našich končinách takáto kapela nevznikla ani jedna jediná (Big Bang s René Lackom nerátam)! V priebehu rokov vzniklo týchto retro kapiel ako maku, Answer mám stále najradšej. Prečo? Neviem, je to tak.
P.S. Ako počuť v najnovšej tvorbe, skladbe Solas z rovnomenného albumu, veľa sa nezmenilo a rozhodne jej v budúcnosti plánujem dať šancu:
Skladby:
CD1:
Under The Sky 4:09
Never Too Late 3:56
Come Follow Me 4:10
Be What You Want 3:45
Memphis Water 6:08
No Questions Asked 3:27
Into The Gutter 4:03
Sometimes Your Love 4:13
Leavin' Today 2:59
Preachin' 5:57
Always 5:12
CD2:
Keep Believin' 3:54
I Won't Let You Down 3:38
Sweet Emotion 3:54
Doctor 4:25
So Cold 4:53
Rock Bottom Blues 4:43
Some Unity 3:47
No Question Asked (Radio Session) 3:28
Into The Gutter (Acoustic) 3:39
Only The Strong Survive 3:24
Not Listening 6:13
Cme Follow Me (livein Tokyo 2007) 5:33
Sometimes Your Love (livein Tokyo 2007) 5:35
Be What You Want/Moment Jam (livein Tokyo 2007) 8:19
Take It Easy 4:28
Zostava:
Paul Mahon: gitara
Micky Waters: basa
James Heatley: bicie
Cormac Neeson: spev
a
Toby Baker: klávesy (CD1: 4, 10)
Juliet Roberts: gospelový zbor (CD1: 10)
John Gribbons: gospelový zbor (CD1: 10)
Chris Bollin: gospelový zbor (CD1: 10)
Sylvia Mason James: gospelový zbor (CD1: 10)
Viki St. James: gospelový zbor (CD1: 10)
Derek Green: gospelový zbor (CD1: 10)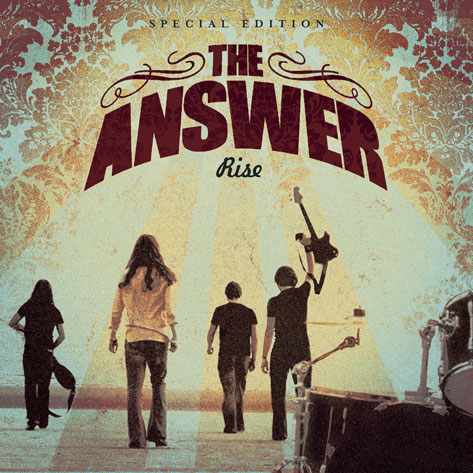 Rise
The Answer
hard rock
Albert Production
2006
CD
11