Pátek večer. Jsem sám doma a co může být lepší společností, než dobrá hudba? Už odpoledne v práci jsem vyloženě chytil (minimálně několikadenní) chuť na Le Orme, takže otázka "Co si večer pustit?" byla jasná volba. Ještě že jsem tohle album nehodnotil dříve. Ta krása prostě musela dozrát. 
Hned úvodní skladba Il Tuono E La Luce nastoluje vynikající, procítěnu, přímo leormeovskou atmosféru, kterou ještě podpoří gilmourovsky klouzavá elektrická kytara. Skladby pokračují, zvuk nezní nijak archaicky, přesto melodie vyluzující hammondovy varhany a klavír (často v popředí) hodně potěší. Po orchestrálně znějící Shanti přichází pomyslný vrchol alba se čtvrtou skladbou, ústřední, artrockově patetickou L'Infinito, podle mě srovnatelnou s čímkoli nejlepším z jejich tvorby ze sedmdesátých let. Zbavuje mě to slov, je to… křehká Melancholie ve své esenci. TOHLE TAKHLE prostě umí jenom Le Orme.
Album je plné zajímavých pasáží. Housle v popředí v polovině skladby Si Può Immaginare, kde mě klávesák Michele Bon trochu připomíná Jona Lorda. Čistě sólo klavír v nádherné instrumentálce Il Tempio Sul Lago, vzdáleně zase připomínající spíš Fryderyka Chopina než rockovou bandu. Sitárově indické posezení při La Ruota Del Cielo… A nejsilnější hudební motiv – L'Infinito – opakovaně rámuje i samý závěr alba.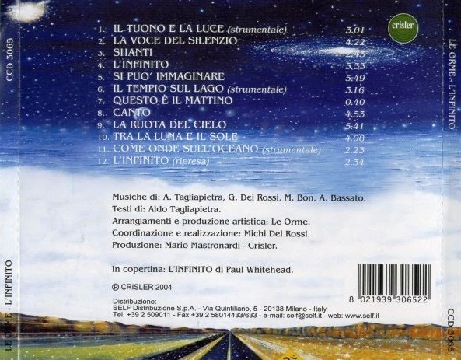 Čtyřicet pět minut uteče jak voda a já? Sedím s otevřenou pusou, mám husinu, ale ne ze zimy a jdu si to pustit znova. Italsky sice neumím žblebtnout ani slovo, ale bavíme se o hudbě: dávám čtyři hvězdy (spíš čtyři a půl) z pěti; podle mě zcela zaslouženě.
SKLADBY:
01. Il Tuono E La Luce (Instrumental) (3:01)
02. La Voce Del Silenzio (4:22)
03. Shanti (2:44)
04. L'Infinito (5:33)
05. Si Può Immaginare (5:49)
06. Il Tempio Sul Lago (Instrumental) (3:16)
07. Questo E' Il Mattino (0:40)
08. Canto (4:14)
09. La Ruota Del Cielo (5:41)
10. Tra La Luna E Il Sole (4:08)
11. Come Onde Sull'Oceano (Instrumental) (2:23)
12. L'Infinito (Reprise) (2:30)
SESTAVA:
Aldo Tagliapietra – vocals, bass, bass pedals, acoustic 12-string guitar, sitar
Michele Bon – MB3 organ (self-made), keyboards, guitar simulator synth
Andrea Bassato – piano, keyboards, violin
Michi Dei Rossi – drums, percussion, glockenspiel, tubular bells
+
The Joy Singers of Venice – chorus vocals
Andrea D'Alpaos – choir conductor
String quartet: Luca Penzo – violin; Rosella Mazzucchelli – violin; Pietro Costantini – viola; Caterina Rossi – cello.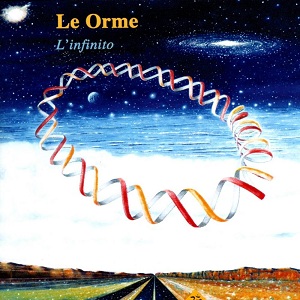 L'Infinito
Le Orme
Prog Rock
Crisler
2004
CD, LP
12