Švédsky hardrock zo 70. rokov minulého storočia patrí k špičke žánru. Dovoľte mi pripomenúť švédsku skupinu Neon Rose, ktorá po sebe zanechala tri albumy, ale ja mám k dispozícii kompiláciu Dust And Rust And… z roka 2000.
Jej počiatky možno vystopovať v Štokholme v roku 1969, kedy sa štvorica hudobníkov Roger Holegård (gitara, spev), bratia Piéro (gitara) a Benno (basa) Mengarelliovci a Kento Krull (bicie) zišla v skupine Spider. V roku 1973 nahradil Krulla Stanley Larssen a skupina sa rozhodla, že sa po vzore Iron Butterfly musí pomenovať úderne, mäkko i tvrdo zároveň. A tak vznikla banda Neon Rose. V roku 1974 nahrala pre Vertigo debutový album Dreams Of Glory And Pride, ktorý sprevádzal singel Sensation. V roku 1975 sa na pultoch zjavil album Two, potvrdzujúci náchylnosť skupiny k priamočiaremu hard rocku. V tom istom roku nahradil Larssona (odišiel do bluesrockovej skupiny Nature) ďalší bubeník Thomas Wiklund (predtým pôsobil v skupine  Uppåt Väggarna) a v tejto zostave kapele vyšiel tretí, posledný album Reload. Následne sa Neon Rose rozpadla. Holegård sa pridal k skupine Wasa Express, s ktorou nahral dva albumy a potom sa aj s Wiklundom zjavil vo formácii Truck. Na cédéčka sa prvé tri albumy dostali počiatkom 90. rokov, znovu vyšli v roku 2005 v podobe výpravných digipackov s bonusmi a umožnili to, že sa dnes s touto výbornou hardrockovou skupinou, ktorej vzorom bola skvelá švédska legenda November, môžu zoznámiť všetci.
Ale späť k histórii. V roku 1978 dal Piéro Mangrelli dokopy novú zostavu Neon Rose, ktorú doplnila trojica Joaquin Calafell (bicie), Erik Svensson (klávesy) a Lasse Byström (basa). Ostalo pri pár demo nahrávkach. Nasledujúca obnova skupiny prebehla v roku 1981, v zostave Piéro a Benno Mangrelliovci, Calafell, Svensson a Conny "Bloom" Blomquist (gitara, spev). Aj táto zostava nahrala niekoľko demo nahrávok s dobovou uhladenou rockovou produkciou, ale v roku 1982 sa rozpadla. Hráči však ostali aktívni aj naďalej. Holegård hral s Micke Andersson's Dropouts, Benno Magrelli pôsobil na dvoch poprockových albumoch skupiny Intermezzo a potom sa pridal k Magnus Lindberg Bandu. Larssen hral v Nature, ďalej s Pughom Rogefeldtom, Ulfom Lundellom a švédskou popstár Magnusom Ugglaom. Wiklund nahral dva single s Truck a potom sa pridal k skupine Magnum Bonum. Hallin spolupracoval s Truck, Magnusom Ugglasom, a tiež s AOR zoskupením Bam Bam Boys.
V roku 1996 sa Neon Rose prekvapivo dala opäť dokopy, zostavu tvorili bratia Mangrelliovci, Holegård a Wiklund. Nahrali nový album, z ktorého sa dve skladby dostali na reprezentatívnu výberovku Dust and rust and…, ktorá vyšla v roku 2000, ale album samotný nevyšiel dodnes.
A práve túto výberovku som pred časom zaradil do zbierky.  Dostal som sa k nemu náhodou, vybral som si ho pri prehrabávaní sa v obchode Roxy. Aj keď ma odradzovalo gýčové logo kapely, niečo mi hovorilo, že výber hudby z prvej polovice 70. rokov by mohol byť pre mňa tým pravým. A naozaj, okamžite som tejto doske prepadol! Gitarový hardrock bez kompromisov, z ktorého cítiť ducha Deep Purple (pravda, menej klávesového a značne priamočiarejšieho), navyše, rovno z dôb, kedy to ešte danou hudbou autenticky žilo, tomu nešlo odolať.
Keďže zostava preteká gitarami, je jasné, že na svoje si prídu klasickí rockeri. Ako to už býva, hudba Neon Rose zastáva dve polohy, buď tvrdo rockuje alebo podmanivo sladí. Úvod i záver obstarávajú ukážky z nikdy nevydaného štvrtého albumu, nahratého v bližšie neurčenej druhej polovici 90. rokov v štúdiu Bennoa Mengarelliho s príznačným názvom Terminator Studios. Skladba Schize Love je rázna, The Last Night On Earth zasa naliehavo baladická, ale i keď sú dobré, myslím si, že tento album by som si nekúpil.
Z debutu (rok 1974) sa na výberovke nachádzajú štyri kúsky, rýchle skladby zastupujú Love Rock a Sensation, balady zasa Julia's Dream a niekde na polceste je titulná vec Dream Of Glory And Pride. Tá je rozhodne najambicióznejšou skladbou, akú som od skupiny počul, pochodovo ladené pasáže na virbel striedajú baladické temné bôle, rýchle medzihry narúšajú jednotvárnosť a v závere sa pridá gitarové inferno. Na desať minút slušné.
Druhý album, pomenovaný výstižne a neoriginálne Two, tu má tri zárezy. Spevný kúsok Waiting For A Train obsahuje aj pomalé, gitarovo zdvojené, medzihry. Strieda ju hutná záležitosť Is There An Eden, ktorá nemá chybu. Rovnocenne sa delí o miesto s neskutočne počúvateľnou melodickou záležitosťou Bloody Welfare, ktorá však vystrkuje rožky ako čert-paroháč-srnec, vyberte si. Bubácka gradácia s nekonečným obohrávaním hmatníkov bez bázne a hany natiahne skladbu kamsi k desiatim minútam a to mám rád.
Každý ďalší album znie priamočiarejšie, dôkazom je aj pätica skladieb z finálneho albumu Reload (1975). Väčšina je z kategórie rýchlych riffoviek, ktoré sa nekompromisne a tvrdo ženú za korisťou. A Man's Not A Man je svižná vecička, ale čo je to oproti besnej naháňačke Night Birds. Rozcítená, ale tematicky nevábna balada A Smell Of Death má v sebe aj pomerne unáhlené momenty, takže to moc balada nie je, ale nič to. Realitu nezmeníme. Too Long vôbec netrvá príliš dlho, navyše, po nejakom cukrovaní nieto ani pamiatky, toto je šmirgeľ určený na drsné zaobchádzanie a rovnako zameraných poslucháčov. Fajnovo si to šinie aj skladba, ktorá dala tejto kompilácii takmer kompletný názov – Dust And Rust. Neuveriteľne znie zborové hulákanie – lalalalalá, treba počuť. Inde by to znelo ako infantilnosť, ale tu to fakt sedí ako učiteľka na svojom obľúbenom neobľúbencovi.
Dlho som váhal, či si nekúpiť všetky tri albumy, ale napokon k tomu dodnes nedošlo. Myslím, že som spokojný, keď si chcem vypočuť Neon Rose, je jedno cédečko tak akurát, čim nechcem odrádzať zberateľov, všetky tri dosky sú viac ako len výborne počúvateľné.
(Upravené, pôvodne zverejnené na progboarde)
Skladby:
Schize Love /Holegård/ (2:38)
Love Rock /Neon Rose, Holegård/ (4:45)
Sensation /Neon Rose, Holegård/ (3:56)
Julia's Dream /Neon Rose, Holegård/ (6:21)
A Dream Of Glory And Pride /Neon Rose, P. Mengrelli/ (9:49)
Waiting For A Train /Neon Rose, Holegård/ (5:25)
Is There An Eden /B. Mengrelli, Holegård/ (5:00)
Bloody Welfare /Neon Rose, Holegård/ (9:42)
A Man's Not A Man /B. Mengrelli, P. Mengrelli, Wiklund, Holegård/ (4:02)
Night Birds /Neon Rose, P. Mengrelli/ (2:40)
A Smell Of Death /Hollin, Holegård/ (5:11)
Too Long /Hallin, P. Mengrelli/ (4:53)
Dust And Rust /Neon Rose, Holegård/ (3:56)
The Last Night On Earth /Holegård/ (6:15)
Zostava:
Benno Mengarelli: basa, ak. gitara, perkusie, mellotron, vokály
Piéro Mengarelli: el. gitara, ak. gitara, vokály
Roger Holegård: spev, ak. gitara, mellotron, perkusie
Gunnar Hallin: el. gitara, ak. gitara, vokály (2-13)
Stanley Larsson: bicie, perkusie (2-8)
Thomas Wiklund: bicie, perkusie (1, 9-13, 14)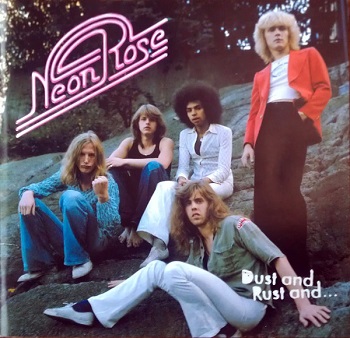 Dust And Rust And...
Neon Rose
hard rock
Universal Music
2000
CD
14