It's not easy to choose the album of the culturally dead year 2020. Of course, there were plenty of albums released. Few of them attracted me in a way – yeah, that's marvelous! The Other Side by Nektar is as close as it gets to this.
I like Nektar, it's easy listening. The music is catchy, personally I prefer these three albums – A Tab In The Ocean (1972), …Sounds Like This (1973) and Remember The Future (1973). From the classic lineup only two musicians are active today. Of course, Moore and Howden are accompanied by old light mage Brockett.
Fresh open song I'm On Fire is an instant attraction. I'm immediately moved into a time when rock music wasn't ashamed of itself. The atmosphere is the most valuable asset of this music. Whole album has a classic space feeling. It's a pretty straightforward artrock with plenty of keyboards and guitar likes to play solos all the time. A lot of strong melodies that sound glibly and convincingly are a great advantage of presented music. You want a proof? Here you are – the moody halcyon song Skywriter. A circuitous composition called Love Is/The Other Side is eighteen minutes long and it's the closest to what we called neoprog. Well, the album is long, but it's not an error. I'm not bored for a single second.
Retro atmosphere of the 80's is back for a while. Movies and serials compete who is more crazy and music wants to win, too (listen to the last albums of Epitaph, Blue Öyster Cult or basically all the neoprog production). Nektar is no exception. The keyboards oscillate on the edge of endurability in the dark moody song called Drifting. The sound odour is happily very gentle at least. Devil's Door has got something of Remember The Future in it. So it easylly convinces a fan that he's in a good company.  The Light Beyond is a short keyboard adding that ends with some psychedelic mumbling. It's a bit over the edge, but I'm not annoyed. A beautiful fragile ballad called Look Thru Me seems almost acoustic. So the last song Y Can't I B More Like U (2020) can begin in the same way. It shows itself to be admired. What's more, it really enhances beautifully.
Listening to the The Other Side brings me joy. At last here is the music that seems naturally and it's full of melodies, melancholic moods, fitting darkness. In other words – it's pure beauty. At last! That's why I throw aside my resolution to mark this album with four stars and with clear conscience I giove five of them. Give me more of such music!
SONGS:
1. I'm On Fire 8:32
2. Skywriter 7:52
3. Love Is/The Other Side 17:57
4. Drifting 9:11
5. Devil's Door 8:11
6. The Light Beyond 2:51
7. Look Thru Me 5:01
8. Y Can't I B More Like U (2020) 6:31
LINEUP:
Ryche Chlanda: guitar, vocals, lyrics
Kendall Scott: keyboards, syths
Randy Dembo: bass, bass pedals, 12-string guitar
Derek "Mo" Moore: bass, vocals, lyrics
Ron Howden: drums, vocals
Mick Brockett: visual conceptions, lyrics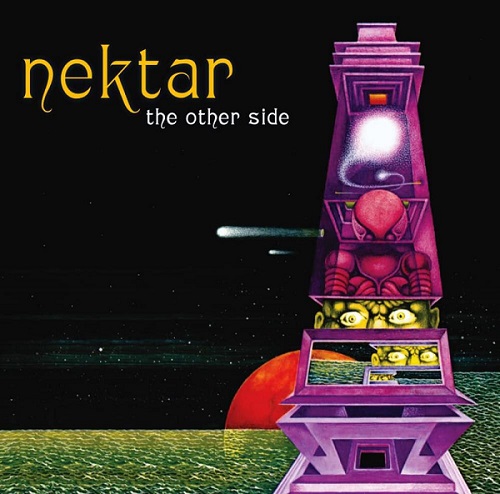 The Other Side
Nektar
space rock, art rock
Esoteric Antenna
2020
CD
8