Vybrať v kultúrne mŕtvom roku 2020 album roka nie je ľahké. Nie, že by toho nevyšlo nadostač, akurát ma nič neoslovilo spôsobom – páni, to je bomba! Najbližšie k tomuto efektu má asi The Other Side od formácie Nektar.
Nektar mám rád, veľmi dobre sa počúva. Hudba je to chytľavá, najviac preferujem trojicu albumov A Tab In The Ocean (1972), …Sounds Like This (1973) a Remember The Future (1973). Z klasickej zostavy je aktuálne v skupine dvojica Moore a Howden, plus osvedčený pódiový svetelný mág Brockett.
Svieža otváračka I'm On Fire ma okamžite navnadí, aby som sa preniesol do čias, kedy sa ešte rocková muzika nemusela za seba hanbiť. Najsilnejšou devízou prezentovanej muziky je atmosféra. Celý album ponúka klasickú "space" náladu, a teda pomerne priamočiaru artrockovú hudbu, ktorá nešetrí klávesovými plochami a gitara sóluje o sto šesť. Výhodou je, že hudba má nadostač výrazných melodických motívov, pôsobí nenútene a pritom presvedčivo. Pokojná skladba Skywriter s temnou gradáciou je toho dôkazom. Rozvláčna kompozícia Love Is/The Other Side má skoro osemnásť minút a najviac sa blíži tomu, čo dnes nazývame neoprogom. Ono, album je dlhý, ale vôbec to neprekáža. Ani na moment nemám pocit, že sa nudím.
Už pár rokov je v kurze retro nálada 80. rokov, filmy a seriály sa predbiehajú, kto bude viac pojašený, v hudbe je tento príklon tiež dobre badateľný (posledné albumy Epitaph, Blue Öyster Cult, o neoprogu ani nevravím…). Ani Nektar sa tomuto trendu tak úplne nevyhol, klávesy oscilujú na hrane znesiteľnosti v temnejšej náladovke Drifting. Aspoň, že je ten zvukový odor veľmi jemný. To Devil's Door má v sebe niečo z Remember The Future, a teda ľahko presvedčí fanúšika, že sa dostal do vyberanej spoločnosti. The Light Beyond je akási krátka klávesová vsuvka ukončená psychedelickým mrmlaním, je to štipku za hranou, ale neprekáža mi. Krásna krehká balada Look Thru Me pôsobí priam akusticky, a preto záverečná Y Can't I B More Like U (2020) môže v rovnakom šate predstúpiť na mólo a nechať sa obdivovať. Navyše, pekne graduje.
Počúvanie The Other Side mi prináša radosť. Po dlhej dobe je tu hudba, ktorá pôsobí nenútene, pritom je plná melodických motívov, melancholických nálad, akurátnej temnoty, skrátka, je to nádhera! Aj preto zavrhnem svoje počiatočné predsavzatie udeliť mu štyri hviezdy a s čistým svedomím dávam plný počet. Čím viac takejto muziky!
Skladby:
I'm On Fire 8:32
Skywriter 7:52
Love Is/The Other Side 17:57
Drifting 9:11
Devil's Door 8:11
The Light Beyond 2:51
Look Thru Me 5:01
Y Can't I B More Like U (2020) 6:31
Zostava:
Ryche Chlanda: gitara, spev
Kendall Scott: klávesy
Randy Dembo: basa, 12-strunná gitara
Derek "Mo" Moore: basa, spev
Ron Howden: bicie, spev
Mick Brockett: vizuálna koncepcia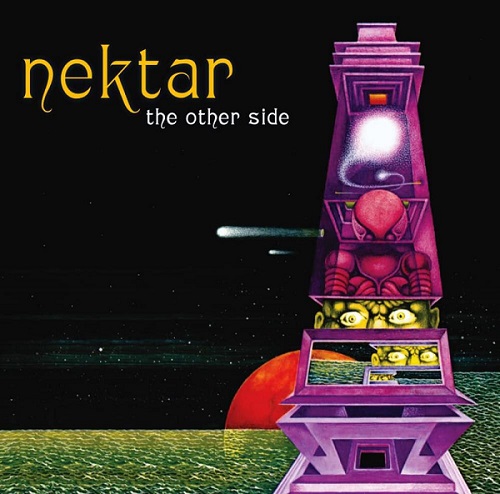 The Other Side
Nektar
space rock, art rock
Esoteric Antenna
2020
CD (Esoteric Antenna, 2020)
8