Vlastnoručne vydaný album v počte 500 kusov? To neveští komerčný úspech. A veru, nemecká hardrocková kapela Necronomicon sa ho nedočkala. Jej debut Tips zum Selbstmord (1972) však stojí za pozornosť.
Kapela pochádzala z Aachenu. Založili ju traja kamaráti. Walter Sturm (gitara, spev), Norbert Breuer (gitara, spev) a Gerd Libber (basa). Strum hral v 60. rokoch v skupine Crickets, zvyšní dvaja menovaní zasa v Love of Tune. V lete 1970 sa spojili a spolu s bubeníkom Haraldom Bernhardom založili Necronomicon. Pôvod názvu fanúšikom diela H. P. Lovecrafta ozrejmovať netreba. Zakrátko sa pridal klávesák Fistus Dickmann a v roku 1971 vystriedal Libbera Detlev Hakenbeck. Kapela veselo coverovala Johna Mayalla, Pink Floyd, Ten Years After, Black Sabbath, Uriah Heep a Deep Purple. Vlastné skladby tiež spievala po anglicky, dokonca chystala materiál na album, ktorý sa mal volať History of a planet. Avšak, Breuer začal zrazu písať texty v nemčine. Trápili ho klasické existenciálne obavy typu premnoženie, ničenie prírody, nespravodlivosť a násilie ľudského rodu. A aby mu rozumeli Nemci, ktorí nevedeli dobre po anglicky, zavrhol ostrovný mainstreamový jazyk rocku. Šesť skladieb nahrali v malom štúdiu v Kerkrade a nechali Carla Lindströma vylisovať 500 kusov platní. Obal sa rozkladal do tvaru kríža a grafiku nakreslil bubeník Bernhard. Album vznikol vďaka priateľovi Hubertovi Herwartzovi, ktorý zaplatil všetky náklady.
Album Tips zum Selbstmord kapele zaistil niekoľko zmienok v lokálnych médiách a kapela pokračovala ďalej. V roku 1973 vystriedal Dickmanna Dieter Ose a vrátil sa aj basgitarista Libber. Sturm sa načas pridal ku skupine Rufus Zuphall, ale v roku 1974 sa vrátil. Kapela sa rozpadla v roku 1976, ale vzápätí si jej meno prisvojila trojica Sturm, Ose a Bernhard. Spolu s basákom Berndom Opitzom pôsobili až do roka 1981. Spievali po anglicky a údajne existujú aj nejaké nevydané nahrávky z tohto obdobia. Okrem všakovakých pokútnych vydaní debutu vyšla v roku 1990 4 LP kompilácia nahrávok kapely z rokov 1971-1974, z ktorých časť je ako bonus zaradená na CD Tips zum Selbstmord od Garden Of Delight.
A práve toto CD vkladám do prehrávača, aby som o ňom niečo napísal. Hudba je to drsná, psychedelická. Gitarové šmirgľovanie hrá prím, v spevoch častokrát nejde o slová, ale o ujúkanie (toto je vypuklé aj v bonusových skladbách). V takej Requiem der Natur sú miestami pasáže scénickej muziky, akoby vypadli z westernov Sergia Leoneho, resp. im bol vzorom Ennio Morricone. Celkovo je muzika príjemne nepríjemná, nie, že by nebola melodická, ale náladou je zlovestná. Napokon, texty sa vyžívajú v bahne sebatrýznivej kritiky spoločnosti a ničenia prírody, nuž sa nemožno čudovať, že hudba má adekvátne vyznenie.
Drsná hardrocková muzika mi sedí, neprekáža mi ani pomerne zahuhlaný zvuk, nahrávka počuteľne vznikala na kolene. Skupina Necronomicon patrí k tým najzapadnutejším formáciám, ktoré je dnes možné už iba vyhrabať, oprášiť a vystaviť pre záujemcov.
Skladby:
Prolog 7:30
Requiem der Natur 10:49
Tips zum Selbstmord 4:45
Die Stadt 7:18
In memoriam 6:56
Requiem vom Ende 7:47
Dem Frieden und den Menschen (bonus, 1971) 10:10
Wenn die Haifische Menschen wären (bonus, 1974) 7:37
Haifische. Gedanken (bonus, 1974) 7:25
Wiegenlied (bonus, 1974) 8:30
Zostava:
Walter Sturm: gitara, spev
Norbert Breuer: gitara, spev
Harald Bernhard: bicie
Fistus Dickmann: organ, syntetizátor, spev (1-7)
Bernhard Hocks: basa, spev (1-6)
Dieter Ose: klávesy (8-10)
Gerd Libber: basa (8-10)
Detlev Hakenbeck: basa (7)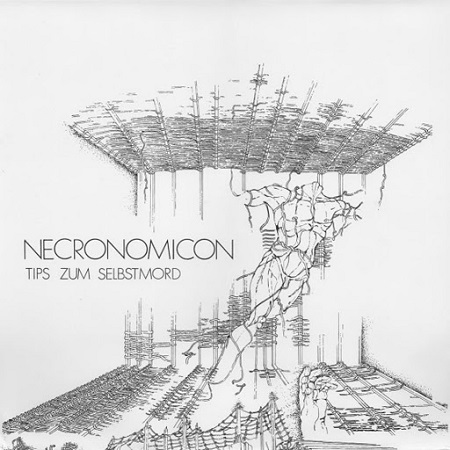 Tips zum Selbstmord
Necronomicon
hard rock
Best Prehodi
1972
CD (Garden Of Delights, 2004)
6+4