V čase, keď sa opäť začalo dariť tvrdšej hudbe, prišiel Nazareth s Malice In Wonderland. Dielom, ktoré je všetkým, len nie hard rockom, na aký sme si pri tejto formácii zvykli. Nahrávkou, ktorej tvrdé fanúšikovské jadro nemôže prísť na meno. Dá sa to pochopiť, pretože skupina zmenila bydlisko; z kameňolomu sa presťahovala na lúku plnú pestrofarebných kvetov.


Čo primälo rockerov zo Škótska opustiť hardrockovú líniu a dať sa na cestu experimentovania, pridať prvky popu, AOR, art rocku? Snaha vybočiť zo zabehnutých koľají? Popustenie uzdy vlastnej fantázii? Túžba ukázať svetu, že to vedia robiť aj inak? Úmysel preraziť u širšej poslucháčskej základni? Piaty člen skupiny, Zal Cleminson, ktorého vplyv je počuteľný už na predošlom záreze No Mean City? Jeff Baxter, nový muž na producentskej stoličke, ktorý málinko prispel aj gitarou a klávesami? Možno zo všetkého trošku.
Tento album počúvam od jeho vydania. Priznávam, trvalo mi dosť dlho, kým som ho "pochopil". Hoci mám radšej hardrockovú podobu skupiny, určité momenty ma donútili vracať sa k nemu veľmi často, a tak sa stal najpočúvanejším osemdesiatkovým titulom v mojej takmer kompletnej nazarethovskej štúdiovej zbierke. Najobľúbenejšie kvetinky? Jednoduchá rockovica Holiday. V tom čase ju bolo počuť všade, dokonca jej hitovosti podľahli aj socialistické telekomunikácie. Sekretárky v úradoch a štátnych podnikoch vytáčali "tajné číslo" a Vy ste sa nemohli nikde dovolať, všetky linky boli obsadené. Na baladu Heart's Grown Cold, v ktorej vypomáhajú zboristky, nedám dopustiť, milujem ju. Pri týchto dvoch skladbách si Dan McCafferty ešte donedávna ničil ten svoj nezameniteľný "šmirgeľ" na koncertoch. Tretia vec, ktorú vyzdvihnem, je Fallen Angel. Jej pompéznosť, dokreslená sláčikmi, ma fascinuje.
Netvrdím, že skupina prišla s niečím svetoborným. Mnohí pred ňou zatvorili dvere a kapitola Nazareth bola pre nich raz a navždy uzavretá. Či kapela získala nových poslucháčov? Ťažko povedať. Možno bude moje konštatovanie príliš odvážne, ale snáď sa chytili takí, ktorým hutnosť dunfermlinských muzikantov zo sedemdesiatych rokov dovtedy prekážala a dokázali sa ponoriť do jemných farieb tohto diela.
Skladby:
01.  Holiday 3:39
        (McCafferty/Cleminson/Charlton/Agnew/Sweet)
02.  Showdown At The Border 4:11
        (Cleminson)
03.  Talkin' To One Of The Boys 4:13
         (Cleminson/McCafferty/Agnew)
04.  Heart' Grown Cold 4:14
        (Cleminson)
05.  Fast Car 4:37
        (McCafferty/Cleminson/Charlton/Agnew/Sweet)
06.  Big Boy 3:38
         (Cleminson)
07.  Talkin' 'Bout Love 3:59
        (McCafferty/Charlton/Agnew/SweetBaxter)
08.  Fallen Angel 4:44
        (McCafferty/Cleminson/Charlton/Agnew/Sweet)
09.  Ship Of Dreams 4:09
        (Charlton)
10.  Talking A New Leaf 3:52
        (McCafferty/Cleminson/Charlton/Agnew/Sweet)
Zostava:
Dan McCafferty – lead vocals
Manuel Charlton – guitars
Zal Cleminson – guitars & synthesizer
Pete Agnew – bass guitar, vocals
Darrell Sweet – drums
+
Jeff Baxter – a little bit of guitar & synthesizer
Paulette Brown, Sherlie Matthews, Venetta Fields – backing vocals (04.)
Alan Estes – vibraphone (05.)
Terri & The Semiconductors – backing vocals (06.)
Paulinho Da Costa – percussion (07. a 10.)
Ďalšie informácie o albume na Discogs.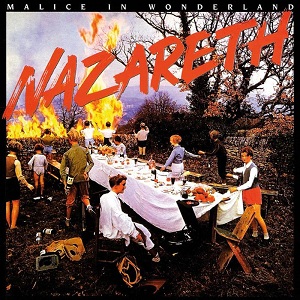 Malice In Wonderland
Nazareth
AOR
Mountain
1980
LP, Cassette
10
CD - Castle Communications, 1990