Kapela úspešného gitaristu a speváka Chrisa Mayfielda, ktorá za svojej krátkej existencie (1969-1970) vydala iba tri single a v slávnych štúdiách Abbey Road pripravila materiál na debutový album, ktorý, bez ohľadu na to, čo nájdete na internete, nikdy nevyšiel. Až kým sa Mayfield nedohodol s talianskou firmou Night Wings Records a neskompiloval nahrávky kapely na album Mayfield's Mule z roku 2007. 
Album sa, podľa všetkého, roky predával pod falošnou hlavičkou uruguajskej firmy Odeon (je aj oficiálna odnož EMI), ktorá sa tvárila, že ide o regulárny album z roku 1970. Ťažko povedať, ako k tomu došlo, každopádne Mayfield jasne deklaruje, že žiaden album nevyšiel a niet dôvodu mu neveriť. Oficiálne vydanie nahrávok (CD z roku 2007) ponúka jedenásť skladieb a sú vydarené.
Úvodná hardrocková pecka Oh Lady nemá chybu. Prvý singel, nahraný v roku 1969 v Trident Studios v trojici (klávesy-bicie-gitara) je hutný ako kováčska dielňa v plnej prevádzke, béčko Double Dealing Woman sa stalo jukeboxovým hitom vo Francúzsku. Právom, je to vydarená "tvrďárňa". Plnokrvný klávesoý sound podčiarkuje chutná skladba My Way Of Living. Mayfield chripí tak, že by ho bez mihnutia oka angažovala akákoľvek drevorubačská americká kapela typu Sir Lord Baltimore, Power Of Zeus a pod. Úlet k americkej kovbojskej muzike sa nazýva I See The River, selanková nálada pokračuje v Down From The Country a vrcholí v Drinking My Moonshine, čo je áčková strana prvého singla, kde hrá kapela, ako som už spomínal, v trojici. Hoci je to milá vec, nečudujem sa, že rockerov chytila za srdce skôr Double Dealing Woman. Konečne sa opäť vleje zápražka do riedkeho pokrmu a Abracadabra, akokoľvek je to pozitívna skladba, udrie na ráznejšiu strunu. Posadený kúsok Here Comes The Rain baladicky plynie, pričom rozhodne nepoužíva aviváž. Tých deväť aj čosi minút ubehne, ani sa nenazdáte. Krátka bluesová chytľavka Rolling Down The Highway nechá priestor harmonikárovi, My One For Your Two je ďalšia dlhočizná monumentálna baladická skladba, hustá ako krvná zrazenina a naliehavá ako poisťovací agent. Inými slovami, je to bomba! Na záver sa už len krátko rozlúčime s flautičkovou krehotinkou Life's Been Good To Me.
Z kapely po nahrávaní odišiel Bradley a aj Jenkins, prišli bratia Mike Scott (basa) a Andy Scott (gitara), druhý menovaný má na svojej stránke v rámci diskografie uvedené všetky single i uruguajský album, hoci na ničom z toho nehral. Za biciu súpravu si sadol Hunt, ktorý bol Mayfieldom najatý už v roku 1969, aby sa s ňou vyfotil na prvú oficiálnu promo fotku. Nič nepomohlo, Mayfield's Mule sa porúčala do zabudnutia.
Našťastie, občas si na ňu môžeme spomenúť a vypočuť si parádnu rockovú muzičku, ktorú album ponúka. Ak ste naň ešte nenarazili, pátrajte, nebudete ľutovať.
Skladby:
01. Oh Lady 5:06
02. Double Dealing Woman 3:30
03. My Way Of Living 4:13
04. I See A River 2:18
05. Down From The Country 3:41
06. Drinking My Moonshine 2:44
07. Abracadabra 5:23
08. Here Comes The Rain 9:19
09. Rolling Down The Highway 2:17
10. My One For Your Two 8:15
11. Life's Been Good To Me 1:56
Zostava:
Chris Mayfield: gitara, spev
Sean Jenkins: bicie (1, 3-5, 7-10)
Steve Bradley: basa, vokály (1, 3-5, 7-11)
Pete Saunders: klávesy, vokály
Mox "Moxie" Gowland: harmonika, flauta (1, 3-5, 7-11)
Henry Spinetti: bicie (2, 6)
Chris Hunt: bicie (11)
P. P. Arnold: vokály (3, 10)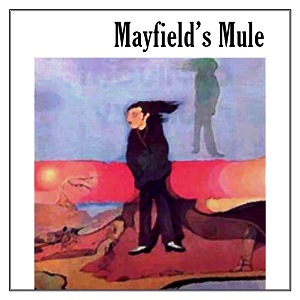 Mayfield's Mule
Mayfield's Mule
hard rock
Night Wings Records
2007
CD
11