Artrocková kapela Murple nahrala počas svojho života jeden album – Io sono Murple (1974), ktorý dnes patrí ku klenotom talianskej scény. Nič na tom nemení ani fakt, že sa v roku 2007 skupina vrátila na scénu a vydala ďalšie dva albumy.
Kapela vznikla v Ríme počiatkom 70. rokov a založili ju školskí kamaráti Mario Garbarino (basa) a Duilio Sorrenti (bicie). Čoskoro zlanárili Piera Carla Zanca (klávesy, spev) z hudobnej školy. Čo by to bolo za kapelu bez gitary, nuž pretiahli z nejakej miestnej kapely aj gitaristu Pina Santamariu. Názov kapely vymyslel americký kamarát a je to meno neviditeľného nahého tučniaka. Išlo o tak absurdný nápad, že okolo neho vystavali koncepčný album. Ten vydala nemecká značka BASF, nesie názov Io sono Murple a na pulty sa dostal v roku 1974, dávno potom, čo bol nahratý. Sprevádzal ho singel Tra i fili/Murple rock, ale nedajte sa pomýliť. Vydavateľ na kapelu kašľal a ani dobová tlač z neho nebola nadšená. Napriek tomu išlo o výborný koncepčný kúsok, ktorý sa napokon stal jedným z najcennejších talianskych pokladov medzi hľadačmi sedemdesiatkových obskúrností. Po vydaní albumu odišiel Garbarino a nahradil ho basák Roberto Puleo. Skupina spolupracovala s inými interpretmi, napr. nahrala album Donna circo (1975) speváka Gianfranca Montedoroa. Hoci sa v tom čase schyľovalo k nahratiu druhého albumu, formácia Murple sa rozpadla.
Členovia dokončili vojenskú službu, školy a rozutekali sa do povolaní, sem-tam si s niekým zahrali, Sorrenti si otvoril hudobné štúdio a tak podobne. Kapela sa znovuzrodila v roku 2007. V takmer pôvodnej zostave (chýbal iba Santamaria) nahrala album Quadri di un'esposizione, čo sú staré známe Musorgského Obrázky z výstavy. Dielo vyšlo v roku 2008 a zatiaľ posledný album je Il viaggio z roku 2014, kde zostavu doplnila dvojica Mauro Arnò (gitara) a Claudia D'Ottavi (spev). Sprevádzalo ho aj bonusové DVD s koncertom z roku 2010. Kapela je dodnes koncertne aktívna.
Ja by som sa však rád venoval Albumu Io sono Murple. Pred cca desiatimi rokmi som sa prvýkrát seriózne začal zaujímať o rockovú scénu z Apeninského polostrova. Vďaka Progarchives som dostal rýchlokurz geniality a vďaka projektom v Taliansku som tam mohol nakupovať miestne cédečka, čo mi hrdlo ráčilo. Debutový album skupiny Murple som si zaradil na zoznam "must have" a ako natruc, nenaďabil som naň. Až donedávna. Vďaka tejto akvizícii mám konečne z talianskej scény doma všetko to, čo som chcel mať. Čím netvrdím, že sa niekedy moja zbierka nerozšíri.
Koncepčný album pozostáva z dvoch blokov skladieb (platňa strana "A" a "B") a ponúka klasický classical rock á la Emerson, Lake & Palmer. Pravda, s typicky talianskou melodickou náložou. Spev je tu skôr dopočtu. Dominujú klávesy, tak to mám rád. Tridsaťštyri minút sa môže zdať málo, v Taliansku boli v tej dobe polhodinové nahrávky štandardom a ja som si už na to zvykol. Aj tak sa tam deje viac, než na troch dvojalbumoch ľubovoľnej súčasnej "tiežprogovej" kapely! Tento typ hudby milujem a môžem v akomkoľvek množstve, nuž sa nečudujte, že ho budem nadšene velebiť. Neostáva vám iné, než sa s tým zmieriť a, pokiaľ tento album ešte nepoznáte, nadviazať známosť!
Skladby:
Antartide-Metamorfosi-Pathos-Senza un perché-Nessuna scelta-Murple rock (17:36)
Preludio e scherzo-Tra i fili-Variazioni in 6/8-Fratello-Un mondo cosi'-Antarplastic (16:37)
Zostava:
Pino Santamaria: gitara, spev
Mario Garbarino: basa, bongá, triangel
Pier Carlo Zanco: spev, klávesy, kontrabas
Duilio Sorrenti: bicie, perkusie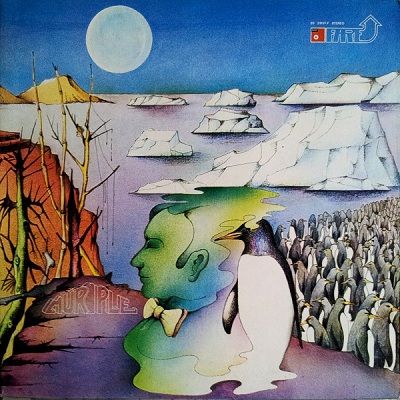 Io sono Murple
Murple
art rock, classical rock
BASF Fare
1974
LP, CD
2