East Of Eden bola v počiatkoch značne experimentálna kapela. Po dvoch albumoch však vydala husľový hit Jig-A-Jig, čo bol klasický írsky dupák a s psychedelickým džezrockom toho veľa spoločného nemal. Nečudo, že v kapele došlo k zemetraseniu a ostal jediný hráč – huslista (a dychár) Dave Arbus. Nelenil, naverboval nových hráčov, zmenil vydavateľa a výsledkom bol album East Of Eden z roku 1971. 
Novými členmi sa stali David Jack (spev, basa, ak. gitara), ako prišiel, tak odišiel, Jeff Allen (bicie), hral v počiatkoch Babe Ruth a neskôr skončil v bluesovom projekte Snowy White's Blues Agency gitaristu z Thin Lizzy, a Jim Roche (gitara), známy ako prvý gitarista geniálnej džezrockovej kapely Colosseum, hral aj na jedinom albume džezrockovej skupiny Major Surgery. Celé psychedelicko-freedžezové world muzikálne čosi z predchádzajúcich albumov hodili za hlavu a vrhli sa na relatívne priamočiary hard rock s občasným jemným country nádychom.
Ten ilustruje hneď úvodná skladba Wonderful Feeling. Nestratila by sa ani kdesi na albumoch Outlaws. Je jasné, že Dave Arbus mal hlavné slovo a ostatní sa museli prispôsobiť. Našťastie, týmto smerom sa album neuberá. Temnejší kúsok Goodbye postupne graduje, nikam sa neponáhľa, akoby bol daňový defraudant na Slovensku a vedel, že sa mu nič nestane. O kúštik ostrejšie, ale stále pochmúrne, sa prezentuje aj podmanivá Crazy Daisy. Súdny človek sa obáva, že sa schyľuje k niečomu desivému, akoby premiér zvolával tlačovku. Sólová gitara je nepríjemnejšia než šmirgeľ zrnitosti 8 namiesto toaleťáku a prítomnosť saxofónu jemne pripomína náladu prvých albumov. V hardrockovom šantení pokračujeme popri rozfunkovanej náladovke Here Comes The Day. Najbližšie k ranej tvorbe má džezrockovo rozkúskovaná skladba Take What You Need. Dôraz je však na melodike, nie na psychedelickom "hlučaní" a to sa mi páči. Colosseumovský odor sa šíri aj z nasledujúcej parádičky No Time. Veľkým plusom je pre mňa mohutný vokálny prejav Davida Jacka, akoby som počul Jacka Brucea z Cream (čím nechcem povedať, že ide azda o kópiu, ani omylom). Skladba je to veselá asi ako kvalita a frekvencia prídelov stravy v Osvienčime. Pre mňa je to vrcholný moment albumu. Finále obstaráva viac ako rázna smršť To Mrs. V, splnený vlhký sen každého rockera. Nasolí vám to tak, že Rocky popri nej pôsobí ako zmäkčilý metrosexuál so silou vegetariána po mesačnom pôste. Čo viac si priať?
Trenice vo víziách, čo a ako hrať, neustali, nuž ani táto zostava dlho nevydržala, dospelo to do takého štádia, že čo album, to nová zostava a napokon z kapely odišiel aj Dave Arbus, takže v nej nebol ani jeden zakladajúci člen. Ale to je iný príbeh na iný článok. East Of Eden je výborný album bez výraznejšieho hitu, čo neznamená, že na ňom niet výraznejších skladieb. Svojou hardrockovou priamočiarosťou má potenciál osloviť širšie vrstvy, než len experimentátorov a to je tiež plus.
Skladby:
1. Wonderful Feeling 6:09
2. Goodbye 5:46
3.Crazy Daisy 6:53
4. Here Comes The Day 4:32
5. Take What You Need 5:01
6. No Time 6:01
7. To Mrs. V 5:17
Zostava:
David Jack: spev, basa, akustická gitara
Jim Roche: gitara
Dave Arbus: husle, saxofóny, flauta
Jeff Allen: bicie, perkusie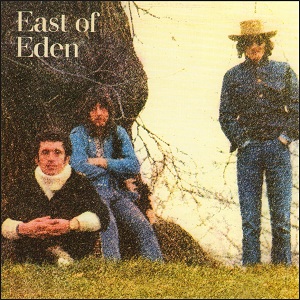 East Of Eden
East Of Eden
hard rock, džez rock
Harvest
1971
LP, CD
7