Skotská čtveřice z Glasgowa obdivovala Cream. Když založila skupinu, tak si dala název N.S.U. – podle skladby Jacka Bruce z prvního alba Cream. V roce 1969 ji vyšel debut Turn On, Or Turn Me Down v nákladu 100 kusů. V současnosti se prodává za vyšší částky. Hudba byla hodně blízká jejich vzorům a tehdejší době, která přála blues v jakékoliv podobě.
Deska obsahuje devět skladeb, které náladou zapadají do konce šedesátých let, prostě písně s bluesovým podtónem šmrncnuté psychedelií. Když jsem ji slyšel poprvé, byl jsem okamžitě o padesát let zpět. N.S.U., přesně v duchu názvu, rozvíjejí to, s čím na debutu začali Cream. Hned titulní a úvodní skladba je pěkné blues.
His Town má vydařený melodický motiv. Píseň Love Talk je poloakustické blues s ženským sborem v pozadí. Velice se mi líbí skladba The Game.
Vrcholem alba je pro mě závěrečné blues On The Road, s tehdy hodně populárním bubenickým sólem. Muzikanti sice nedosahují kvalit svých vzorů, ale mě se jejich písničky líbí.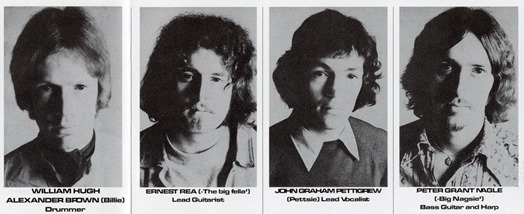 Turn On, Or Turn Me Down mám rád. Pouštím si jí pro zlepšení nálady a taky trochu z nostalgie. Nemůžu jí dát maximum, ale čtyři hvězdy si zaslouží.
SKLADBY:
A1. Turn On, Or Turn Me Down /N.S.U./ 4:00
A2. His Town /N.S.U./ 3:59
A3. You Can't Take It From My Heart /N.S.U./ 2:48
A4. Love Talk /N.S.U./ 5:00
A5. ll Aboard /N.S.U./ 4:05
B1. The Game /N.S.U./ 3:09
B2. Stoned /N.S.U./ 4:49
B3. Pettsie's Blues /N.S.U./ 3:46
B4. On The Road /Floyd Jones, Will Shade/ 8:12
NOTES:
Recorded at De-Lane Music on February 24th to 26th, 1969.
Released in a gatefold cover.
Printer credited as "E.J. Day & Co.".
The writers credits for N.S.U. appear on the label as "Group".
Photography By – N.S.U.
Photography By [Mount Ararat] – Roy A. Giles.
Producer, Sleeve [Sleeve Concept] – Trevor Walters.
Engineer – Barry Ainsworth.
SESTAVA:
John Graham Pettigrew – vocals
Ernest Rea – guitar
Peter Grant Nagle – bass, harmonica
William Hugh Alexander Brown – drums
+
Sue & Sunny – vocals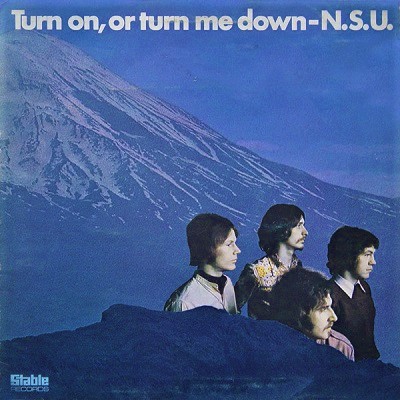 Turn On, Or Turn Me Down
N.S.U.
Blues Rock, Psychedelic Rock
Stable Records
1969
LP
9