Museo Rosenbach – Zarathustra (1973). Jedna z najuznávanejších nahrávok celej talianskej progresívne rockovej scény zo 70. rokov nemôže chýbať ani na Rockovici.
Krátko o skupine. Vznikla v roku 1971 pod menom Inaugurazione Museo Rosenbach spojením skupín La Quinta Strada a Il Sistema. V pôvodnej zostave hrali aj Leonardo Strada (saxofón, flauta, neskôr Celeste) a Walter Franco. V roku 1972 skupina v zložení Stefano "Lupo" Galifi (spev), Enzo Merogno (gitara, spev), Pit Corradi (klávesy), Alberto Moreno (basa, klavír) a Giancarlo Golzi (bicie, perkusie, spev) dokončila materiál na album Zarathustra, ktorý nakoniec vyšiel v roku 1973. Ešte v tom istom roku odohrala niekoľko koncertov a rozpadla sa. Od roka 2000 môžeme sledovať jej návraty a to nielen na pódiá, ale i do štúdia.
Museo Rosenbach som túžil vlastniť od momentu, kedy som zistil (vďaka progarchives), že existuje aj nejaká košatá talianska progresívna scéna. Avšak pojmy vedieť a zohnať sa nie vždy stretnú. V bratislavskej predajni Roxy mi s úsmevom oznámili, že kedysi dávno sa tam váľalo cédečiek a cédečiek a nikto ich nechcel kúpiť. Navzdory tomu už album nebol a šmitec! Po potulkách Talianskom som síce v Ríme našiel niekoľko platní, ale platne mi neboli nič platné, nuž som ich tam nechal. Pri opätovnom návrate do Ríma som sa rozhodol, že kúpim aj LP, však to dajako zúžitkujem. Lenže po albume Zarathustra neostala ani pamiatka, a tak som sa pomaly zmieroval s faktom, že sa k tomuto dielku asi tak skoro nedostanem. Našťastie existuje niečo ako podnikateľská túžba po vyžmýkaní zberateľov a v roku 2010 sa zjavilo CD od Flawed Gems, ktoré som si v pohode zakúpil a vrhol sa na počúvanie.
Album, ktorý sa už akosi tradične skladá z jednej veľkej "áčkovej" kompozície a troch "béčkových" skladieb, ponúka všetko to, čo artrockové ambície prvej polovice 70. rokov ponúkať zvykli. Titulný maratón Zarathustra sa v abecede dostal až po E, a teda má päť častí, ktorým nestriedmo dominujú klávesové symfonické plochy. Kto rozumie špagetovej reči, ten si určite vychutná aj texty, o ktorých nepochybujem, že sa predbiehajú v zabiehaní v krku vďaka krkolomným filozofickým "blábolom". Kým sa dostaví nejaká tá vytvrdená oceľ, preteká úvodom niekoľko minút hliníkovej hmoty. Nebojte sa, napokon hráči schmatnú spájkovačku a pekne to rozžeravia. Tieto kontrasty, úkroky, spomaľovačky i prehánky sa vcelku pravidelne opakujú celých dvadsať a pol minúty, takže priaznivci dlhočizných songov sa pravdepodobne esteticky odbavia. Druhú stranu otvára krátky a silno búrlivý classical rock Degli Uomini a podobne orientovaný dlhší kúsok Della Natura, ktorý sa brýzga v bahne dlhých inštrumentálnych pasáží a v sladkobôľnych vínnych spevoch. Záver patrí kúsku Dell'Eterno Ritorno, temnota z nej klíči ako burky v Európe, čím sa znepokojivé finále prehupne do vskutku rockového stretu ideí, svetonázorov, a pod. Paráda!
Na to, že je to jeden z najuznávanejších talianskych albumov, mi na ňom chýba kúštik padania na zadok s otvorenou hubou, ale je to fasa art rock, to zasa áno. Muzikanti čižmového fetišu to vtedy vedeli na výbornú.
(upravené, pôvodne zverejnené na progboarde)
Skladby:
Zarathustra (a) L'Ultimo Uomo, b) Il Re Di Ieri, c) Al Di La Del Bene E Del Male, d) Superuomo, e) Il Tempio Delle Clessidre) 20:35
Degli Uomini 4:00
Della Natura 8:22
Dell'Eterno Ritorno 6:15
Zostava:
Stefano "Lupo" Galifi: spev
Pit Corradi: klávesy
Enzo Merogno: gitara, vokály
Alberto Moreno: basa, piano
Giancarlo Golzi: bicie, perkusie, vokály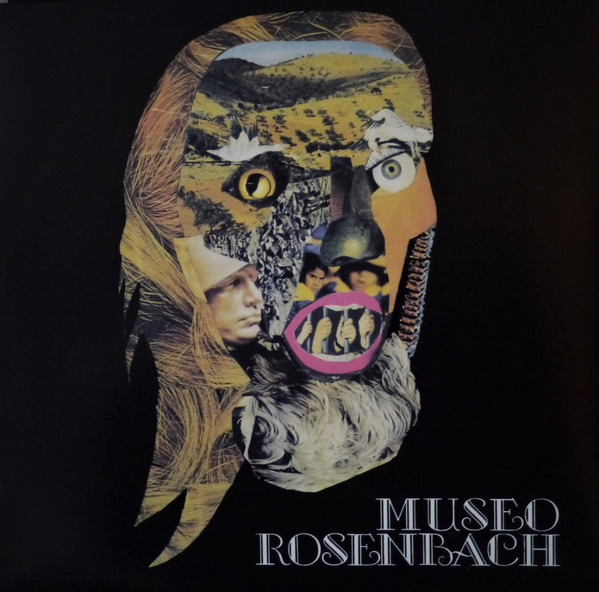 Zarathustra
Museo Rosenbach
art rock, classical rock
Ricordi
1973
LP, CD
4