Niektoré okamihy, akokoľvek banálne, vedia zmeniť život. Stačí, aby sa zjavili vo vhodný čas v priaznivej konštelácii. Napríklad ja som začal hrať na bicie niekedy na jeseň roku 1994, chodil som na strednú školu a snažil sa brigádovať, aby som mal peniaze na neviazaný život. Bola to doba, kedy sme mali všetci slúchadlá na ušiach a tie viedli do, na dnešné pomery, hranatej kisni zvanej wolkman. Pasovali tam audiokazety, ktoré dnešná mládež pozná azda iba z filmu Strážcovia Galaxie. Využíval som vtedy bohaté zásoby z domova a spoznával muziku, ktorá nám síce v byte vyhrávala od rána do večera (akoby za socializmu mohol niekto aj nepracovať a tráviť deň záhaľkou inde ako v robote), ale poznáte to. Prečo by som tomu mal venovať detskú pozornosť, keď existoval Triangel, všakže. Avšak človek sa mení, so záujmom o muzicírovanie som sa ponáral do vôd klasického rockového obdobia prelomu 60. a 70. rokov a počúval kazetové poklady o dušu. Do uší sa mi tak dostal aj album Live The Road Goes Ever On od americkej legendy Mountain.
Prepadol som mu priam fanaticky. Momentálne si ani nespomínam, čo bolo nahrané na druhej strane pásky. Viete, niekedy stačí málo. Skromné štyri skladby a ako dokážu zmeniť osud neopatrného pubertiaka! V tých časoch som vôbec netušil, že prvé dve sú priamo z legendárneho Woodstocku, že Long Red je kúsok z prvej sólovky obrieho gitaristu Leslieho Westa, že Waiting To Take You Away sa na žiadnej inej doske nenachádza, že Crossroader je singlový hit, hoci sa to pri jej počúvaní núka samo…  Vždy som si ju v duchu pospevoval a keď som bol sám, tak som ju vrieskal pekne nahlas, z plných pľúc. Dôvod, prečo som sa na toto dielo vždy tešil sa však vtelil do viac ako štvrťhodinovej megapecky Nantucket Sleighride. Tunajšia verzia je podľa mňa ultimátnou podobou tohto melodického rockového klenotu. Toľko motívov, čo sa tam vystrieda v spievaných a najmä nekonečných sólových pasážach, to sa len tak nepočuje. Nepoznám naliehavejšiu, podmanivejšiu a úžasnejšiu rockovú skladbu. A basové sólo ma ešte aj dnes dokáže paralyzovať, pritom nejde o nejakú samoúčelnú a náročnú exhibíciu. Naopak! A viete čo, musím vyzdvihnúť aj nenápadnú, ale zato dôležitú prácu organistu Stevea Knighta. Schválne sa započúvajte, ako dopĺňa monumentálny hutný "sound" kapely.
Mountain je hardrocková klasika, žiaden z jej vydarených albumov však nepočúvam radšej ako Live The Road Goes Ever On (Tolkienovci sa určite potešia, že sa jeho knihy tak často dostávali do vtedajšej hudobnej kultúry). Tú kazetu som zodral a dnes už asi ani neexistuje. Muzika z nej je však večná a bude ma sprevádzať po celý zvyšok môjho života a ktovie, možno aj zaň.
Skladby:
Long Red 5:44
Waiting To Take You Away 4:40
Crossroader 6:22
Nantucket Sleighride 17:33
Zostava:
Leslie West: gitara, spev
Felix Pappalardi: basa, vokály
Steve Knight: klávesy
Corky Laing: bicie (3, 4)
N. D. Smart: bicie (1, 2)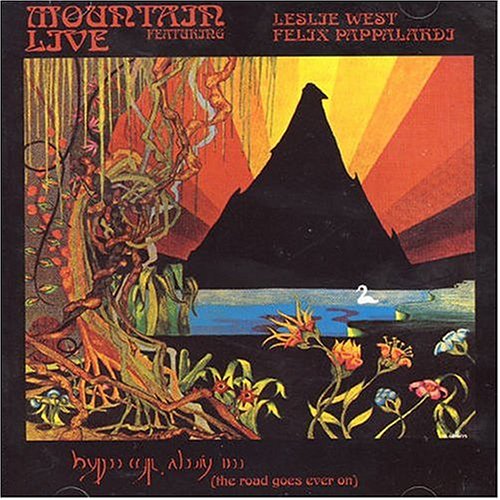 Live The Road Goes Ever On
Mountain
hard rock
Windfall Records
1972
LP, CD
4