Texaských gitaristov bluesmanov je toľko, že len ich výpočet by aj nadanému matematikovi zabral podstatnú časť produktívneho života. Jedným z nich je aj čochvíľa štyridsiatnik Monster Mike Welch. Má na konte niekoľko albumov, jeden, Cryin' Hey! Monster Mike Welch Plays the Blues (2005) mám tú česť vlastniť, tak sa naň pozrime.
Monster Mike (ako naznačuje názov jednej zo skladieb a ľubovoľná fotografia rýchlo ozrejmí, že úvodná prezývka sa vzťahuje na prebytočné kilogramy živej váhy) sa narodil v roku 1979 v Austine v Texase, ale rodina ho čoskoro presídlila do Bostonu, kde sa venoval, okrem detských pestiev a školopovinnej dochádzky, najmä počúvaniu starých platní s bluesovou muzikou zo zbierky jeho otca. Netrvalo dlho a vyfasoval gitaru, pričom sa začal potĺkať po bluesových "jam session" v miestnych lokáloch. Debutový album These Blues Are Mine vydal v roku 1996, dodnes ich má na konte sedem (posledný s Mikeom Ledbetterom z roka 2017 – Right Place Right Time). Okrem toho nahral album so skupinou Sugar Ray & The Blue Tones nazvaný Sugar Ray & The Blue Tones featuring Monster Mike Welch (2003) a sem-ta jeho meno nájdete ako hosťa aj na ďalších albumoch.
Bývali doby, keď som ešte sledoval bluesové dianie s väčšou vervou ako dnes. Napriek tomu som na Welcha prakticky nenarazil. Až som náhodou hľadal vhodný narodeninový dar a v obchode mi strčili pod nos album Cryin' Hey! Monster Mike Welch Plays the Blues s tým, že je to dobré. A tak som si ho kúpil. A bolo "to" dobré.
Dielo nesie typické znaky nekomerčného spôsobu tvorby bluesových albumov. Nahrávanie zabralo presne jeden deň, štvrtého apríla 2005. O deň neskôr prebehla mixáž a dvadsiateho štvrtého apríla uzavrel nahrávací proces mastering. To všetko vykonal Matt Malikowski za asistencie Jareda Hermana.  Album si produkoval sám Welch a vyšiel iba v Európe na francúzskej značke DixieFrog v slušivom digipaku. Najzákladnejšia nástrojová zostava gitara-bicie-basa-piano je zverená "noname" hráčom, ktorí sú však férovo vymenovaní hneď na prednej strane obalu. Všetci síce pôsobia v hudobnej brandži a majú aj nejaké albumové zárezy, najznámejší je však určite Michael "Mudcat" Ward, basák, ktorý už v 80. rokoch hrával s iným gitarovým bluesmanom vo formácii – Ronnie Earl & The Broadcasters.
Výsledkom je trinásť skladieb úplne klasického moderného gitarového blues zaberajúceho cca hodinu čistého času. Nič nevyčnieva, ale ani neruší. Skrátka, bluesuje sa zväčša pokojne, dlhé gitarové sóla sú základným stavebným kameňom väčšiny skladieb. Osobne ma viac bavia tie živšie kúsky á la Stevie Ray Vaughan ako napríklad Cryin' Hey!. Pravda je, že zasa toľko ich tam nie je.
Album Cryin' Hey! Monster Mike Welch Plays the Blues nikdy nevyhrá anketu o štýlotvorný album, dokonca ani o album roka, trúfam si tvrdiť, že keby nevznikol, nikto by si ani nevšimol, že chýba. Avšak, pokiaľ bluesovej muzike holdujete a radi obmieňate obohrané albumy, rozhodne vás neurazí. Dobrá muzika bez nároku na nesmrteľnosť občas dobre padne. Ako alternatíva k Bonamassovi (v jeho bluesovej polohe) to nie je úplne márna záležitosť. Posledné dva roky sa Welch dostal do nominácií na americké Blues Music Award, nuž, ktovie, možno o ňom ešte budeme počuť.
 Skladby:
All The Love In The World 7:14
Cryin' Hey! 4:21
A Thrill To Be Alive 4:32
Joaquin Riley 4:00
My Father's Son 4:54
They Call Me Monster Mike 3:07
Everybody 4:09
One Of Those Days 7:27
This High, High Cost Of Leaving 3:43
Searching For An Angel 3:49
Give Me Time 4:55
Just Like A Fool 3:27
My Daily Wish 4:36
Zostava:
Monster Mike Welch: spev, gitara
Nick Moss: gitara (prvé sólo v 2, stredné sólo v 4 a 11)
Anthony Geraci: piano
Michael "Mudcat" Ward: basa
Warren Grant: bicie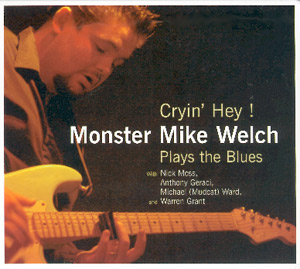 Cryin' Hey! Monster Mike Welch Plays the Blues
Monster Mike Welch
blues rock
DixieFrog
2005
CD
13