20. decembra 2011 sa mi splnil ďalší sen, po Lynyrd Skynyrd a Blackfoot som videl naživo aj tretích velikánov južanského rocku, Molly Hatchet. Tak, ešte Allman Brothers Band, Outlaws a Black Oak Arkansas a mám po snoch. Ale o inom som chcel. Takto som to vtedy vnímal.
Cesta na otočku z Bratislavy do Zlína v pracovnom týždni a s vidinou ranného nástupu do práce? To veru nemohlo odradiť najjužanskejšiu rodinu zo Slovenska, nuž sme sa ja, moja milovaná ženuška, brat a otec nasúkali po robote do auta a šli sme.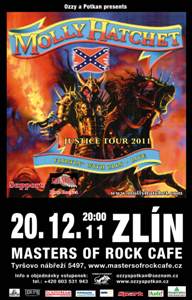 Priestory Masters of Rock Café v Zlíne sú relatívne malé, sála však aj tak zívala prázdnotou, čo je škoda. Asi nemožno očakávať, že sa v našich končinách môže zjaviť americká skupina zo 70. rokov a vypredať dva koncerty za pár dní (18.12. hrala v Prahe). Napriek tomu sa v pravej časti miestnosti na stoličkách popri stene zišlo medzinárodné krídlo pozostávajúce z nás a poľských návštevníkov na čele s Andrzejom Matysikom, hlavným redaktorom skvelého časopisu Twój blues. Keďže to bol on, kto vybral Žalman Brothers Band na jeden z koncertov v rámci trojdňového festivalu Blues Alive v Poľsku (2005), nezabudol priniesť čerstvé zimné vydanie s poradovým číslom 17, kde mi nadšene ukázal našu fotku a pri bližšom skúmaní textov vysvitlo, že sa jedna vetička ušla aj Žalmanom, čo ma veľmi potešilo a spomínaný výtlačok som si nechal darovať. Ešte raz ďakujem.
Nuž, o mne hádam stačilo, ako dopadol koncert?
Niečo po ôsmej nastúpila na pódium teplická skupina Blue Rocket hrajúca taký ten klasický český bigbít (ospravedlňujem sa vopred, ale mne väčšina českých rockových kapiel znie ako Kabát) okorenený troškou rock and rollu a southern rocku (vokalistky a tak). Hrali asi hodinu pre zhruba 40 ľudí.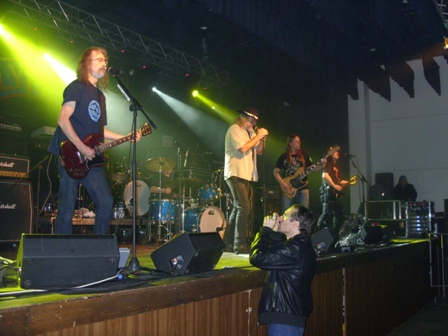 Po nich nastúpili tradiční predkapelníci južanských koncertov, skupina Pumpa. To ma prekvapilo a podľa následných rozhovorov som nebol sám. Dve predkapely boli zbytočné, pred Vianocami a takmer v strede pracovného týždňa iba naťahovali čas. Ide o výčitku na organizátora, nie skupiny, aby bolo jasné. V sále pribudlo takmer desať ľudí a vďaka prestavovaniu bicích sa Pumpa z pódia dostala až o štvrť na jedenásť. Obidvaja predskokani mali dosť zlý zliaty zvuk a sólové gitary sa v tom dosť strácali. Naivné dúfanie, že sa to zmení s hlavnou hviezdou večera, sa, ako isto tušíte, nenaplnilo.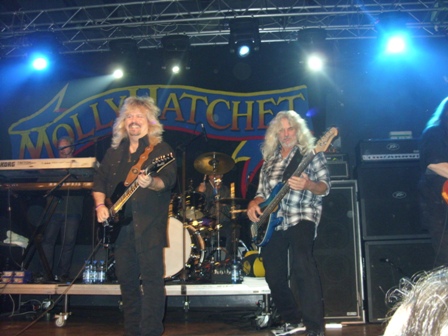 Molly Hatchet je legendou, o akej sa na Slovensku takmer nikomu nesníva a zdá sa, že aj v Čechách je rockové povedomie rovnako mizerné. Po dejinnej udalosti v histórii južanského rocku, a síce páde lietadla so skupinou Lynyrd Skynyrd, to bola práve kapela Molly Hatchet, ktorá od svojho debutu z roku 1978 niesla vlajku Konfederácie v čele. Zaujímavosťou je, že obaly s typickým čiernym rytierom (Death Dealer) jej vytvoril legendárny komiksový kreslič a nekomiksový maliar Frank Frazetta. V zlínskej zostave pôsobil už iba jediný zakladajúci člen, gitarista Dave Hlubek. Frontmanmi však boli dvaja ďalší muzikanti, gitarista Bobby Ingram a spevák Phil McCormack.
Ingram a klávesák John Galvin sú v skupine od počiatku 80. rokov minulého storočia, kedy prišli z Bandu pôvodného speváka Danny Joe Browna. Ten sa po jednom sólovom albume vrátil späť do Molly Hatchet a dvojicu hudobníkov vzal so sebou. Zmieňovanú štvoricu, ktorá evidentne súťažila o najväčšieho pupkáča kapely (ťažko povedať, kto vyhráva, sú to jednoducho Američania ako z letáku o predsudkoch), dopĺňali dvaja asketickí týpci tvoriaci rytmiku, basák Tim Lindsay a bubeník Scott Craig, výpomoc od skupiny Blackfoot, ktorý zaskočil za Shawna Beamera, zotavujúceho sa po infarkte. Navyše, všetci boli evidentne v dobrej nálade. Už nástup na pódium bol zábavný. Pred desiatich sediacich ľudí sa postavil McCormack a vyzval popíjajúcich v bare, aby prišli do sály.
Hatcheti spustili klasické južanské boogie z prvých dvoch albumov, Whiskey man, Bounty hunter a Gator country. Dave Hlubek mal dosť priestoru pre sóla, čo bola príjemná zmena po všetkých tých oficiálnych dévédéčkach, kde bol skrytý za Ingrama. Škoda, že zvukári mali neuveriteľnú schopnosť každé gitarové sólo stiahnuť pod background, čo, uznajte, pri southern rocku zabíja hudbu! Z tohto originálneho prístupu sa čiastočne spamätali až v polovici vystúpenia! Po skladbe American pride z poslednej štúdiovky nastal prvý moment, na ktorý som sa tešil. Zaznela legendárna vec Fall of the peacemakers! Je to krásna balada, avšak z neznámeho dôvodu ju Ingram začal hrať strašne rýchlo a celá skladba vyznela ako tvrdá hardrocková záležitosť, čo jej podľa mňa uškodilo viac než nepočuté sóla. Samozrejme, pieseň skončila v polovici (inštrumentálna zrýchlená pasáž nebola) a plynulo prešla do freebirdovskej titulnej skladby posledného albumu Justice. Je to fór, ktorý Hatcheti robia minimálne od 90. rokov, vždy takto prejdú do ich aktuálnej štúdiovej freebirdovky (podľa skladby Free bird od Lynyrd Skynyrd, asi ste z nej kus počuli vo filme Forrest Gump).
Následne sa všetci okrem bubeníka porúčali z pódia a ten si strihol obligátne bubenícke sólo. Nič objavné, klasické klišé, ale dobre padlo. A rachotilo sa ďalej. Vypaľovačka Beatin' the odds bola poslednou, kedy sa zvukári venovali spánku, nakoľko sa následne dali počuť už aj sóla! V sále v tej dobe mohlo byť tak sto ľudí, McCormack si neodpustil poznámku, že je na svojom súkromnom koncerte, a vybral odniekiaľ fúkaciu harmoniku. Začal vrcholný okamih celého večera, dlhočizný džem gitaristov, harmoniky a basy. Nástroje si schuti zasólovali vo vzájomne prepletených dialógoch, aby uviedli skladbu T for Texas. Je to vec od Jimmieho Rodgersa, ktorú radi hrávali Skynyrdi a Hatcheti im ňou evidentne vzdali hold. A parádne sa zabávali (aj na pár tancujúcich divákoch, ktorí boli, keď nie technickí, tak aspoň správne podgurážení). Koncert utešene gradoval, McCormack spomenul zosnulého velikána Ronnieho Jamesa Dia a venoval mu dvojicu skladieb z poslednej štúdiovky, skvelú baladickú južarinu I'm gonna live 'till I die a skočnú In the darkness of the night. Perfektná archívna záležitosť The creeper ma potešila, Jukin' city z albumu Flirtin' with disaster rovnako, ale bolo jasné, že večer sa chýli ku koncu. Posledná pieseň základného setu bola originálna i geniálna cover verzia skladby Dreams I'll never see od Allman Brothers Band, ktorá sa objavila už na eponymnom debute z roka 1978. Nádhera.
Po krátkej pauze, v rámci ktorej hudobníci ani nezliezli z pódia, nasledovala pokojná verzia hitovej skladby Edge of sundown pochádzajúcej z dielne Danny Joe Brown Bandu, za sprievodu klavíru a gitary ju do ticha zaspieval McCormack, aby následne ukončil celý koncert nabudenou hitovkou Flirtin' with disaster. V tej dobe bolo v sále čoraz menej ľudí, asi išli na posledné spoje, čo už.
Nuž, neostalo iné, než spočítať trofeje (brat si podal ruku s Ingramom a ukoristil jedno jeho brnkátko, ktoré počas večera štedro rozhadzoval do davu), vybrať sa k autu a vyraziť domov, kde sme sa ocitli o tretej hodine rannej. Napriek zlému zvuku to bol vynikajúci koncert a som rád, že sa konečne južanský rock z Ameriky dostáva aj za magickú hranicu Nemecka, za ktorú donedávna nešiel ani za nič. A posledná poznámka nakoniec, miestnu southern rockovú komunitu som rád videl, dokonca sa celý koncert nahrával na kamery, takže sa možno dostanem aj k DVD, na čo som zvedavý.
SKLADBY:
01. Whiskey man (Flirtin' With Disaster, 1979)
02. Bounty hunter (Molly Hatchet, 1978)
03. Gator country (Molly Hatchet, 1978)
04. American pride (Justice, 2010)
05. Fall of the peacemakers (No Guts…No Glory, 1983)
06. Justice (Justice, 2010)
07. Bubenícke sólo
08. Beatin' the odds (Beatin' The Odds, 1980)
09. T for Texas (originál Jimmie Rodgers)
10. I'm gonna live 'till I die (Justice, 2010)
11. In the darkness of the night (Justice, 2010)
12. The creeper (Molly Hatchet, 1978)
13. Jukin' city (Flirtin' With Disaster, 1979)
14. Dreams I'll never see (Molly Hatchet, 1978)
15. Edge of sundown (Danny Joe Brown Band, 1981)
16. Flirtin' with disaster (Flirtin' With Disaster, 1979)
ZOSTAVA:
Bobby Ingram: gitara, spevy
Dave Hlubek: gitara
Phil McCormack: spev
John Galvin: klávesy
Tim Lindsay: basa, spevy
Scott Craig: bicie