Molly Hatchet, popredná kapela hrajúca južarinu, inak tiež southern rock. Keby ste nevedeli, čo to je, predstavte si zmes blues, boogie, hard rocku a country namiešanú v pomere, za ktorý by sa v barmanskej súťaži udeľovala prvá cena. Počas tých niekoľkých dekád, odkedy brázdi svetové pódiá, sa v nej vystriedali mnohí hudobníci a čo môže lepšie vystihnúť jej tvorbu, než dvojdiskový koncertný album Locked And Loaded z roka 2003? 
Keď sa to tak vezme, od konca 80. rokov je kapela v podstate sprievodnou partiou muzikantov okolo hlavnej hviezdy, gitaristu Bobbyho Ingrama. Hoci sa jej kariéra začala kdesi hlboko v 70. rokoch (neskorý debut vyšiel až v roku 1978) a väčšinu času stála na dvojici Dave Hlubek (gitara) a Danny Joe Brown (spev), od roka 1995 v nej nepôsobí ani jeden zakladajúci člen. Napriek tomu sa jej podarilo v 90. rokoch vydať dva (tri, ak rátame aj Kingdom Of XII z roka 2000) vynikajúce albumy, z ktorých Devil's Canyon z roka 1996 je dokonca najlepším dielom, aký kedy kapela vyprodukovala. Preto vidina koncertného prierezu tvorbou, starou i aktuálnou, sľubovala zážitok.
A ten sa dostavil. Svojim spôsobom ide o bodku za skladateľskou kariérou kapely, od tejto doby vyšli už len dva zmysluplné albumy (covery seba a iných nerátam), z ktorých jeden je v kontexte tvorby mdlý ako policajné vyšetrovanie na Slovensku (Warriors Of The Rainbow Bridge) a druhý (Justice) je síce fajn, ale neprináša nič, čo by tu už "ikskrát" nebolo. Z uvedeného dôvodu sa nazdávam, že Locked And Loaded predstavuje reprezentatívny "best of" zachytávajúci dvadaťpäťročnú kariéru Molly Hatchet.
Tým nechcem naznačiť, že nefandím jej koncertnej aktivite. Nesmierne sa radujem, že som mal možnosť kapelu vidieť naživo, a síce tesne pred Vianocami roka 2011 v Zlíne. Aj napriek mizivej účasti šlo o skvelý koncertný zážitok, ktorý neplánujem nikdy zabudnúť.
Späť k albumu. Kapela Molly Hatchet si na zaznamenanie svojej koncertnej činnosti vybrala Nemecko, kde má oddané zástupy fanúšikov a vydavateľstvo (SPV), ktoré jej ochotne vydá, čo jej na očiach vidí. Oba disky sú pozliepané z troch vystúpení, ale poznať sa to nedá. Podobne, ako sa zatajil hosťujúci huslista. Nech booklet študujem ako len chcem, nie je jasné, či s nimi hral Charlie Daniels, aj keď na jednej fotke z bookletu to tak vyzerá. Nič to. Poďme na vec!
Je ich na každom disku jedenásť (na prvom desať, ak nepočítame intro nesúvisiace s kapelou) a pripravte sa na nekonečnú smršť južanského boogie s nekonečnými gitarovými sólami ("freebirdovských" balád je tu hneď pätica, ak rátam aj Edge Of Sundown, čo nie je tak úplne balada). Nechýbajú megahity z prvých dvoch albumov, neprídete skrátka ani pri Beatin' The Odds, čoby jedinej spomienke na rovnomenný tretí album (s Farrarom za mikrofónom), samozrejme je tu klasický zástupca albumu No Guts… No Glory, a síce Fall Of The Peacemakers. Nanešťastie, ako už tradične v novodobej histórii, bez svojej sólovej dohry. Novodobá trojica albumov od 90. rokov má rovnako skvelé zastúpenie (a je tu The Journey!), nuž neostáva iné, ako pogratulovať kapele k skvelému živáku.
Už dlhšie som Molly Hatchet nemal v prehrávači, a preto som si tento album vychutnal ako nikdy. Velikáni južanského rocku to na pódiu vždy vedia roztočiť, tak to s nimi roztočte aj vy!

Skladby:
CD1:
01. Introduction 1:50
02. Whiskey Man 3:42
03. Heart Of The U.S.A. 3:56
04. Gator Country 7:08
05. Tatanka 4:58
06. Down From The Mountain 4:32
07. Beatin' The Odds 3:35
08. Mississippi Moon Dog 3:57
09. Miss Saturday Night 4:22
10. Edge Of Sundown 6:58
11. Dreams I'll Never See 10:53
CD2:
01. Bounty Hunter 3:31
02. Dead And Gone (The Redneck Song) 3:33
03. White Lightning 3:56
04. Fall Of The Peacemakers 5:06
05. Saddle Tramp 9:07
06. Gypsy Trail 4:06
07. Tumbling Dice 3:24
08. Why Won't You Take Me Home 3:49
09. The Journey 7:32
10. Devil's Canyon 6:14
11. Flirtin' With Disaster 6:23
Zostava:
Bobby Ingram: gitara, vokály
Russ Maxwell: gitara
Phil McCormack: spev, harmonika
John Galvin: klávesy, vokály
Jerry Scott: basa, vokály
Shawn Beamer: bicie
a
hosť: husle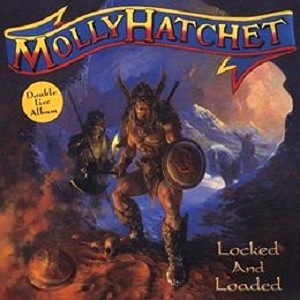 Locked And Loaded
Molly Hatchet
southern rock
SPV
2003
CD
22