Som prekvapený, že sa na českých i slovenských hudobných weboch nenachádza poriadna zmienka o kapele Mogul Thrash. Šlo pritom o jednu z najlepších džezrockových kapiel z Británie, hoci nemala dlhého trvania. Jej otcom bol gitarista a spevák James Litherland z legendárnej formácie Colosseum. Ostal po nej jeden singel a jediný eponymný album z roka 1971.
Keď Litherland odišiel z Colossea, písal sa rok 1969. Nelenil a sformoval zoskupenie James Litherland's Brotherhood. V zostave sa zjavil gitarista a trubkár Michael Rosen (ex-Eclection), bubeník Bill Harrison, a saxofónisti Roger Ball a Malcolm Duncan. Zakrátko sa k nim pridal basgitarista a spevák John Wetton (ex-Splinter) a získali pozornosť samotného Briana Augera (pozri Trinity alebo Oblivion Express). Ujal sa ich a výsledkom bol kontrakt s vydavateľstvom RCA Victor. Auger naliehal, aby si zmenili meno, keďže na tejto značke bola vedená aj iná kapela s názvom Brotherhood. Kapela sa premenovala na Mogul Thrash, čo je označenie falošného nosa, ktorý nosil hlavný protagonista televíznej šou Michael Miles Show.
V roku 1970 vyšiel kapele singel Sleeping in the Kitchen/St. Peter a v júni toho roku nahrala v londýnskych Advision Studios materiál na debutový album. Zvuk obstaral Eddy Offord, návrh obalu pochádza z hlavy Grahama McCalluma, kapelu odfotil John Jefford a Auger to celé produkoval. Zahral si tiež v skladbe St. Peter. Album Mogul Thrash vyšiel v roku 1971 a kapela sa krátko po jeho uvedení na trh rozpadla. Podľa všetkého mala právny spor so svojim manažmentom. Stihla ešte dve série vystúpení pre BBC, ktoré sa časom dostali na niektoré pochybné reedície albumu. Wetton sa pridal k Family a neskôr sa preslávil ako člen King Crimson, Roxy Music, Uriah Heep, Asia, Wishbone Ash atď. Ball a Duncan úspešne fungovali so skupinou Average White Band. Obaja sa stali úspešnými štúdiovými muzikantmi, hrali s mnohými slávnymi hudobníkmi. Ako štúdiový hráč skončil aj Rosen. Litherland hral s ľuďmi ako Long John Baldry, Leo Syer a s kapelou Bandit.
Album som získal klasickým spôsobom, napálil som si ho od kamaráta, ktorý ho mal domácky prevedený z platne na cédečko. Malo to tak dobrý zvuk, že keď sa mi do rúk dostalo oficiálne cédečko, bol som sklamaný a nechal som si napáleninu. Nakoľko ma však túžba mať ho v zbierke "origoš" časom ovládla, mal som ho na zozname roky-rokúce, akurát som naň v obchodoch nenarazil (vo všednej realite, z internetu takmer nenakupujem, potrebujem si tovar obchytať). Až donedávna, kedy mi ho odložili v predajni Roxy, poslednej pevnosti predaja cédečiek so starou rockovou hudbou v Bratislave. Ide o vydanie z roka 1999 na andorrskej značke disconforme sl. Hrdí sa nálepkou "Limited Collector's Edition" a oproti platni má poprehadzované skladby (poradie: singel, 3., 4., 1., 2., 6. a 5. skladba oproti LP). Nechápem, ale tak, čo už.
Myslel som si, že oprášim svoj starý text z Progboardu, ale s údivom som zistil, že tam nič také nie je. Bol by som sa stavil, že som na album písal recenziu, ale dekády plynú, asi som sa mýlil. Nuž, najvyšší čas to napraviť! Úvodný singel Sleeping in the Kitchen kombinuje dychy s brutálnou hardrockovou gitarou, normálne nechápem, že sa nedostal na album. Ten sa skladá, ako som už spomínal, zo šestice skladieb, ktoré sú zväčša dlhé tak sedem až dvanásť minút (okrem dvoch kratších kúskov), takže o nekonečné sólovanie nie je núdza. Je to neutíchajúci uragán džez rocku á la Colosseum, akurát s ostrejšou gitarou. Litherland sa evidentne odviazal. Na svoju niekdajšiu kapelu odkáže skladbou Elegy, v St. Peter hrá na klavír Brian Auger, ale myslím si, že nie je potrebné sa o každej skladbe rozpisovať zvlášť. Hudobníci hrajú veľa a ich nasadenie by ocenili hádam aj v Reale Madrid.
Cédečko obsahuje ešte štyri skladby z albumu v takzvaných editovaných verziách. Na jednu stranu sú zbytočné, ale vlastne mi neprekážajú, rád si album vypočujem akoby dvakrát po sebe. Milujem toto dielo, džezrock s dominanciou rocku a neskutočne naostrenou hardrockovou gitarou skrátka nemôžem ponechať osudu. Kapela Colosseum vážnejšiu konkurenciu nemala! Je to veľmi podobný príklad ako pri Deep Purple–Warhorse. Vyskúšajte, ľutovať nebudete!
Skladby (CD disconforme sl, 1999):
Sleeping in the Kitchen (single) 2:49
Dreams of Glass and Sand 5:04
Going North, Giong West 11:54
Something Sad 7:28
Elegy 9:28
What's This I Hear 7:08
St. Peter 3:34
Dreams of Glass and Sand (edit) 4:36
Going North, Giong West (edit) 9:21
Something Sad (edit) 8:03
What's This I Hear (edit) 7:57
Zostava:
James Litherland: gitara, spev
John Wetton: basa, gitara, spev
Bill Harrison: bicie
Malcolm Duncan: tenor saxofón
Michael Rosen: trúbka, melafón, gitara
Roger Ball: saxofóny
a
Brian Auger: piano (7)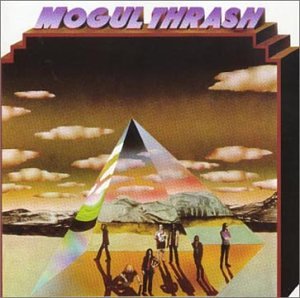 Mogul Thrash
Mogul Thrash
džez rock, brass rock
RCA Victor
1971
LP, CD
6