Michael Schenker je pro mě jeden z nejlepších kytaristů epochy sedmdesátých let. Když hrál a skládal v UFO, děly se velké věci. Každá deska s ním u kormidla je mimořádná. Silná, melodická, nápaditá a malinko jiná. Podobné poučky však k jeho osobě v průběhu let dalších už připojit nedokážu. Epizodní účinkování se Scorpions mě nechává chladným, hudba, kterou robil v letech devadesátých vesměs taky, a dnešek, či v globálu nové tisíciletí s pár zajímavými zaškobrtnutími mě neoslovuje vůbec. 
Jednu epochu jsem záměrně vynechal a tou jsou synťákové osmdesátky. Start se mu povedl, první deska je velice, velice slušná. Bonnetovská trojka za hřích stojí rovněž, ale ten zbytek – tak tak. Já v něm však jednu svou bílou holubici mám a tou je deska Perfect Timing. Tu Michael sestavil se svým novým americkým parťákem Robinem McAuleym, který si stoupl k mikrofonu, a s jejím obsahem se vehementně přiklonil k tehdy módnímu – americky střiženému nadýchanému (pop ne, raději pomp) rocku oněch let.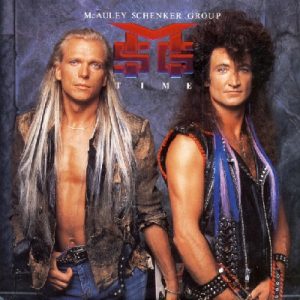 Slovutný producent Andy Johns, zvukový inženýr těch nejlepších nahrávek Led Zeppelin či Rolling Stones oblékl nahrávku do dobově přijatelně nadimenzovaného zvukového kabátce a vyzvedl její silná pozitiva. Těmi jsou Michaelova dynamická, pestrá a zcela funkční kytarová práce, stejně jako Robinův uhrančivě působící silový vokál. Jeho majitel jej dovede svérázně ovládat. Když je zapotřebí, přitlačí svým energetickým potenciálem posluchače pěkně ke zdi, aby jej v momentě následujícím dokázal bez mrknutí oka emočně rozcupovat na kousky.
Sestava nahrávky je složena z desítky výživných a po ne mnoha posleších i dobře zapamatovatelných kousků. Mezi vypalovačky lze zařadit No Time For Losers a Get Out – jinak asi nejslabší položky na desce, které tu působící trochu nudně a stereotypně. V jejich přímém kontrastu leží dvojice atmosféricky skvostně vystavěných balad – Follow The Night a Time. Zbylou šestici reprezentují úchvatné šlapající pecky narvané obrovskou škálou melodických postupů, vyhrávek, sól a dynamických přechodů. Všemu nasazuje korunu Robinovo bravurní frázování, které značnou část songů, přinejmenším jejich zpěvné refrény, pasuje mezi to nejlepší v oblasti podobně naleštěné produkce. Gimme Your Love je velmi solidní začátek, ale dvojka a hlavně třetí Don't Stop Me Now to už je hard-rockový parnas. Mezi nejlepší si připočtěte ještě I Don't Wanna Lose a na úplný vrcholek dosaďte Love Is Not A Game – krev, pot a slzy v jednom z nejsympatičtějších balení osmdesátých let.
Deska se zrodila do na podobné nahrávky silného a svým způsobem určujícího letopočtu 1987. Tedy roku, kdy svá nejkomerčnější/nejprodávanější/nejslavnější (a pro někoho možná i nejoblíbenější) alba vydaly soubory jako Whitesnake a Def Leppard. Právě tahle dvojice definovala muziku oněch časů. I Michael Schenker se společně s Robinem McAuleyem chtěli na této vlně svést. Na nich si však cením faktu, že pro své účely nepotřebovali momentální káru (desku Perfect Timing) natolik nablýskanou, třpytící se a natuněnou jako jejich jmenovaní společníci. Sic neuspěli v tak miliónovém prodejním nákladu, ale vychlazené šampaňské za suchou skývu chleba a obyčejnou vodu kvůli tomuto faktu vyměňovat rozhodně nepotřebovali.
SKLADBY:
01. Gimme Your Love (Rocky Newton, Robin McAuley) 4:52
02. Here Today – Gone Tomorrow (Michael Schenker, McAuley) 4:39
03. Don't Stop Me Now (Schenker, McAuley) 3:57
04. No Time For Losers (Schenker, McAuley) 4:14
05. Follow The Night (Schenker, McAuley) 4:40
06. Get Out (Schenker, McAuley) 4:08
07. Love Is Not A Game (Newton, McAuley, Alan Nelson) 4:12
08. Time (Schenker, McAuley, Newton) 4:00
09. I Don't Wanna Lose (Schenker, McAuley) 4:15
10. Rock 'Til You're Crazy (Schenker, McAuley) 4:06
SESTAVA:
Robin McAuley – lead vocals
Michael Schenker – lead guitar
Mitch Perry – rhythm guitar, additional lead guitar on tracks 1 and 6, backing vocals
Rocky Newton – bass, backing vocals
Bodo Schopf – drums
+
Steve Mann – keyboards and rhythm guitars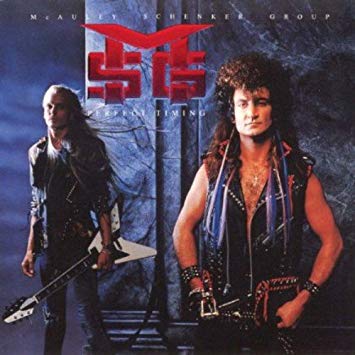 Perfect Timing
McAuley Schenker Group
Hard Rock, Pomp Rock
Capitol / EMI
1987
LP, CD
10