Šesťdesiate roky charakterizujú jemne psychedelické popové a občas rockové kapely ako The Kinks, The Monkees, The Troggs, The Yardbirds a, samozrejme, The Beatles. Jednou z týchto "sixtýsových" formácií bola aj skupina The Small Faces, ktorá dala svetu niekoľko milých hitov a najmä z nej vzišli dve výborné kapely, a síce Faces a Humble Pie.
Priznávam, že tento smer muziky počúvam okrajovo. Viac ma berú tí, ktorí tvorili rockové dejiny alebo aspoň hrali tvrdšiu, či sofistikovanejšiu muziku (Hendrix, Cream, Gun, Family, Blue Cheer), prípadne blues (Mayall, Animals), no a v neposlednom rade ma oslovuje hardrock a artrock z konca 60. rokov (Led Zeppelin, King Crimson, Renaissance).
K Small Faces som pričuchol vďaka otcovi, na VHS kazete mal nahratých niekoľko klipov, z ktorých ma oslovili dva – Lazy Sunday a Itchycoo Park. Prvá skladba bola zvláštne veselá, mám ju rád, no a na tej druhej sa mi páčilo, že bubny sú v sólových vstupoch prehnané cez nejaký efekt typu hall. Nakoľko som veľký fanúšik Humble Pie a Steve Marriotta, ktorého považujem za jedného z najlepších rockových spevákov vôbec, chcel som mať doma aspoň niečo z tvorby Small Faces. Akurát to pre mňa nikdy nebola priorita, a tak som sa k tomu nikdy nedokopal. Vždy bolo niečo, o čo som stál viac. Až prišiel rok 2019 a v obchode mi padol zrak na nenápadné cédečko The Very Best Of Small Faces. Obidve skladby na nej boli, a tak som napravil jeden zo svojich najväčších restov.
Výber obsahuje dvadsať skladieb z obdobia 1967-1969, a teda úplne ignoruje počiatočné hity kapely, ktorá na britskú scénu vošla v roku 1965. Osobne mi to neprekáža. Inými slovami, sústredí sa na zostavu Steve Marriott (spev, gitara, harmonika, klávesy), Kenney Jones (bicie), Ronnie Lane (basa, gitara, spev) a Ian McLagan (klávesy, spev, gitara, basa). A vlastne ide o výber z dôb, kedy opustili značku Decca a prešli pod Immediate. Výberovka je preto zameraná na albumy There Are But Four Small Faces, Odgen's Nut Gone Flake (tri týždne sa držal na prvom mieste britského rebríčka)a The Autumn Stone doplnený o pár singlov.
Hudobne sa, až na výnimky, pohybujeme v poslucháčsky vďačných "beatlesovských" vodách. Melodické pesničky sú prevažne jemné ako napudrovaný detský zadoček. Čo však kapelu odlišuje od vrstovníkov, je Marriott a jeho drsný, ukričaný rockový hlas, ktorý nejednu cukrovinku doslova kazí! A to myslím tak, že je skvelý. Teším sa na každý moment, kedy sa objaví. Napriek uvedenému ma zaujala aj orchestrálna psychedelická inštrumentálka Odgen's Nut Gone Flake. A skvelá je b-strana singla nazvaná Wham Ban Thank You Mam, ktorá vyšla v roku 1969 na posmrtnom albume The Autumn Stone, tam už počuť hutný rockový nádych vecí budúcich.
Kapela sa v roku 1969 rozpadla. Marriott založil Humble Pie, v našich končinách nedocenenú hardrockovú superskupinu (pôsobili v nej gitaristi Peter Frampton a Clem Clempson, bubeník Jerry Shirley i basgitarista Greg Ridley), no a zvyšná trojica pokračovala s Rodom Stewartom vo Faces. Za zmienku stojí aj Jonesov angažmán v The Who. Reunion Small Faces v druhej polovici 70. rokov predstavil nových členov kapely, gitaristu Jimmyho McCullocha (Stone The Crows, Wings) a basgitaristu Ricka Willsa (Roxy Music), ktorý nahradil Lanea. Ostali po nich dva albumy.
Lane, McLagan a Marriott už nie sú medzi nami (a ani McCulloch), ale ich muzika je tu s nami naveky. Small Faces bola typická popová kapela britskej scény zo 60. rokov (a údajne bola jednou z najdôležitejších skupín, ktoré ovplyvnili nástup britpopu v 90. rokoch), kto túto éru miluje, ten sa v nej nájde. Mne tento výber bohato stačí. Je dobrý, i keď nie úplne reprezentatívny.
Skladby:
Afterglow (Of Your Love) 3:33
Lazy Sunday 3:09
Itchycoo Park 2:54
Here Comes The Nice 3:05
The Autumn Stone 4:02
Tin Soldier 3:25
Happiness Stan 2:40
I Can't Make It 2:05
I Feel Much Better 3:57
I'm Only Dreaming 2:26
Long Agos And Worlds Apart 2:38
Odgen's Nut Gone Flake 2:29
The Hungry Intruder 2:17
Things Are Going To Get Better 2:40
Wham Ban Thank You Mam 3:21
Green Circles 2:43
Get Yourself Together 2:17
All Our Yesterdays 1:53
My Way Of Giving 2:00
The Universal 2:45
Zostava:
Steve Marriott: gitara, harmonika, klávesy, spev
Ronnie Lane: basa, gitara, spev
Ian McLagan: klávesy, spev, gitara, basa
Kenney Jones: bicie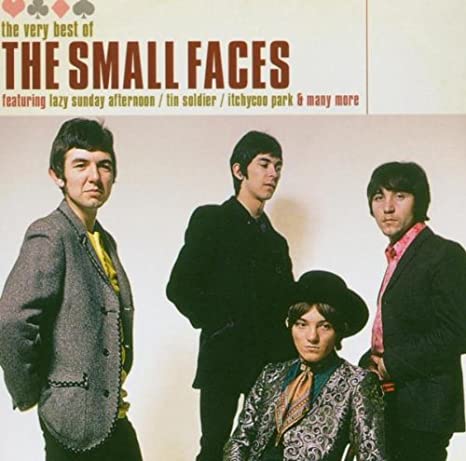 The Very Best Of
Small Faces
psychedelic pop rock
Metro
2005
CD
20