Alternativní produkce se od té běžné progresivní dost výrazně liší. Obsáhlé diskografie kapel působících na scéně už několik dekád, bývájí jen zřídka kdy vyrovnané. Já sám takovou neznám, nebo ne takovou, od které by mne zaujal kompletní nahrávkový katalog, tak jak tomu často bývá u progresivních těles. 
Ani walesští Manic Street Preachers nejsou žádnou vyjímkou. Před několika měsíci mě na celé čáře dostala jejich stále ještě poslední studiovka Resistance Is Futile, která značně podnítila můj zájem podrobněji se touto trojicí zabývat. Pečlivě jsem přistupoval k naposlouchávání jejich fonotéky po desce The Holy Bible – kterou budu nejspíš už navždy (stejně jako mnozí jiní) považovat za jejich nedostižný strop. Ale naprostá většina jejich nahrávek mě značně zklamala (vyjma některých kusů na deskách z let 96, 98) kromě jedné jediné. No a tou je pochopitelně deska, kterou právě recenzuji.
Nahrávka Lifeblood se zrodila do roku 2004 a dle mého tomuto souboru trvalo dlouhatánských 14 let, než ze sebe vykřesal jejího důstojného následovníka. A proč tedy zrovna Lifeblood je tou nahrávkou, za kterou se chci postavit, a označit ji jako jednu z nejlepších na nezávislé rockové scéně? Všechna její krása a bohatství je ukryta v její náladě. V její nekonečné a opojně stimulující melancholii. Melancholii, oděné v brokátově snadno prostupném závoji, která vás bude vést, manévrovat s vámi a opájet vaše vnitřní pocity.
Je to stále ten (obroušenější) revoltující maistream určený masám. Ale songy představené právě na této desce mně upoutaly hned a s prvním poslechem. Většina z nich je dostatečně silných, disponuje zajímavými nápady, líbivými melodiemi, má spád, živelnost a ve svém nekomplikovaném písničkářství dává člověku pocit jistoty. Spousta kytarových a klavírních motivů zní rafinovaně a vytváří v posluchači chuť pouštět si desku znovu. Co na tom, že celek zní na poměry Manic Street Preachers hodně popově a otevřeně. Důležitá je kvalita samotných songů, kde každý jeden je dostatečně silnou věcí na to, aby dokázal v posluchači spustit emoční hnací motor.
Manic Street Preachers natočili soudržnou, vyrovnanou a důstojnou desku, která znovu potvrzuje jejich výsostně písničkářský talent. Je to deska pro posluchače, kteří nejsou zatíženi předsudky.
SKLADBY:
01.  1985
02.  The Love Of Richard Nixon
03.  Empty Souls
04.  A Song For Departure
05.  I Live To Fall Asleep
06.  To Repel Ghosts
07.  Emily
08.  Glasnost
09.  Always/Never
10.  Solitude Sometimes Is
11.  Fragments
12.  Cardiff Afterlife
SESTAVA:
James Dean Bradfield – lead vocals, lead and rhythm guitar
Sean Moore – drums, drum programming
Nicky Wire – bass guitar
+
Nick Nasmyth – keyboards
Jeremy Shaw – keyboards
Greg Haver – percussion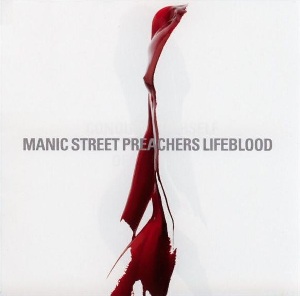 Lifeblood
Manic Street Preachers
Alternative Rock
Sony Music UK
2004
LP, CD
12